Anything goes at Atrium Gallery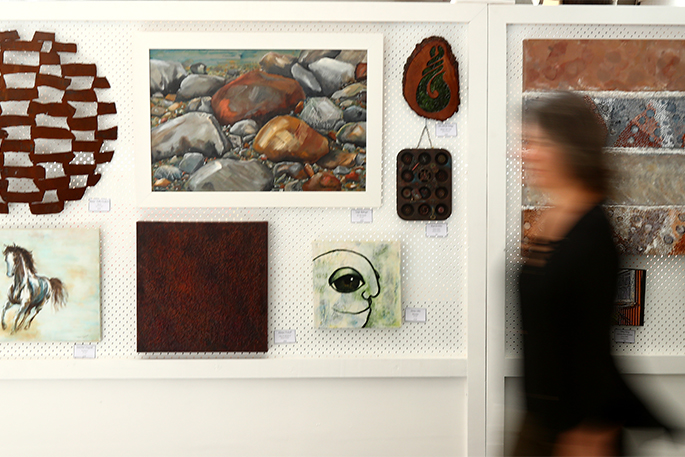 I phoned Birgitt Shannon earlier this week to see what she was hanging in the Atrium Gallery's next exhibition.
Titled 'Anything Goes', the exhibition is running from May 1-25, and will feature a variety of work from more than 20 artists.
I'm a great fan of Birgitt. She's a passionate and committed promoter of local artists and craftspeople, and is helping carve out a large expression for the arts community in Whakamarama.
She was runner-up in the 2018 Trustpower/TSA Supreme Award, and recently selected as a finalist for the 2019 Molly Morpeth Canaday Awards. Up until this month she was also the event coordinator for the monthly Atrium Art & Artisan Fair held at the Black Sheep Bar and Grill, where the Atrium Gallery is located.
Her paintings hang in private collections in Australia, NZ and England, as well as one that is hanging in a Research Centre at The Museum of Natural History in Los Angeles. She has been involved in many solo and group exhibitions since arriving in NZ in 2013, including painting the cow outside the Morrinsville Museum for the Morrinsville Herd of Cows Street Art Project.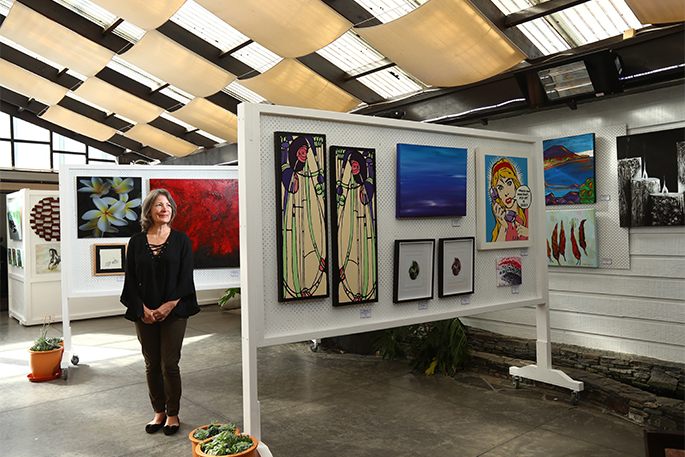 The Atrium Gallery in Whakamarama opened its doors to the public for the first time in February.
Birgitt says she has a couple of pieces in 'Anything Goes'.
"Nothing too exciting," says Birgitt, who is renowned for her vibrant and exciting work. "Come and have a look."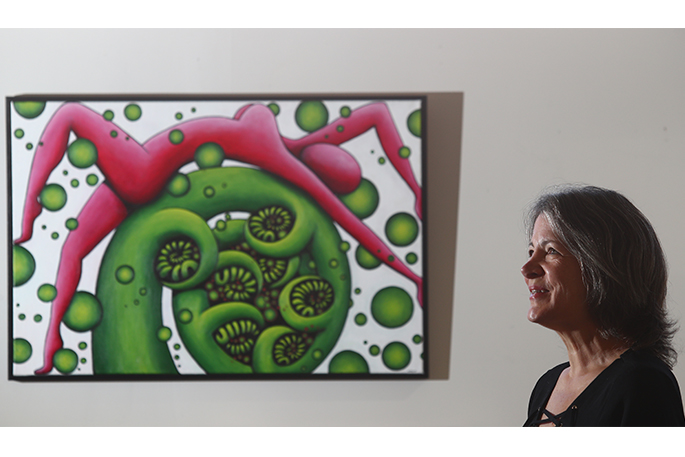 A sneak preview is too tempting to miss.
This group exhibition, as the name 'Anything Goes' suggests, places no limitations on the artist. They are able to use any medium, subject, size, or style they want. The only criteria was that it hung on a wall. This has resulted in an interesting exhibition full of surprises.
"I was so thrilled to see so much variety as the works were being delivered to the gallery," says Birgitt. "We have paintings, metalwork, photos, woodwork, drawings and mixed media works.
"There are items made of recycled materials and even folded paper creations made of books. There is even something for the kids with a mixed media creation featuring the Seven Dwarfs on display."
The work is by 24 artists including Lorraine Browne from Katikati, Tauranga's Janice Giles, Miriam Ruberl from Rotorua, Andy Scott from Whakatane and photographer Terry King from Waihi.
"I was surprised, considering how short a time our gallery has been open, and thrilled, that artists came from all over the BOP," says Birgitt.
The Black Sheep Bar and Grill has long been a patron of local artists and artisans with their sponsorship and continued support of the Affordable Art and Artisan Fair. In 2019, they took their support to the next level and created a new space for local creative people to share their work. Atrium Gallery is the result, and is a place to buy and sell local art and artisan products as well a space for workshops, concerts, and other creative events. The gallery will be holding a variety of events during May.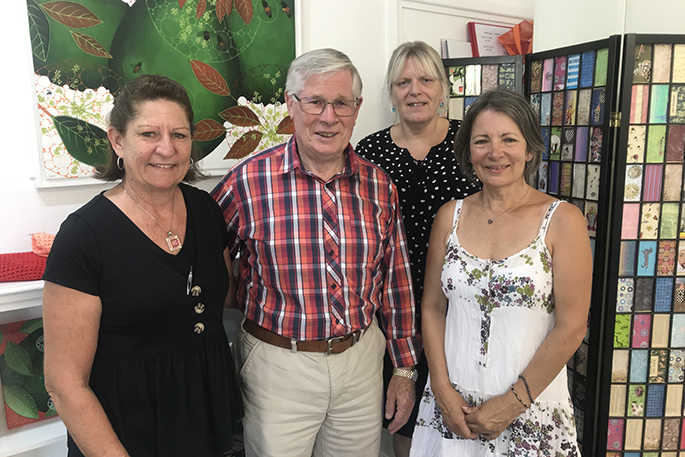 Peta Clavis from Black Sheep, Western Bay of Plenty District Council Mayor Garry Webber, Deb Bowden and Birgitt Shannon at the opening of the Atrium Gallery in Whakamarama in February 2019. Photo: Rosalie Liddle Crawford
Western Bay of Plenty District Council Mayor Garry Webber attended the opening launch of the gallery in February with his wife Carole.
"I'm delighted to see another gallery open in the Western Bay, and the support and opportunity to exhibit given to artists in the area," says Garry.
The Atrium Gallery shop and exhibition space features sculpture, paintings, jewellery, wall hangings, photography and cushions. Located at 21 Plummers Point Rd, Whakamarama, it is open from Wednesday to Sunday each week from 11am to 5pm.
More on SunLive...