The Great Tauranga Duck Race - today!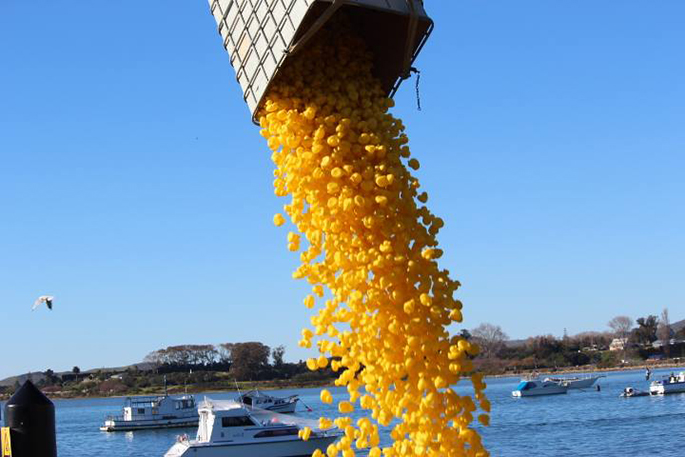 The Great Tauranga Duck Race is on today with about five thousand little ducks competing in their biggest race yet in the Tauranga Harbour.
The event, now in its third year, aims to raise funds for three local surf lifesaving clubs in Papamoa, Omanu and Mount Maunganui.
There will be three duck races this year, including the General Duck Race, a School's Duck Race and the Corporate Duck Race.
The general race will feature 5000 numbered rubber ducks, and you can buy a ticket for $5 which matches the number on a duck. The ducks are scooped out at the end of the race, and if the ticket has been sold for first, second and third, the winner will receive $1000. There's a runners-up prize of $500, while third place will win $250.
"In the General Duck Race, all 5000 ducks will be put in a container," explains Tauranga Te Papa Rotary Club event leader, Brett Bell-Booth. "A crane at the start line will drop that container of ducks into the water, which is quite spectacular.
"Then the tide will take them across to the start line, which is about 100 metres away.
"The surf club and an IRB will be on patrol to ensure no ducks get away."
The School's Duck Race involves larger ducks, and each student will represent their school as they try and win $1000 worth of supplies, ranging from sports equipment to educational items such as books and stationary.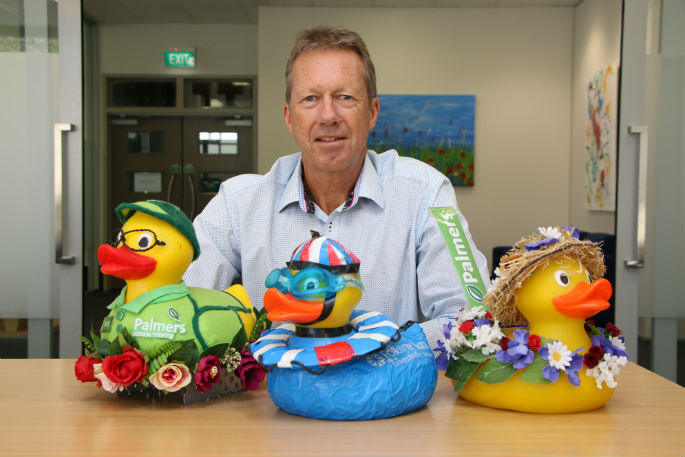 Brett Bell-Booth with some Corporate Ducks
For the Corporate Duck race, large ducks are sold for $200 plus GST and corporates can dress their duck with their own branding.
"Basically it's all about bragging rights," says Brett.
There will also be spot prizes for best dressed ducks as well as trophies available for the winners.
Brett assures that no rubber ducks are harmed in the race. They will be pulled out, put back in the container and trucked back to Dunedin to be reused again.
With the large ducks, schools are welcome to take them home and reuse them for next year's race.
"We'd love to see all 5000 ducks sold," says Brett. "Last year we raised $20,000 for the lifeguard services, and this year we hope to raise $10,000 for each club, so come on down and join in on the fun.
"Our surf lifesaving clubs work tirelessly to keep our beaches safe, and the Tauranga Te Papa Rotary Club want to support their efforts."
The Great Tauranga Duck Race, to be held on the Tauranga Waterfront at the Strand starts at 10.30am, and runs until 1.30pm.
More on SunLive...