Tauranga Olympian fun running for heart health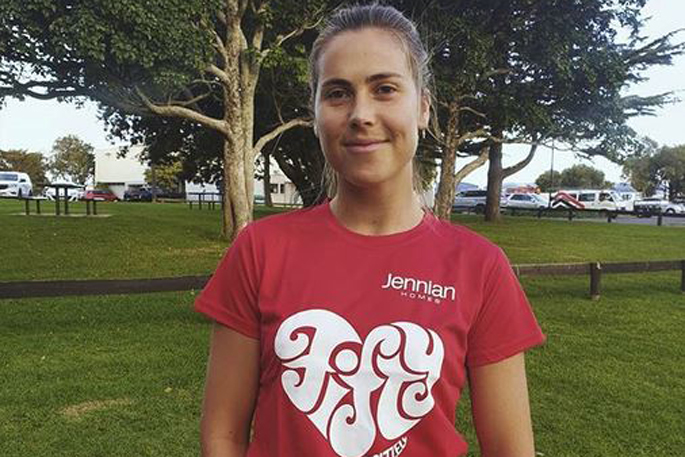 The Jennian Homes Mother's Day five kilometre Fun Run/Walk is taking place on Sunday, May 12 for the eighth year in a row, shining a light on heart health.
Tauranga based runners and walkers will gather at Kulim Park on Mother's Day for a 9am start.
Tauranga local Olympian and New Zealand Black Stick hockey player Rose Keddell is taking part in the fun run, and she says she is proud to participate alongside other residents.
"I was approached to be a part of it, and for me it's really great to be able to get into the community and promote something gets people out exercising which is something that I love to do, and also because it's for the heart foundation and it's good to promote things that are good for our health.
"It's great to create awareness around it.
"I'm from Tauranga, so I have a lot of family here, and my sister and her husband and my boyfriend will be here, and they will be all coming with me."
Each run will start with a sea of participants wearing iconic New Zealand Artist Dick Frizzell designed t-shirts, received by every registrant as part of their registration pack.
The events are organised by local franchisees who are very much part of their communities, bringing the community and providing the opportunity of many to honour and run for those they know who have been impacted by heart health.
Rose says heart health is very important, as it is something that people cannot see from the outside.
"With our organs, you can't see the health of them, it's not until someone close to you might go through something like that, and you become aware of how important it is to look after yourself and how hard working our hearts are, but how fragile they can be if we don't treat them with the love and respect that they deserve.
"For me, just being healthy in general is super important and just spreading that message to everyone I come in contact with and who I am around is huge to me."
As part of their commitment to the Heart Foundation, Jennian Homes capture stories and connect the Heart Foundation to walkers and runners who are participating in honour of their loved ones.
As registrations for this year's event pour in, heartfelt motivations to partake have been at the forefront. Mothers with heart disease, children born with heart conditions, family members on transplant wait lists.
Jennian Homes has been a loyal supporter of the Heart Foundation for almost a decade. Since the Heart Foundation began, Jennian has invested more than $70 million into heart research and specialist cardiac training.
Jennian Homes Chief Operating Officer Aidan Jury says they proud to support the Mother's Day Fun Run.
"We are proud to be involved in not only helping raise money and awareness, but also in encouraging women and their families to get fit an active.
"For some women, the Jennian Homes Mother's Day Fun Run/Walk is life-changing, being the catalyst for an ongoing exercise regime. Those are the real success stories."
For those who find the fun run daunting or who think they aren't capable, Rose says the key word in the event is 'fun'.
"Just get amongst these community events, it's not like it's a race, you can totally do it at your own pace as it's for a really good cause.
"If we all have the opportunity to promote something that is for a good cause, we should do it if we can. It's also good for you and for others, running or walking five kilometres."
Rose says it is also a bonus the event is taking place on Mother's Day.
"Coming out and running with your mum is such a good way to celebrate, and to look out for our mums, look out for our sisters and just women in general, to keep an eye on their heart health."
Jennian Homes is proud to champion the need for better heart awareness in New Zealand and will be giving $20,000 to the Heart Foundation to support heart health following the Mother's Day events.
Tickets start from just $15, and discounted rates will be given to juniors and groups.
To register for the event and to find a full list of locations, click here.
More on SunLive...