Triple gold for seniors tennis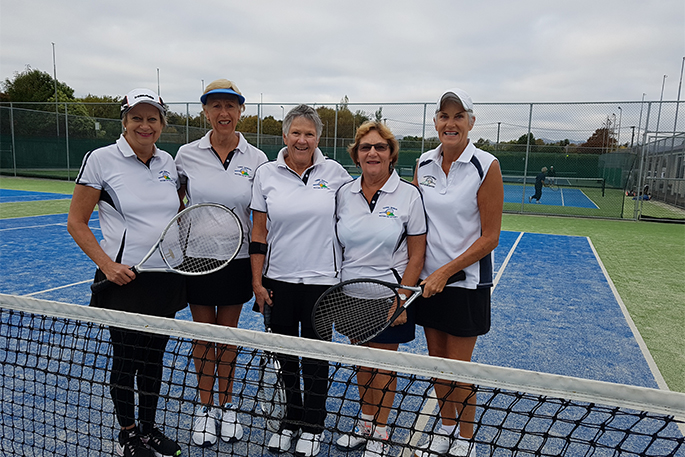 The Tennis Seniors Western Bay of Plenty club did us all proud at Easter, bringing home three golds, and second and third placings at the Tennis New Zealand Seniors National Teams tournament held in Christchurch.
They also won the John Mickell Trophy for 2019, which is awarded to the club with the best overall team results from all their teams playing in the event.
"We had five teams at the national teams," says Sylvia Wilmshurst, who is a member of the 65 women's team. "The winners were the 65 men, 65 women and the 35 women – they all won gold. Second place was won by the 70 women, and third place by the 55 women."
The team categories are based on five year age groups, with, for example, '65 men' being men aged 65 to 69 years.
"It's the fourth year in a row our 65 ladies have won gold for Western Bay which we're pretty rapt about. Western Bay 65 men have won gold frequently as well."
Sylvia Wilmshurst is also Vice President of Tennis New Zealand Seniors which stages the National events.
"Tennis New Zealand Seniors has 25 clubs in NZ," says Sylvia. "They operate out of different tennis clubs and organise tennis events for people over 35.
"There are two annual, national events held at different venues around the country – a national teams' event held at Easter every year, and a national individual event for singles, doubles and mixed held in January." This is also a qualifying tournament for the annual ITF Senior Worlds.
Sylvia says about 80 teams with players aged 35 – 80 years usually compete in the national teams' event, but this year there were about 60 teams in Christchurch, the strength being in the North Island.
"This year the Western Bay of Plenty fielded five teams. It's three days of full-on tennis and social activities."
Tennis Seniors Western Bay of Plenty is the biggest seniors club in NZ.
"Seniors tennis is popular here because we have plenty of excellent Western Bay venues that are well maintained," says Sylvia. "They run lots of senior tournaments and that's what tennis needs - plenty of competition.
"The biggest club in Western Bay is Mount Maunganui club with about 400 members followed by Otumoetai, Tauranga Lawn, Gate Pa, Papamoa, Te Puke, Te Puna, Katikati, and Omokoroa.
"A lot of our senior players also volunteer which help keep tennis going. Younger people are busier than ever so it's harder to find volunteers, but also tennis is changing with more technology involved.
"Automatic gate opening and booking courts on line will be available soon which helps take the manual operation away. Also less maintenance with synthetic courts rather than grass courts. Everything is becoming easier to manage so the type of volunteers needed is changing to meet new business needs."
"It is a proud moment for all your members on winning the John Mickell trophy," says Beverley Evans, President of Tennis New Zealand Seniors, "especially as you headed off a couple of clubs who were not far behind. Congratulations again on receiving this prestigious and deserving award."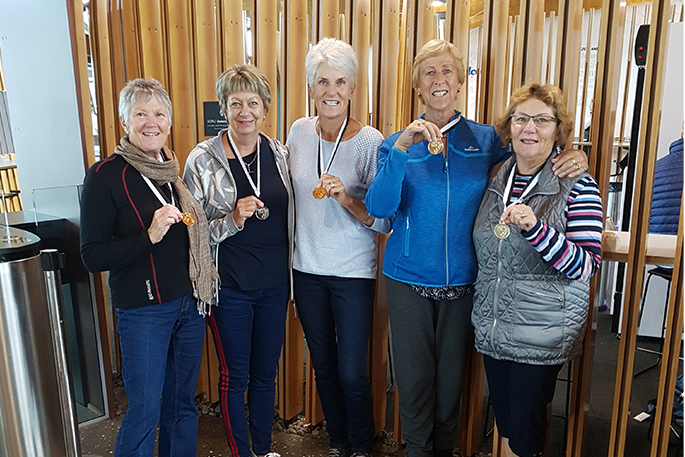 The 65 Women's team with their gold medals.
More on SunLive...