Free drinking water is the essence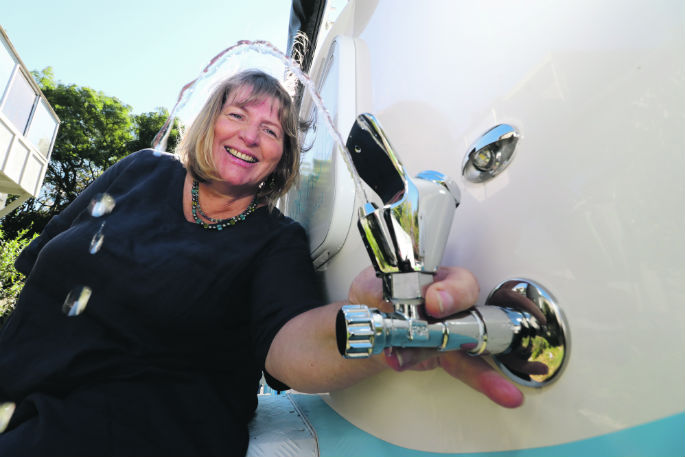 Hydrohub is flowing again. And it could become a torrent.
The prototype has been off the road for 18 months, but Hydrohub mark II has been redesigned and built in Ohauiti and is about to start slaking thirst at events around the region.
Hydrohub II – the locally conceived and designed portable drinking water dispensing unit – is a 500-litre tank of drinking water mounted on a trailer and towed to public events or civil emergencies.
"It makes potable water accessible, easy and free," says Karen Summerhays of Te Puke. Hydrohub is her brainchild. "Bring your own bottle, and we will fill it for you, repeatedly. There's no cost to you. Refill is better than buy."
It's designed to generate its own renewable power from solar and wind energy and promotes sustainability and waste reduction.
"At one event alone - Waka Ama - the organisers gave everyone an empty bottle in their team pack and we filled them with free drinkable water. We diverted about 3,000 water bottles from the landfill and saved the community purse, the family pocket, about $12,000." So there was the motivation – the cost of bottled water both financially and environmentally.
The flash new Hydrohub also has cell phone and device charging.
"That's the whole idea," says Karen who is part of the Sustainable Endeavours Charitable Trust which built the Hydrohub. "If there's a civil emergency then that becomes the priority, it gets called into service. If there's no emergency, then it hangs around at public events – wherever people are gathering and may need cold water."
The Hydrohub idea was born on a beach. "I saw a family with five kids bring their water bottles. After a while the water must have got warm because the father had to go buy another five bottles. I thought this is bloody ridiculous. How much was he spending when we all have a right to free water."
That right is enshrined by the United Nations. "The human right to water entitles everyone to sufficient, safe, acceptable, physically accessible and affordable water and it must be enjoyed without discrimination and equally."
But that's not always achieved or respected. "If people are presented with the option of buying water for $3.50 or soda at $1.90 a can, they will go for the soda." But Hydrohub offers a free and healthy alternative. "So the soda companies naturally hate the Hydrohub."
And only a few places won't buy into Hydrohub – like some major sporting venues who have responsibilities to concessionaires.
There was an eighteen-month lull after the prototype Hydrohub was taken off the road because of maintenance. "It was built by committee, but a very successful little model, much utilised," says Karen. But after eight years' service it was sold and the proceeds ploughed into Mark II.
And she had lots of people asking about and for a Hydrohub for themselves – Maori health organisations, NZ Rugby League, ACC. "And the AIMS Games loved it."
Hydrohub II has had all the problems ironed out and new features added. "It's lighter that the prototype. They have fountains, charging stations –anything a USB will plug into." And although it doesn't chill the water, it has heat extraction to keep it cooler.
Envirohub will operate the Hydrohub in the western Bay of Plenty and bookings can be made online for a small fee to cover delivery and cleaning costs.
"We will continue to build Hydrohubs which will be owned by communities. They will operate under our licence. But the main thing is people will not be charged for drinking water."
The development of Hydrohub II was funded by the New Zealand Community Trust.
More on SunLive...