Doreen McNeill celebrates 90th with exhibition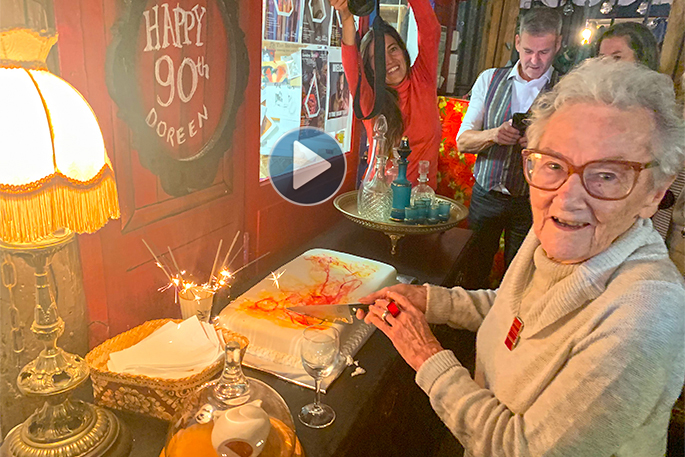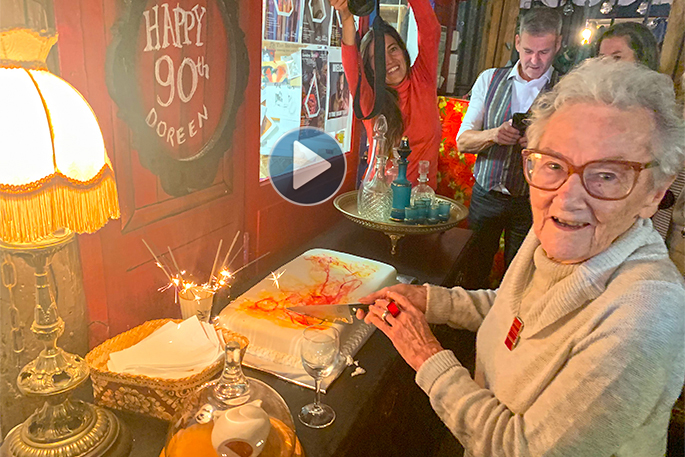 Click the image above to watch the video
Doreen McNeill opened her latest exhibition called XCbition on the same day as her 90th birthday.
Artists, friends and family turned out to wish Doreen a big happy birthday, with her cake decorated in a truly abstract style. The exhibition launch and party, held at The Incubator Gallery, was abuzz with music and conversation as people enjoyed the atmosphere.
After speeches and the cake cutting, the curtains were pulled back to reveal Doreen's works hanging on walls. An excited rush of people quickly moved to apply red dots, signifying a sold painting.
The Roman numerals XC are for 90, so XCbition is a play on exhibition and highlights her 90th year – a rather clever combination of letters and numbers.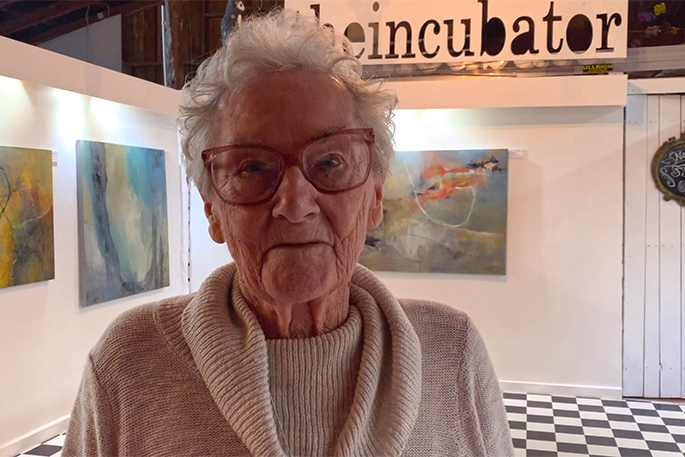 "I'm having a lovely day," says Doreen. "It's lovely having so many friends here, all the artist friends from the art community of Tauranga.
With the collection of new works, she hasn't painted to any particular theme.
"I was just painting," says Dorren. "I love painting. I've just been enjoying myself. I don't feel like doing any housework, I just paint and let them accumulate. I don't paint to any theme or end result, I just wait until I have a collection then put them together."
At the opening of the exhibition Doreen had about ten original works hanging, and about 20 unframed works on paper for people to 'cash and carry'.
Doreen has been painting seriously for about 30 years.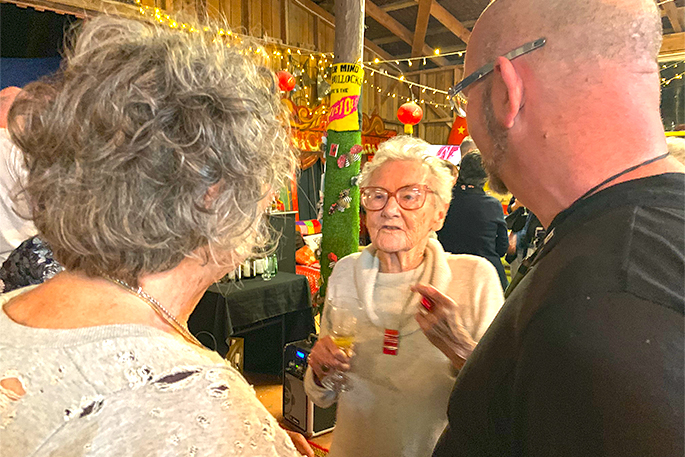 She started her artist career draughting navigational charts for aircraft in the 1950's, which included time spent in Venezuela, the USA, Canada and Australia.
She lived in Bermuda from 1961-64 working as a surveyor's assistant, and then from 1965-84 in the Bahamas doing architectural draughting. This is where she began to take painting seriously.
Her paintings have been exhibited in Hong Kong, where five works were selected to hang in the VIP Lounge of Cathay Pacfic; Taiwan, and in many exhibitions and collections in NZ.
Her friend and artist Jimi Colzato has filmed a documentary about her work titled 'Beyond Boundaries – a meeting with Doreen McNeill'. This can be viewed on her website https://www.doreenmcneill.co.nz/documentry
The XCbition exhibition runs at The Incubator Gallery at the Tauranga Historic Village until May 15.
More on SunLive...