Putting the petal to the metal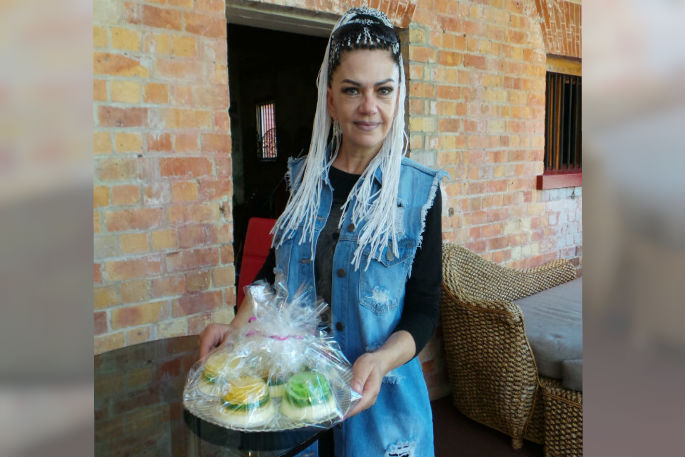 Tana Tapri is a woman of many talents.
Not only is she the lead singer of rock band Rubine, has five self-released albums, and is an expert cosmetic tattooist, Tana claims to be the only baker in New Zealand making jelly art cheesecakes.
Now, Air NZ is interested in her offer to supply miniature desserts - a cheesecake base adorned with a handmade edible flower encased in jelly.
When she is not working on her music – she recently performed with Rubine at the 2019 Tattoo & Art Extravaganza – Tana loves to experiment with her cakes, even making an under-the-sea-themed one.
It takes Tana three days to make a batch of cakes using her "secret recipe"; the biggest batch she has made was just over 100 cakes in one day.
"Baking has been my lifetime hobby and I have always been interested in art.
"I got the inspiration for the jelly art when I saw women in Japan who had done them, just the jelly, but I wanted to make my cakes and flowers more natural – like the flowers I see all around me in New Zealand."
Originally from Slovakia, Tana has lived in New Zealand for 19 years – becoming a citizen in 2007. She came up with the idea to use a cheesecake base on the jelly art because "New Zealand and Australia – they love cheesecake!"
Tana said most of the cheesecake cream is lemon-flavoured but the flowers come in several colours and flavours like cherry, butterscotch and lime.
The intricate cheesecakes are not what you would expect from the rock singer, who likes to wear full leather outfits and silver chain-like jewellery.
She cites Bonnie Tyler, The Cranberries and Metallica as influences, and even hopes to create a Tina Turner tribute band.
"When people ask me how old I am, I tell them 'I'm not as young as Pink but not as old as Madonna' instead of telling them a number."
The cheesecakes are available in multiple sizes, can be made lactose free and gluten free, and can be made with stevia rather than sugar.
More on SunLive...