The beauty of birds at Tauranga Bird Show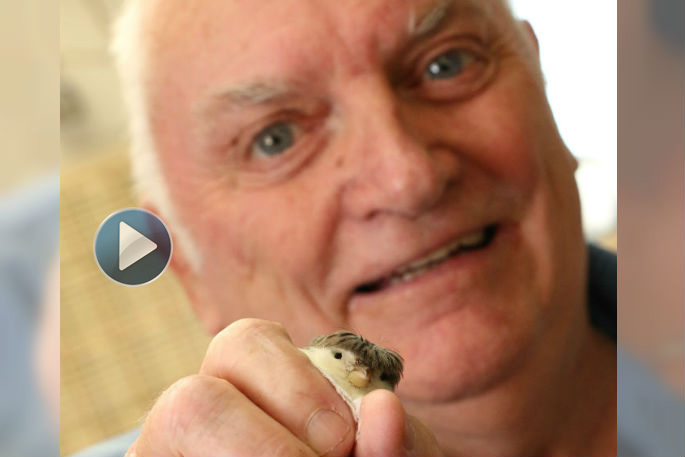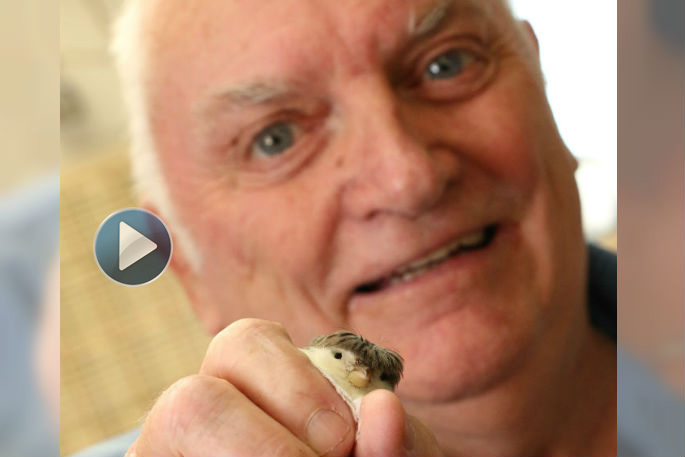 Click the image above to watch the video
Malcolm Miles has about 400 birds at home. He will be showing 24 of them at the Tauranga Bird Show today and tomorrow, Saturday May 4 and Sunday May 5.
"Eight Glosters, eight Lizards and eight Borders. All canaries." says Malcolm.
Photographer Daniel Hines and I had just come from Rob and Sheryl Baron's aviary where we'd looked at baby budgies. Sheryl's show cages are cleaned and drying in the sun, while Rob's busy chopping up vegetables.
"My sisters and I used to keep birds, but I think we only fed them seed," I said, puzzled at the quantity of produce on his cutting board.
"They need 40 per cent of their feed to be fresh veges," says Sheryl.
"Rob is the cutter of food that the birds have every day. He cuts up celery, silverbeet and spinach; grates carrots and bits of broccoli, hands it to me, I add some soaked seed and feed it out."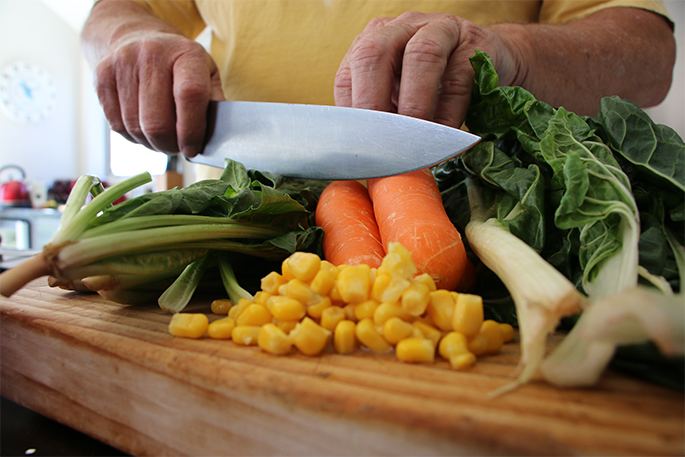 "We have too many birds," says Rob. Sheryl laughs.
"We probably only have 80 birds," she says.
All budgies, Sheryl breeds them in conjunction with their son Hamish who has been living in Australia for 11 years.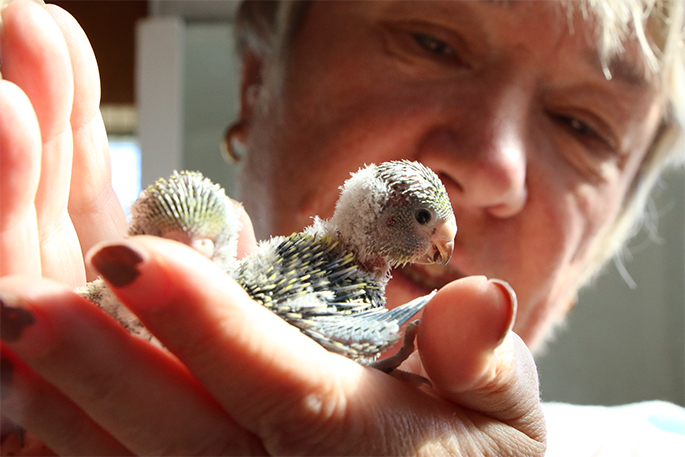 Sheryl Baron with baby budgies
"He said 'mum I'm going to vet school in Brisbane, will you look after the birds for me until I come back?' So I'm still looking after them. He wouldn't recognise them now because of course they don't last 11 years. He's engaged to an Australian, and still studying. He's just about finished his qualifications to become an avian medicine and surgery specialist."
I asked Malcolm how he came to be interested in breeding canaries.
"In 1978 I went to a singles do and there was a chap there who had border canaries," says Malcolm. "He needed someone to look after them while he was away on a job. So I went to his place, picked up the tin shed he was breeding them in, it was six feet by four feet, and took it back to my place. Why waste time travelling when I can feed them at home.
"When he came back he said 'leave them at your place and instead of drinking every night, feed the birds and look after them'. And so I just fell in love with them."
Malcolm contracted polio as a baby.
"I had polio all my life. Worked at the dairy company for 32 years, truck driving, forklift driving.
"When I got sacked from my job, the dairy company closed down, old age and all that, I came over to the Mount because my two crazy sisters told me I should live here."
He uses a walking frame inside and outside his house but in the aviary he seems to move around quite freely.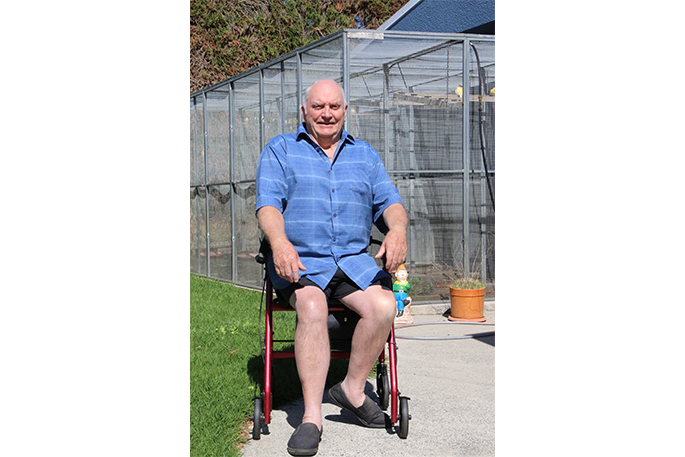 Malcolm Miles outside his bird aviary.
"In here I'm good as gold. When I bought this section, I built the aviary first, while boarding with my sister, and then built the house. The aviary is meant to be half this size, but it's 25 feet wide and 35 feet long."
He holds up a gold lizard canary for Daniel to photograph.
"Now that it's show season, you pick out the best ones," explains Malcolm. "It's based on width. The length of your thumb to your finger is how long they should be. And the legs should be clear, no swelling. Those are the main three things."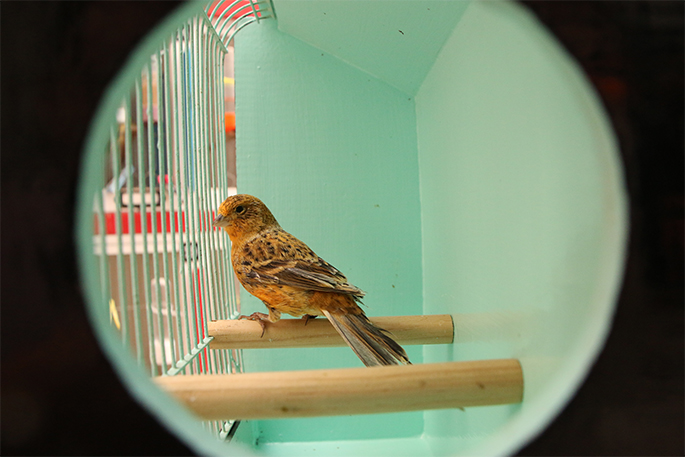 One of Malcolm Miles canaries, ready for the Tauranga Bird Show
Sheryl, who is Tauranga Bird Club's president, is expecting about 550 – 600 birds at the show.
"There will be all kinds of canaries," says Sheryl. "Colour-fed, non-colour-fed, and roller canaries. Also hook-beaked birds, like cockatiels and ring-necks. And then bigger birds like cockatoos and very small birds like Zebra and Gouldian finches.
"There'll be a huge range of birds bred by exhibitors coming to us from Hawkes Bay, Auckland, Gisborne, Hamilton and the Waikato. Perhaps also Taranaki."
Nine years ago, the club stopped putting on shows, due to declining membership. Sheryl and five or six others got together and reactivated the club four years ago.
"We now have about 70 members," says Sheryl. "It's really up and coming. Lots of new people on board."
The club includes those who want to show their birds, and others who have aviaries with cockatiels and parrots but don't show them.
"Many clubs in the country are about people who show their birds, but we've decided that's not the way we want to approach it. We want all-comers, anybody.
"This is the third show back after being away for six years."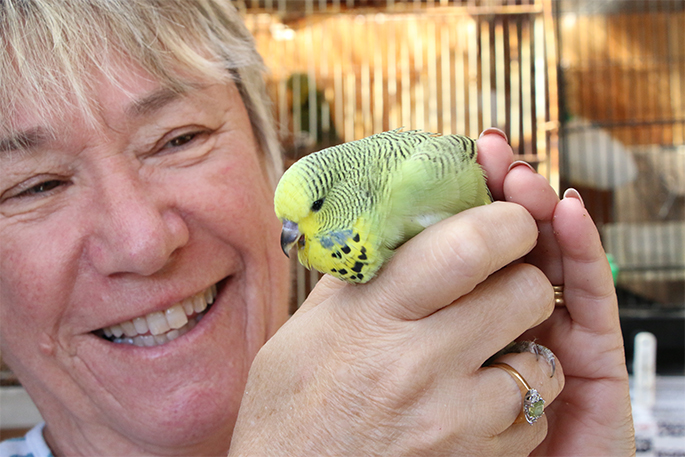 Sheryl Baron with a budgerigar
The bird show will be held at the Mount Sports Centre, from 1pm to 5pm on the Saturday and 8.30am to noon on the Sunday. Entrance is $3 for adults, $2 per child and $10 for a family.
Judging will be held on Saturday morning, with best in show, best of colour and numerous other awards with rosettes attached to the cages of the winning birds. Seed suppliers and local businesses help with sponsorship and prizes.
"My favourite part of the show is seeing the kids enjoying it," says Sheryl. "Children come in and their eyes are big and wide."
Malcolm is feeling very motivated.
"You've got to keep your mind moving and get out of bed in the morning," says Malcolm.
More on SunLive...