Trauma study shows extent of pushbike crashes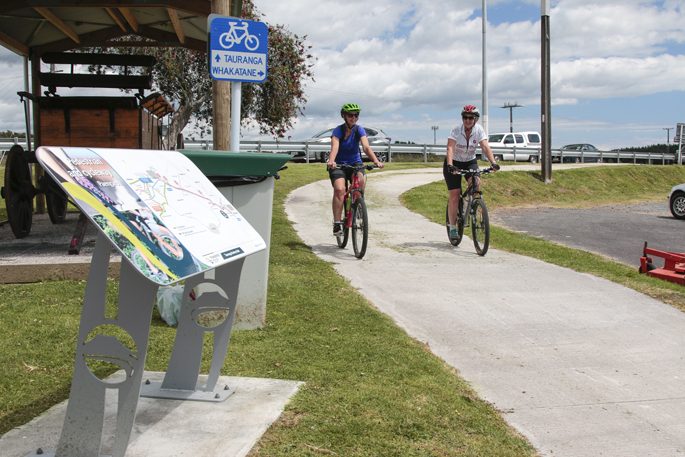 Cycling safety measures aren't keeping pace with the push to get more people on bikes, say those who deal with the fallout.
Advocates have even resorted forming a human chain to make a point about cycle lane protection, with a cycling advocate saying "paint isn't protection".
A trauma study found pushbike crashes sent almost 1000 people to hospital beds around the central North Island in the four years from June 2012.
Data from five district health boards in the Midland area - Waikato, Bay of Plenty, Lakes, and Taranaki - showed about 60 per cent of major cycling trauma happened on the road.
"There is a timing lag between the more 'now' promotion of cycling participation and actual implementation resulting in safe cycling environments," says a Midland Trauma System article published in the NZ Medical Journal on Friday.
"At all government levels, cycling promotion often appears well ahead of implementation. The resulting timing lag could contribute to an increasing number of injuries, adding to the trauma burden in the community and to costs across the health system."
The journal article was penned by staff involved with the Midland Trauma System: Neerja Singh, Natalie Joe, Janet Amey, Alastair Smith, and Grant Christey.
In the four years the study covered, 998 cyclists were admitted to hospital - 81 of them with major injuries.
The data doesn't cover anyone not admitted, anyone who died before they could get to hospital or who was treated at a primary care facility such as an accident and medical centre.
Wellington cyclists making a point about infrastructure have made human chains alongside a cycle lane on Wellington's Featherston St.
Wellington City Council has some great protected bike lanes, Cycling Action Network spokesman Patrick Morgan says, but it needs to keep building.
He didn't want people to be put off cycling - which he says had health benefits "like a wonder drug" - but says councils were slow to keep up with demand.
"Paint is not protection. You need a physical protection, whether it's a kerb, a buffer zone, or some of what they call safe hit posts - plastic posts bolted down to the road."
Cycle lanes can also be separate to the road, and there could be 30kmh zones, for example in city centres.
According to the study, more and more cyclists are having hospital stays.
In 2012/13, 190 cyclists were admitted to Midland area hospitals, but that rose to 302 in 2015/16.
Serious injuries fluctuated but averaged about 20 a year, and males tended to have "significantly more injuries" than females.
Waikato DHB had the most road cycling injuries, which the study's authors attributed to having the largest population.
Injuries at the countryside or beach featured more prominently over in Lakes DHB, "suggesting the importance of recreational mountain biking in this district".
Not all cycle trauma involves a motor vehicle, and more emphasis on cycle skills training and cycle maintenance could help avoid "loss of control' crashes, the authors say.
"A more contested area perhaps is that of attitudes to cycling and the sharing of physical space on the road (in the absence of safer infrastructure), where a look through the comments section of any online article about cycling shows the polarised views of road users."
When Hamilton opens up the new suburb of Peacocke, cycling infrastructure will be there from the start, city council's transportation unit manager Jason Harrison says.
That hasn't been the case in some other growth areas, so there have been cases of retrofitting.
City council staffers are seeing more cyclists around town, and another future project is the $20m School Link project, around Hukanui and Peachgrove roads.
It will help connect 14 schools in the area, making life easier for cyclists and walkers, and and physical work will start from 2020, Harrison said.
It can be hard for councils to get projects prioritised and money put aside, Harrison said, but Hamilton has a planned programme to connect the city's biking network.
City councillor Mark Bunting said Hamilton was behind cities such as Christchurch, where suburban streets were beautified, slowed and made "friendly for cyclists".
Hamilton has good cycle infrastructure - such as the Western Rail Trail and paths alongside Wairere Dr - but it's not linked and "you have to take your life in your hands to get to them".
Hamilton has the budget for more cycle infrastructure, Bunting said, but consultation would be needed to avoid obstructed motorists and a "bike lash".
More on SunLive...