New look for Whitianga playground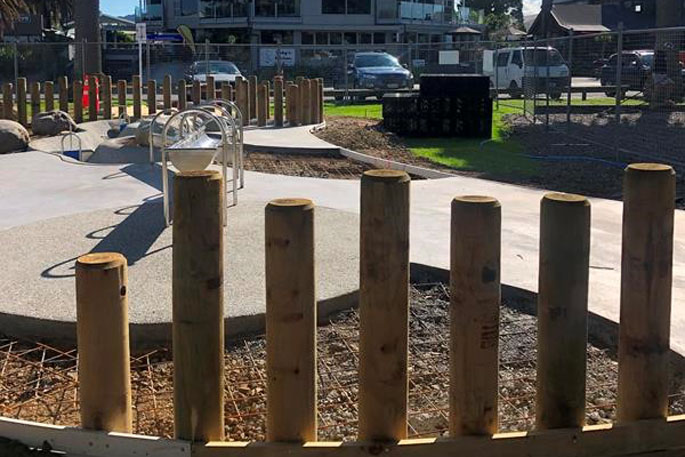 The Whitianga playground is the focus over the next few weeks of Stage Two of the Town Centre upgrade, with the existing playground furniture being dismantled and the removal of the old Jolly Roger Boat, along with the existing chip, mulch and timber edging of the original playground.
The Jolly Roger boat is being removed to replace it with a new ship.
Meanwhile the new water play section playground is nearing completion with one more concrete pour to complete this week, a 1.8 metre-high fence has been installed around the playground areas for health and safety purposes.
"After the removal of the old playground equipment, the new bollard fencing around the sand pit area will be installed as well as the timber footing and timber board walk," says the Thames Coromandel District Council.
"The topsoil will be stripped in The Esplanade to build the new concrete path and installation of new playground furniture will start this week.
"The new hoggin path being built from Taylors Mistake is almost meeting The Esplanade, while contractors are finalising the aco-drain instalments and pouring the remaining concrete along the Plaza.
"Landscaping between the hoggin path and the rock wall is starting, while streetlights and street furniture will be installed from next week.
"Along the Esplanade Road the removal of concrete footpaths has begun to create new driveways.
"The existing asphalt has been removed and the contactors are preparing to pour the new kerb and channel concrete along Esplanade Road to create new driveways and footpaths."
For more information about the works, visit the council's project page.
More on SunLive...