Natural hazard maps released for Tauranga Harbour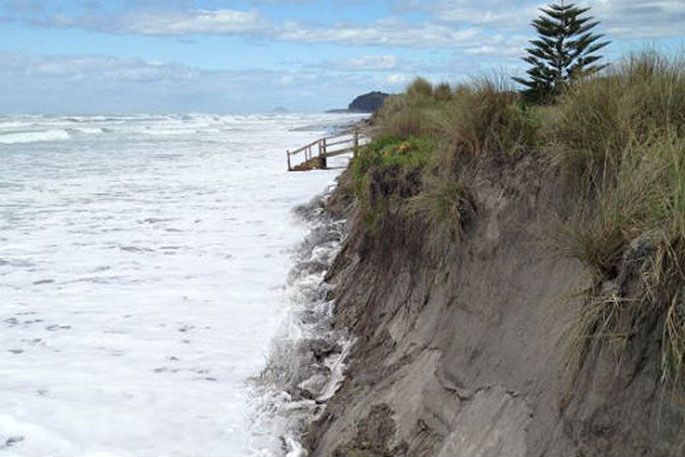 The Western Bay of Plenty Council and Tauranga City Council have been mapping and planning for natural hazards since the 1990s.
On Monday, the Tauranga City Council updated the data held on inner harbour erosion on residential files. Letters were sent to the owners of 1180 properties that lie within the zones identified as susceptible to erosion around the Tauranga Harbour.
This latest study on inner harbour erosion considers a range of potential sea level rise scenarios out to 2130. It improves our understanding of the risks that sea level rise could create, and how our inner harbour shoreline may respond over the coming 100 years, a timeframe set by the Ministry for the Environment.
Deputy Mayor Kelvin Clout says that Tauranga City Council has a well-established history of research into natural hazards, including harbour erosion.
"This research is the latest in a long list of studies for the Tauranga area, including flooding, tsunami, earthquakes, liquefaction, volcanic ash fall and groundwater levels.
"It considers a range of sea level rise scenarios and timelines to try and plan for the possibilities that may lie ahead for our city," says Kelvin.
"This study allows us to consider these scenarios and plan for the future. It is our duty to enable our residents to do that same, which is why we release this information to landowners."
The Western Bay of Plenty District Council has also sent out letters to 300 affected landowners and has included the new information on the natural hazards' web page.
This new information improves the understanding of the risks that sea level rise could create and how Western Bay of Plenty's harbour margins may respond to those potential changes over the coming 100 years.
Western Bay of Plenty District Council's group manager policy, planning and regulatory services Rachael Davies says improving the accuracy of hazard maps is more critical than ever due to the increasing legislative requirements around climate change, reducing natural hazard risk, and ensuring preparedness and response to natural disasters.
"The mapping information will help people make informed decisions about undertaking building works, buying property or preparing for a natural disaster.
"As we complete the mapping of each hazard, we will notify landowners and put the information on council's website, on property files and in any land information memoranda requested for properties," says Rachael.
Western Bay Council will also use the maps when processing resource consents, project information memoranda and building consents to ensure that the risk from natural hazards to people and buildings is assessed.
The council's natural hazards webpage has an updated list of 'Mapping Projects and Timeframes' to keep people informed of what's happening.
For more information visit the council's natural hazards webpage at www.westernbay.govt.nz/naturalhazards
Updated information from the Tauranga City Council is also available on their website at www.tauranga.govt.nz/harbourerosion, and is included in property files.
On the website, it has a mapping tool which allows people to see modelled erosion impacts for different locations, timeframes and sea level rise scenarios.
"Our primary goal is to ensure everyone understands the potential risks and can access the information we hold, for inner harbour erosion as well as other hazards," says Kelvin.
"This gives landowners, prospective buyers and developers the ability to see how erosion may affect any property on the inner harbour."
Research on coastal erosion and other hazards is run in partnership with the three councils. A further study is in progress modelling inner harbour flooding, the results of which are expected to be released in the next few months.
More on SunLive...