Finding labour for the future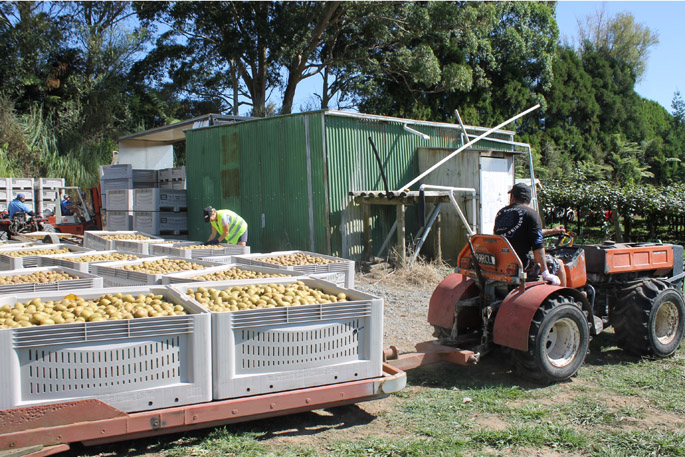 The industry body representing horticulture in New Zealand is calling on the Government to seize the opportunity to radically reform our country's Vocational Education sector so it will pull more people into adopting a work-ready mentality at an earlier age.
Horticulture NZ recently made this plea in their submission on the Reform of Vocational Education after the Government announced earlier this year it proposed to overhaul the sector.
The move comes as NZ's apple and kiwifruit industries struggle to find workers to harvest their fruits here in the Bay of Plenty and in the Hawke's Bay.
On April 15 the Ministry of Social Development declared a labour shortage for the BOP kiwifruit industry and extended the Hawke's Bay's declared labour shortage. The BOP declaration runs to May 27 – with NZ Kiwifruit Growers Incorporated estimating a shortfall of 3800 workers at harvest peak in mid-April. Last season the BOP kiwifruit industry was 1200 workers short at peak of harvest.
Horticulture NZ chief executive Mike Chapman says part of the solution to finding a larger workforce for future harvests – which for kiwifruit are expected to keep increasing in size – is in Vocational Education.
"The important thing to note is this is a reform. A reform is a revolution and we have the potential to really change things up. So what we're saying to government is: 'Hey, this is a fantastic opportunity'."
HortNZ doesn't believe the Vocational Education system has been serving industry, learners or the community as well as it should have. "What we do is let people coast through secondary school and develop a 'couch-drug' culture and once they get into that you're never going to get them into work," says Mike.
"We think we should be looking at a Swiss or German system where vocational training starts really early on, as part of a dual education system that combines on-the-job training with formal education. We're talking intermediate students – Years 7-8."
In their submission, HortNZ says NZ's horticulture industry is in a rapid growth phase with significant skills shortages. "At least 26,300 new, well-trained people are expected to be required by the horticultural sector over the next 10 years, and the proposed VE reforms will be crucial to horticulture reaching its potential value for NZ. In addition, the future workforce for horticulture must include a much greater proportion of young Maori."
Mike says part of the VE reform should be developing wider whole sector workforce development strategies that not only address industry training needs but industry-by-industry and region-by-region work in partnership with Government to meet labour and skills needs of each industry, including horticulture.
"A workforce development plan can start way back at intermediate/early secondary school with vocational training, linking people to employers.
"This is because we've found there's no point saying to someone older: 'We've got a great career in horticulture, here's a course you should do'. Where's the employment? You've got to link the employer with the student, and link the training with what the student and the employer need. So it's got be employer/learner centric."
"[And] It doesn't really matter what career they end up in – if we get them, and get them started with whatever career/industry it might be, they're on that continuum. And we need our vocational training systems, including our universities, to offer things that are very relevant and also flexible – so perhaps you do it on the weekend, or online. We've got to re-think the way we do everything in terms of VE."
Mike says all horticultural industries are struggling with labour shortages – whether it be for full-time staff or temporary workers – and this is impacting on growth of industries.
"If you don't have that surety of labour, you can't grow. I know from talking to apple and kiwifruit growers it is impacting on expansion plans – because for such plans you need land, water and labour."
In a separate submission to the Ministry for Business, Employment and Innovation's consultation on a new approach to employer-assisted work visas and regional workforce planning, HortNZ stated the rules need to be more flexible, with special consideration to be considered region-by-region and industry-by-industry.
"A key recommendation was where there are no Kiwis available, or no Kiwis available who want to work, there should be consideration under the Temporary Work Visa to turn this into a pathway to becoming in a NZ Citizen on the basis there is a need for that person and we haven't got that person in the local community, so let's fill the gap," says Mike.
"The great thing is the Government has put this review and this reform out simultaneously and is now able to link them together.
"The TWV is the short-term Band-Aid – but change the Vocational Education system is a long term solution."
Read Mike's HortNZ column under Blogs.https://www.coastandcountrynews.co.nz/blogs/index.html
More on SunLive...