Rates-funded glass collection service on track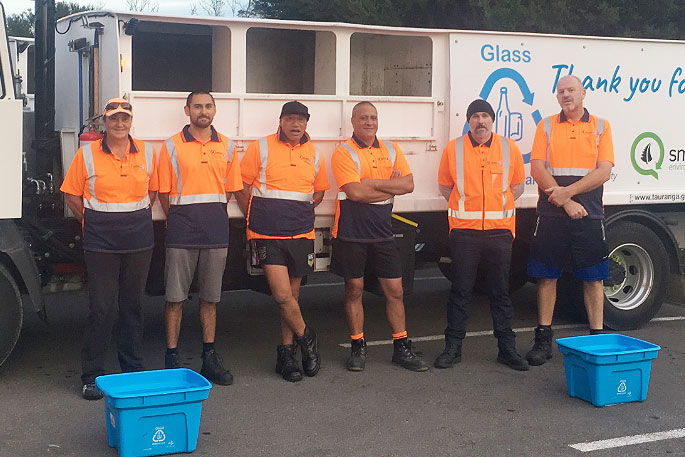 Tauranga City Council says it is well on track to meet its goal of preventing 6000 tonnes of glass unnecessarily going into landfill each year.
In October last year, Tauranga City Council introduced a rates-funded glass recycling service following the decision by private waste companies to no longer offer this service.
Six months later, the council estimates the kerbside service has collected almost twice as much glass as previous collections and serviced on average 5500 households each day.
Waste contracts and compliance team leader, Tim Senington, is pleased that public uptake of the service has been higher than anticipated.
"The service has enabled and encouraged more people to recycle glass. On average, 65 per cent of residents use the service on their collection day and less than one per cent of all crates presented at the kerb are refused, mostly because they are too full or contain broken glass.
"Glass is sorted into different colours by hand, which means almost 100 per cent of the glass can actually be recycled - more than ever before."
The council praises Tauranga residents for supporting glass recycling, as well as making the service providers feel welcome in their community.
"We've had reports from our drivers that residents have been friendly and shown genuine care for them.
"In one instance a resident asked if a truck driver was okay while they were taking a break to cool down on a very hot summer day."
As a reminder, crates that contain broken glass cannot be collected due to the health and safety risks to staff in the process of hand sorting.
The kerbside collection service is expected to be extended in 2021 to include more types of waste, further increase recycling and reduce the amount of waste going into landfill.
For more information about the glass collection service, visit www.tauranga.govt.nz/glass or phone 07 577 7000.

More on SunLive...