Blurring Scrummaging Laws - Baywide Men's Rugby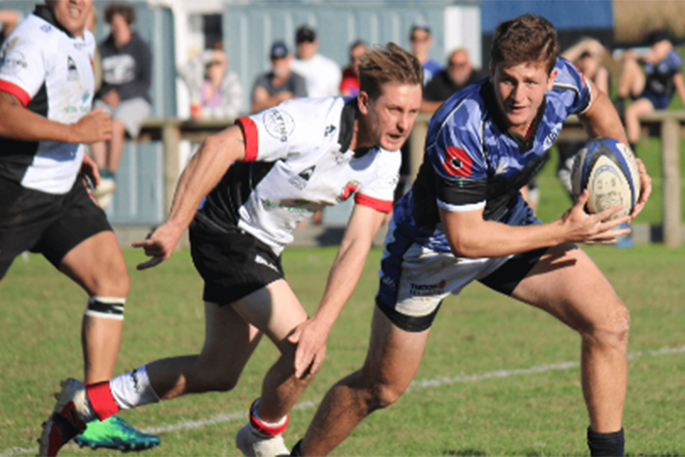 Blurring the lines of scrummaging laws is a required art and no one knows how to flaunt those laws better than Rangataua prop Noel Mahia.

The powerhouse scrummager can be an anchor for his side when needed and then a winding slithering anaconda, disrupting an opposition front row, twisting and turning them at will.

His skills were almost the point of difference in their match against Whakarewarewa at the weekend, but when you live on the edge of the laws, you can also find yourself on the wrong side of a referee's decision at the most inappropriate time.

This was the case in their narrow 30-28 loss to the red and blacks. Whaka were looking to break a three-match losing streak and appeared to be on their way to that win, leading 23-13 at half time.

Whaka had finally found some continuity in the back line thanks to right winger Te Wehi Wright. He went roving for work, often turning up in the mid-field breaking the advantage line and setting up great opportunities for his side. He was rewarded for his effort with one of the three tries his side scored.

Playing in front of a staunch Puarenga Park crowd, Whaka should have ramped it up for the second half and look to secure the win. But while Whaka dominated in most areas of the match, Rangataua had Whaka in trouble come scrum time.

Mahia dominated his opponent twisting and turning him, never letting him consolidate Whaka's scrum. Some might say what he was doing should have drawn a penalty. But for 72 minutes it didn't and Rangataua clawed their way back to 23-23 and even lead the match 28-23.

Unfortunately for Mahia, he went to his bag of tricks one-to-many times and with Whaka camped on Rangataua's line he was ruled to have transgressed in the scrum giving Whaka a penalty try and the prop, first dibs on the shower thanks to a yellow card.

Rangataua had the opportunity to steal the win when they were awarded a penalty 30 metres in front of Whaka's post. But it was not to be and Whaka appears to have their season back on track.

In the other matches in the round; Te Puna beat Arataki 52-7 in their ANZAC commemoration match, Rangiuru lost to Tauranga Sports 31-34, Rotoiti lost to Greerton Marist 34-12, Opotiki were beaten 57-0 and Mount Maunganui were too strong for Te Teko beating them 17-7.

Click here for all Farmlands Cooperative Baywide Men's Club Rugby results.
More on SunLive...