Joseph Millar aiming for 10.05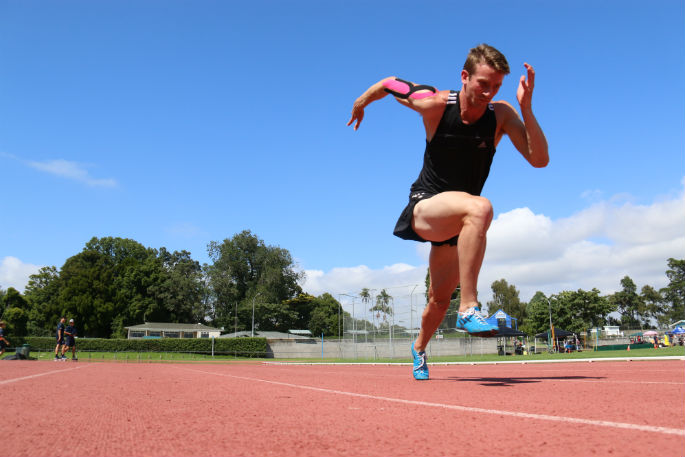 Joseph Millar, five-time New Zealand 100m and 200m champion and NZ's fastest man, is overcoming knock-backs to go after his goal of qualifying for the next Olympics.
He's fought back from a bout of health challenges and now is set on shaving more seconds off his best time of 10.18 seconds.
"They've set the qualifying time at 10.05, which is insanely hard," says Joseph. "The NZ record is 10.11 so to go to 10.05 is a big drop."
Joseph says races at world events have gotten slower in the last couple of years especially with the absence of Usain Bolt.
"Ten years ago at the Beijing Olympics, the time to get there was, I think 10.24 or 10.23. I have from May this year to about June next year to qualify."
Joseph won his first national 100m title in 2012. Now, at age 26, he's solely focused on running despite recently having to overcome health issues.
"In the same week I had a bunch of different health things fall on me. A hit to the chest causing a throat irritation meant I was coughing nearly nonstop for six weeks.
"It tightened everything up on me particularly my lower back.
"Also some sort of reaction where I couldn't sleep because my skin was painfully itchy all night. I was digging holes in my arms to try and stop the itching, it was torment."
He was a week out from the NZ national competition and despite training hard for it, had to pull out.
"I found I couldn't train at 100 per cent while unwell. The difference between 98 and 100 per cent is big. Asking your body to give that extra - if you're not well, then it's not there.
"I hate missing out on nationals, it's my favourite NZ event. Oceania is coming up in June. It made sense to stop training, get on top of my health, and have more time to put towards Oceania."
Now with consistent nights of sleep again, and building back up, he's looking forward to the competition, although he wishes he could have raced Edward Osei-Nketia at the nationals.
"Having for the first time, someone who is a threat to race, in Eddie, and having to miss out on those races was quite disappointing."
The 17-year-old teenage sprint sensation is son of NZ record holder Gus Nketia. Joseph knows Edward's family well.
"I met Gus two years ago and now every time I go to Canberra to race, he has me over to stay at his place," says Joseph. "We've talked a lot about the past and training, how Eddie is going and also Eddie's younger brother."
Joseph has advised Edward to pursue his running dreams as an Australian. Without local fast people to train with the next best thing is to go find them.
"I'm from New Zealand, but it's not my racing pool. There's a stronger field in Australia to race. It's where I'm always looking to go and run fast. You get good conditions, and they base it around the athletes' performances."
"There's a difference between knowing you can beat a challenge and knowing that there is no challenge.
"I made my biggest jumps when I was training in Tauranga and had a training partner with a similar personal best as me. Running in Australia against fast runners spurs you on.
"If Eddie and I trained together, we'd probably be running some ridiculously fast times in a year's time. For me to have someone like that and knowing I really had to go would put a fire up me.
"And to have someone who knows the ropes would be great for him."
Edward lives in Wellington, and Joseph is in Auckland.
"There's been a bit of discussion about heading down and doing some training with him, especially in the lead up to Oceanias."
Joseph's personal best time for the 200m is 20.37, which means he's run the 100m in 10.185, sustaining the same speed for twice the distance.
"Most people do twice the 100m time plus 0.1 or 0.2.
"I'm going to focus on getting everything right especially with the Olympics coming up."
More on SunLive...