An Itty Bitty Katikati Ditty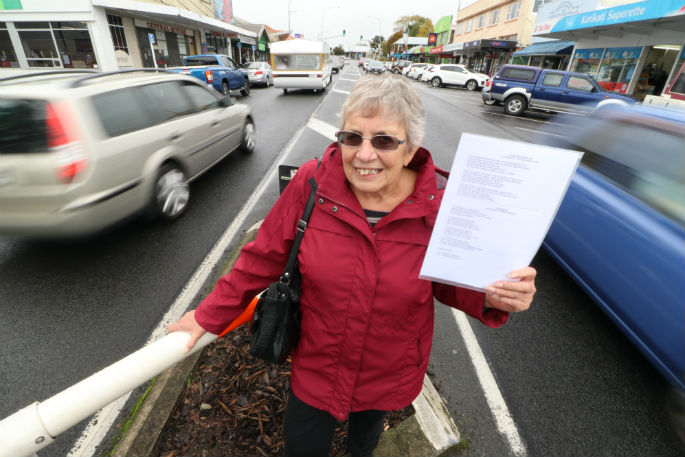 A few glib lines of a poem composed for "a bit of fun" encapsulate the frustrations and disillusionment of 5,000 people – a whole town.
"Where is the bypass – I hear you cry, The bypass has thoroughly passed you all by, Promises broken and all turned to dust, Governments and councils you no longer trust." – Pamela Askew.
One verse from 44 different poems on Katikati's bypass fiasco submitted to Katch Katikati's $500 poetry competition – most of them whimsical but tinged with deep seated bitterness.
"Rightly so" says the National member for Coromandel, Scott Simpson. "We'd given an unequivocal commitment to start construction of the bypass. The diggers would have been digging by now if Winston hadn't made the decision he made. Katikati can rightfully feel miffed – I understand it, I get it."
"Can we still have our bypass?" Ask Bob, Tim and Kate, "No" said Jacinda, "You'll just have to wait, We have got bills to pay and we're busy as bees, Now I have got things to do. Begone if you please." – Paul Cosson.
The poetry competition was the brainchild of an anonymous local. He stumped up with the $500 and said have a bit of fun. Fun?
"It all tells me that we are fed up," says Jacqui Knight of Katch Katikati, the town's promotional group. "The town's just not user-friendly, parking is hard, getting out of side roads is hard, you can't chat on the street, it's unpleasant. No-one is winning."
"There are smells and pollution, and the only solution, Is to build us a road, That will relieve the load, That will bypass our town, so that you can go down, To the village at pleasure, stroll along at your leisure, The quiet I will measure, The peace I will treasure." – Elisabeth Beamish.
But there will be no peace soon. The NZTA has already indicated to The Weekend Sun that the Katikati Bypass is not an immediate investment priority. And construction, if needed, will be after 2028. There are also noises about a $100 million local investment in a bypass.
"Thundering trucks, cars and such, This huge noisy traffic, Is just too much. All squeezing its way, through our narrow town road, we just can't take this overload." – Kathy Turnbull.
Blame Winston says Scott Simpson. "If he had made a decision other than to go with Labour and the Greens, that bypass would already have been under construction." And he says, the Minister of Transport, Phil Twyford can't hide behind the skirts of his officials on this one.
One poem was even composed in England. "A frequent visitor to Katikati who had watched the deterioration of our town. It's sad," says Jacqui.
Then winner – a local woman Elisabeth Beamish, formerly of Anthenree who may now be regretting her move to the big smoke, the big diesel smoke. Her entry was called "An Itty Bitty Katikati Ditty." You will be humming it before long.
"If you go down to the town today, you'd better take extra care,
If you go down to the town today, you'd better have time to spare.
For every truck that ever there was, is driving through our street, just because,
The only way is straight through, we have no BYPASS.
If Elisabeth feels strongly about something, she will be moved to verse.
If you go down to the shops today, be careful just how you go,
If you go down to the shops today, you'd better go really slow,
The traffic is crawling all through the town,
The noise and the fumes will bring you right down,
Today's the day we really need BYPASS.
And Elisabeth has watched the town deteriorate – so noisy and smelly. And she was so moved by this issue she wrote three poems. It was meant to be a bit of fun, but it's also a political statement. And good therapy.
If you go out for a walk today, you'd better avoid the town,
If you go out for a walk today, all the traffic will make you frown,
For all the cars that ever there was,
Are driving through our village because,
Please NZTA, we really do need a BYPASS.
The plan is to have the poems published in book form. "I would be delighted to take that book to Wellington," says Scott Simpson. "And I would be very happy to issue an invitation to the Minister of Transport to meet with me and receive the book."
He thinks it's a nice creative way for people to vent their spleen.
More on SunLive...