Sweet as can bee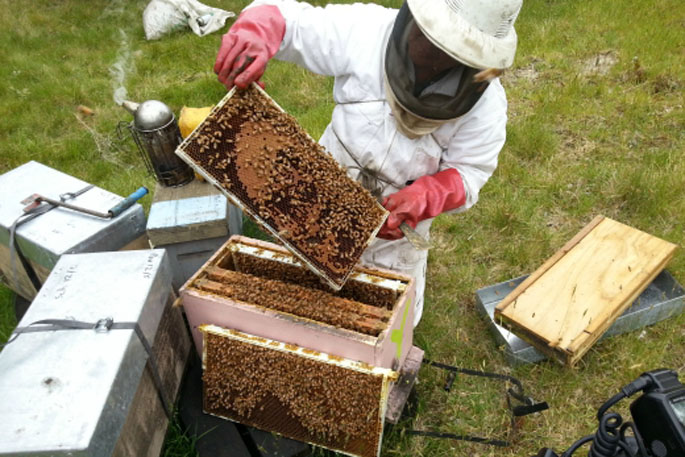 Bee-coming a beekeeper in the Bay of Plenty has never been easier with a Papamoa couple taking bumbling beginners under their wings.
"Your own honey is always the nicest," says Chris Mitchell of Seaside Bees.
Autumn may not be the ideal time to begin beekeeping, but Chris says it is the best time to learn under an apiarist and prepare hives for the more favourable season of spring
Chris and his partner Silvana Nieto are running ten, two-hour long sessions from May 1 at the Papamoa Library and Community Centre on Gravatt Road.
Seaside Bees' eight week course, 'An Introduction to Urban Beekeeping', educates students on aspects of apiculture from bee behaviours like "queenlessness" and bearding, to commercial extraction.
"Ultimately, the course covers what we would have liked to have had covered when we were starting."
Chris and Silvana became involved with beekeeping after their oldest child developed asthma and they were interested in honey as a natural solution to ease symptoms.
They already kept other animals like chickens and ducks on their property and Chris said getting bees "was a natural extension of the zoo".
Their first beehive was filled with bees they came across by chance.
"We built a hive and this sat vacant for a time as we procrastinated about buying bees. Then, at short notice, we caught a swarm that was causing problems for a family in Welcome Bay Road. We brought it home with quite few bees on the loose in the car."
Chris believes beekeeping has become more popular due to the popularity of Manuka honey and a raised awareness about making more environmentally-conscious choices.
Earlier in the month, Sun Live talked to teachers at Papamoa Primary School who helped students create beeswax wraps they could use in their lunchboxes as a solution to the use of plastic wrap. Teacher Patrick Barrett said students had made nearly 200 wraps over the week and they were proud to bring them to school.
"The reliance on soft plastics and global warming have boosted interest in natural products, but that interest was always there; it just goes through cycles," says Chris.
Alongside teaching students about using beeswax in lip gloss and boot polish, the lesson on bee products is popular because they learn about the alcoholic uses of honey in mead and Uruguayan cocktail Grappamiel, a combination of honey and a grape-based brandy.
If you're keen to see what the buzz is all about, Seaside Bees also offers a chance to shadow a beekeeper for half a day.
Chris' tip to encouraging bees from a local hive to visit your garden?
Try plants that have a long flowering season like Australian bottle brush, or plants that flower earlier than most like cabbage trees and camellias.
More on SunLive...