Mount port-side development land for sale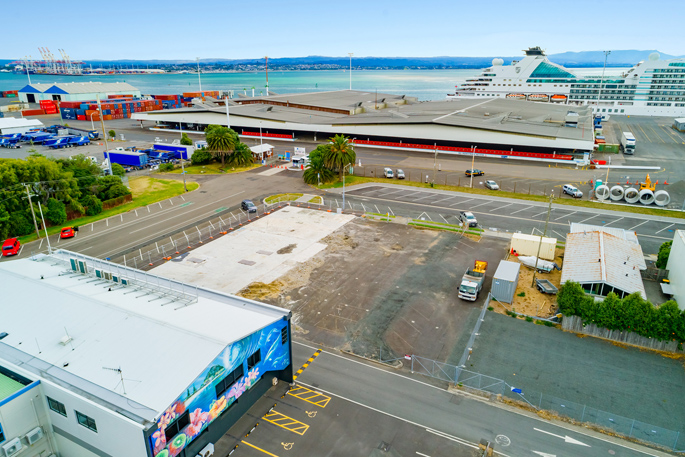 Two adjoining bare sections located directly across the road from the mooring and passenger boarding and disembarkation facilities for cruise liners visiting the port of Tauranga have been placed on the market for sale.
The two freehold sites on the corner of Rata Street and Nikau Crescent in Mount Maunganui are zoned commercial 8C under the Tauranga Council district plan – allowing for a construction height of up to 12 metres.
Combined, the two flat sites encompass some 1,867-square metres of land. The two sections are being sold as one offering.
The Rata Street/Nikau Crescent block - zoned city centre under Tauranga City Council's district plan - is surrounded by mix-used properties sustaining port-related commercial offices such as customs brokers and the regional headquarters of HMS Customs, retail outlets, and apartments.
The properties at 10 Rata Street and 37 Nikau Crescent are now being marketed for sale at auction at 1pm on May 1 through Bayleys Tauranga.
Salespeople Lloyd Davidson and Sarah Schouwenburg say the land offered an 'excellent blank canvas' development opportunity.
"The site is positioned directly across from the Port of Tauranga, much of which their core activity consists of container, produce, and people movement, from Mount Maunganui's more commercial and high street retail precinct," says Lloyd.
"Design configurations for any new building on the Rata/Nikau site could easily factor in retail units at street level, with commercial floors above. Or a boutique hotel to accommodate passengers either embarking onto cruises calling in at Tauranga, or terminating their journey at the port."
The Port of Tauranga hosted 114 cruise ships over the 2018/19 season which runs from October to April, with the same number of liner berths forecast for the 2019/20 season.
"With tens of thousands of cruise passengers now utilising the Pilot Bay berthage over what is effectively a seven-month season, the Mount Maunganui retail environment and wider Bay of Plenty tourism sector has benefitted from this growth," says Lloyd.
"Such sector activity provides the obvious economic foundations for the future potential use of the Rata Street/Nikau Crescent site and its most likely tenancies."
Sarah says the site previously housed the head office for what became the Owens Group. At that time, this was the main base for the original stevedore business that managed the beginnings of the NZ log and timber trade to Japan.
Sales data for large blocks of bare land purchased in Mount Maunganui over the past nine months shows that 2,118-square metres of land at nearby 2 Rata Street sold for a per square metre rate of $2,630, while 800-square metres of land at 33 Totara Street sold for a per square metre rate of $3,870.
More on SunLive...