What's on: Anzac Day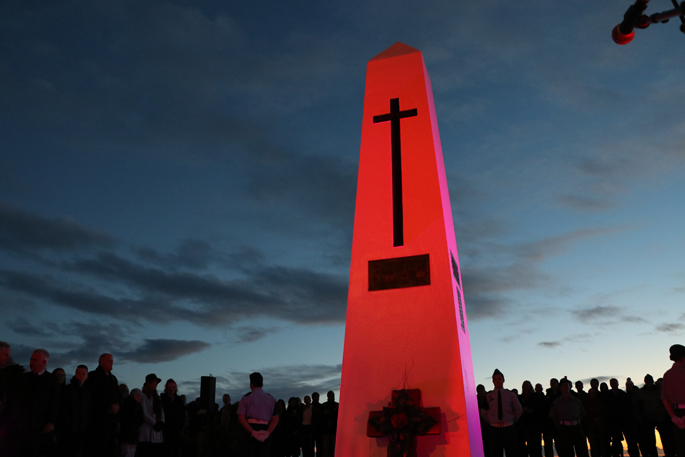 Good morning SunLive readers, welcome to this fine and sunny Anzac Day.
Today, Tauranga residents will experience fine weather with southwest breezes. Be mindful of your washing on the line this afternoon, as there is a chance of showers.
The high today is 23 degrees, and we will experience an overnight low of 13 degrees.
For those who didn't get a chance to head along to the dawn service this morning, there are plenty more Anzac Day remembrance services occurring across the Bay, click here to view venues and times.
For those who were lucky enough to score tickets, the L.A.B sold out show is tonight at Totara Street in Mount Maunganui.
The local dub and roots band are performing at 8pm, as part of three shows in the Mount, which are all sold out.
For those who are on a public holiday, enjoy your day off, and dig into some delicious Anzac biscuits.
Thursday 25 April
A Place to Bee
Come & join us for knitting, card making or anything you want to craft while we chat at Lighthouse Church Welcome Bay 11am-1pm
---
Adult Conversational English Classes
Using the Bible. All learners welcome @ St Andrews Church, 3 Macville Rd, Mt Maunganui, 10-12. Starts 2 May. Ph 575 9347 Tues-Fri 9-3
---
Adults Ballet Class
2pm St Peter's Anglican Church Katikati. Posture, balance, movement, musical appreciation, French terms & enjoyment. Ph 577 1753 or 027 274 8753 www.christinaproductions.co.nz
---
ANZAC Day Service
Civic Memorial Service, 9am at Memorial Park. For more info go to www.tauranga.govt.nz/anzacday
---
Art and Craft Workshops
ArtyCraft presents art & craft workshops Tues & Thur 4-6 at St Enoch's Presbyterian Church. Ph Minette 021 995 875
---
Bay City Rockers
Social RocknRoll dancing, plus other popular dances at Senior Citizens Hall Norris St. 7-9:30pm. Includes supper. $3 entry. Ph Gavin 027 643 6222
---
Community Bible Study
Join us @ 14th Ave Gospel Centre 10am-12pm for Bible Study on the Book of Daniel. Ph Gay 021 225 5981
---
Friends of the Library
Anzac Day. There will be no Monthly General Meeting at the Greerton Library.
---
Indoor Bowls
At Tauranga Citizens Club Mon 7pm & Thur 1pm. All levels, beginner to experienced, juniors included. Everyone welcome. Ph Andrew Matthews 0210 298 5047
---
Katikati Concert Band
7-9pm, Katikati Bowling Club, 8 Park Rd, Katikati. Welcome all ages & experience. Ph Mick 07 549 2105
---
Katikati Toastmasters
Meetings 1st 3rd & 5th Thursday at Katikati Community Centre 45 Beach Rd Katikati 7:30pm-9pm. Ph Chrissy 027 296 7939
---
Keynotes Women's Chorus
We sing 4-part harmony a cappella style. Keynotes meet at the Wesley Centre 100 13th Ave 7pm. New members welcome. Ph Bernice 576 4848, facebook Keynotes Inc.
---
Let's Learn Lifelong Learning
Are you a lifelong learner? Check out the range of courses, workshops, classes, lectures, lessons & events on www.letslearn.co.nz or ph 544 9557
---
Mainly Music
Music & dance for preschoolers, mums & carers. $4/family. Morning tea provided. 9:30-10am. Holy Trinity Church, 215 Devonport Rd.
---
Morning Badminton
9-11:30 Tues & Thurs, Queen Elizabeth Youth Ctr. Racquets available, everyone welcome. Ph Rachael 027 446 2959
---
Mount Underwater Club
Club night 1st Thursday of month. Guest speakers & other Club events. New members welcome. See website for details www.mmuc.co.nz
---
Orange City Square Dance
7:30pm at St Enochs Hall 16th Ave. Have fun, get active, new dancer class begins soon, first night free, flat shoes please. Ph 578 6516
---
Otumoetai Tennis Club
Adult Tennis. Start time 9am Bellevue Park Windsor Road (adjacent to swimming pool complex). New players & visitors welcome. Ph Pam 570 0302
---
Pottery Gallery
Bethlehem Pottery Gallery is open 10am-2pm Tues,Thurs & Sat. Come along & purchase locally made pottery.
---
Radio Controlled Model Yachts
Sundays & Thursdays 1:30-4, in pond behind 24 Montego Drive Papamoa, sailing Electron Yachts for fun. Adult beginners welcome. Graham 572 5419
---
Retro & Mod Sale
Vintage & retro clothing, fabrics, linen etc. 9:30-1 at Historic Village. Proceeds to Turning Point Trust. Cash only.
---
Rhythm, Foxtrot & Waltz
Ballroom dancing at Mt RSA Thurs 10am-12pm & Tga Citz Club on Sat afternoons. Ph 572 4272
---
Social Games
Club Mt Maunganui Indoor Bowls & Cards. Have an afternoon out. New members welcome. Ph Dot 5753780
---
Sunshine Sequence Dance Group
Learn dancing at a friendly club. Baptist Church Hall, 13th Avenue, 7pm-9:30pm. $3 entrance includes supper. Jan 544 4379
---
Taoist Tai Chi
Beginners Tai Chi classes Mon-Sat, 15 Koromiko St, Tauranga. Also KatiKati, Mount, Papamoa & Te Puke. For times visit www.taoist.org or ph 578 9116
---
Tauranga Model Railway Club
Meet at 7:30 Club rooms, cnr Mirrielees & Cross Rds, Sulphur Point. Ph Mike Oldfield 021 939 233
---
Tauranga TePapa Probus Club
Meets first Thursdays 9:30am at Daniels in the Park. Ph Robbie 578 1051
---
YMCA Gold Fit Classes
Smooth Movers exercise group 10:30 Bethlehem Hall. $8 casual with concession rates available. Ph YMCA 07 578 9272
---
More on SunLive...