What's On: Heavy rain and the blues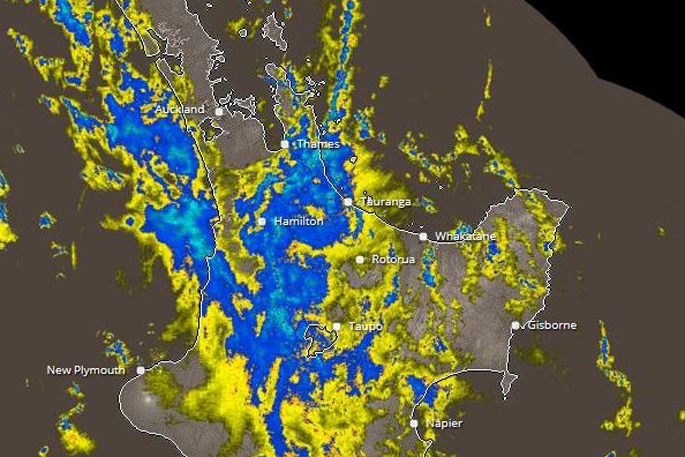 Good Morning SunLive readers, I hope you are enjoying your Easter break and making the most of your time off before it is back to work tomorrow.
The weather for today isn't looking to good, so if you are out and about or making the road trip home, please be safe while driving. Keep a safe following distance, drive to the conditions and get home safe.
The Easter road toll is at one, so let's keep it that way.
Looking at the weather for today, there is rain with the chance of it being heavy, but it should be easing by the evening.
By the evening the northerlies should die out by then as well.
Tomorrow will have showers as well, hopefully clearing by the evening. There will be some southerly breezes from the afternoon.
Today's high will be 19 degrees, with an overnight low of 12 degrees.
If you are looking for something to do today, there are open skate sessions being held at the Mount Maunganui Sports Centre from 6pm.
This is open to anyone who is interested in having a go a roller skating from ages 16 and up.
The cost is $5 for skates and safety gear or you can bring your own.
For more information click here:
Mike Garner and Neil Billington will be playing a free concert at the Barrel Room from 1pm today.
For more information, click here:
To find out what else is happening in the Bay today, check out the What's On listings below:
Monday 22 April:
Achieve Toastmasters
Meets 1st 3rd & 5th Monday at St Stephens Church Hall Brookfield Tce Tauranga 7:30pm-9:30pm. Ph Frank/Chrissy 543 9493 or 027 296 7939
---
Adult Social Ballroom/Latin Dance
Free introductory beginner dance lesson 29th April 7pm at Club Mt Maunganui. Partner not necessary, just come along! Ph Dean Smith 021 230 3187 or www.udance2.co.nz
---
Alcoholics Anonymous
Open meeting 10am. Tauranga Central Baptist Church,13th Ave/Cameron Rd. All welcome. Ph 0800 229 6757
---
Argentine Tango in Tauranga
Free introductory classes! Embrace your authentic Tango journey with fun people. No partner required although more guys welcomed 6:30pm. Ph. 020 4006 1340
---
Badminton: Tauranga Club
7:30-9:30pm at Aquinas College, suitable for Year 11 upwards. Club racquets available. Casual fee $8 per night. Ph Sue 021 194 4335 or FaceBook: Tauranga Badminton Club www.taurangabadmintoclub.co.nz
---
Bethlehem Indoor Bowls
Meets in Bethlehem Hall Monday nights starting 7:30 start, names in by 7:15. New members of all ages welcome. Ph John 027 654 1298
---
Bethlehem Indoor Bowls
Meets in Bethlehem Hall. New members of all ages welcome. Names in by 7:15pm for 7:30pm start. Ph John 027 654 1298 Judy 562 0557
---
Bolivia Tauranga Citizens Club
Arrive 12:15pm, play starts at 12:30pm. Beginners to experienced. Everyone welcome. Ph Jill Meldrum 578 3421 (evenings)
---
Chess At Mount Maunganui
Mount RSA Chess Club, 544 Maunganui Rd, 6-7pm during school term. Late program 7pm onwards. Incl casual games. Noel 579 5412
---
Czech Easter Matua Hall
Traditional Easter for children from 10:30am. Guests welcome. $5 per child, adults free. Please bring a plate to share! Register online https://www.csclubtauranga.nz/cs/akce/velikonoce-2019/
---
Dutch Friendly Support Network
Coffee Morning 1st Monday of month 10am-12noon. $3 entry. Vintage Car Club Rooms, Cliff Rd, Tauranga. Ph Bernadette 07 572 3968
---
Harmony-A-Plenty Barbershop
Guys! Join our men's barbershop chorus. We teach singing too. Community Church Bethlehem 183 Moffatt Road. Ph Alan 282 8435
---
Heart Support Exercise Group
Strength, balance, cardio for seniors. Fun with exercise at City Church Otumoetai Rd. Low intensity class 11am & more advanced class 9:30am.
---
Indoor Bowls
At Tauranga Citizens Club Mon 7pm & Thur 1pm. All levels, beginner to experienced, juniors included. Everyone welcome. Ph Andrew Matthews 0210 298 5047
---
Kitten Adoption Drive
Wild Whiskers Tauranga are holding a kitten adoption drive at 4 Manson St, Greerton, Easter weekend Sat-Mon, 10-2
---
Let's Learn Lifelong Learning
Are you a lifelong learner? Check out the range of courses, workshops, classes, lectures, lessons & events on www.letslearn.co.nz or ph 544 9557
---
Mah-Jong
12:30-4pm vistors & beginners welcome. Free teaching available. Tauranga Bowling Club, 11th Ave. Ph Shirley 576 0014 or Pam 544 0616
---
Never 2 Old
Strength/balance classes & workouts for over 55s. Mon, Wed & Fri 7:30am-9am. Ph Keith 557 8765
---
Otumoetai Indoor Bowling Club
Meets at 7.15pm in the Matua Primary School hall. New members welcome. Come along & give bowls ago. Ph Karen 576 0443
---
Rebus Club Otumoetai
Rebus Mens Club meets every third Monday of month at St Johns Hall, Bureta Rd. Interesting speakers & good fellowship. Interested? Ph David Lowe 544 029
---
Silver Singers Choir
All singing voices required. Alto, Soprano, Bass, & Tenor. Ph Gaynor 579 2465
---
Taichi Internal Arts NZ
Beginner class 9:30-11am Greerton Senior Citizens Hall 33 Maitland St, Greerton. All welcome. $5 per class. Concesssion card avail. Ph David 552 4425
---
Taoist Tai Chi
Beginners Tai Chi classes Mon-Sat, 15 Koromiko St, Tauranga. Also KatiKati, Mount, Papamoa & Te Puke. For times visit www.taoist.org or ph 578 9116
---
Tauranga City Brass
Practises at band room 10 Yatton St Greerton 7-9pm. Instruments available. Percussionists needed, ie. kit player. Ph Jeremy 021 132 3341
---
Tauranga Creative Fibre
Monday 9:30am, also 2nd & 4th Thursday 7pm. Learn & share spinning weaving knitting felting crochet skills. 177 Elizabeth St. Margaret 571 3483
---
Tauranga RocknRoll Club
Lessons 6:45pm & social dancing 7:30pm Legion of Frontiersmen Hall, 165 Elizabeth Street Ph Rana 027 699 5571, Trina 027 315 6674 or www.taurangarocknrollclub.org.nz
---
Tauranga Senior Citizens Club
CARDS 500 Mon & Thurs. INDOOR BOWLS Tues, Wed & Sat.14 Norris St(behind Pak n Save) 12:45pm for 1pm start. Entry $2 includes afternoon tea. New members welcome.
---
Vision Friendship Club (FNZI)
Meets 4th Monday each month at Citizens Club, 10-12. Varied activities. Interested? Ph Bryan 570 2483
---
Walk For Wellness Group
For people living with cancer & their carers. Departs from Pilot Bay at 9:30am every Monday. Ph Tammy 07 927 6503 or tammyburgess@cancersociety.org.nz
---
YMCA Gold Fit Classes
Smooth Movers classes 9:30am at Matua Hall. $8 per class with concessions available. Ph YMCA 07 578 9272
More on SunLive...