Vintage jazz parade kicks off downtown carnival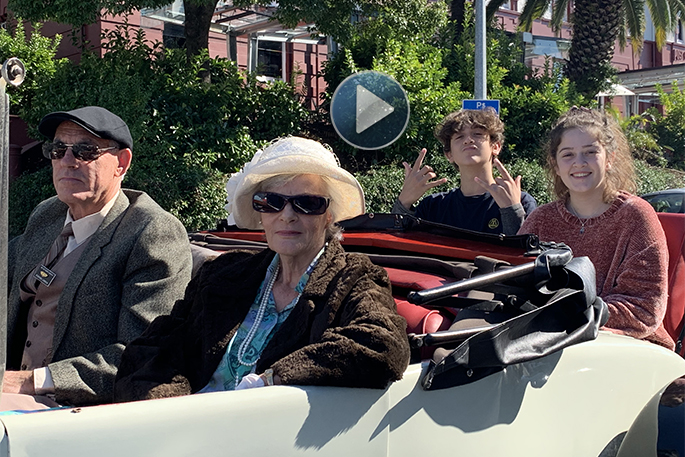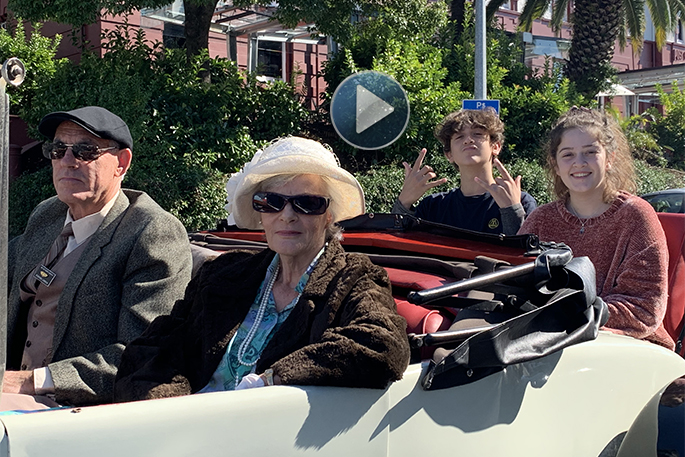 Click the image above to watch the video
The Downtown Tauranga Carnival launched on Easter Saturday with thousands of jazz lovers crowding into the Strand to enjoy an afternoon of sun and music.
The fun began with the Vintage Parade in true New Orleans style down Willow Street on Saturday morning.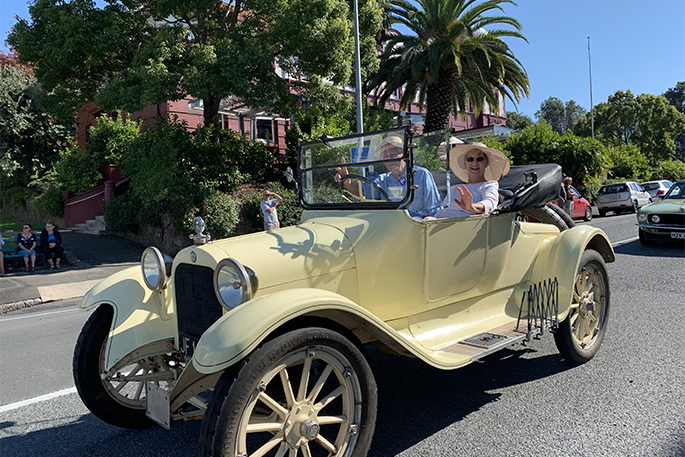 The parade, led by the Superhero Second Line, left Cliff Rd at 11am. Favourites at last year's festival, Superhero Second Line are a New Orleans Second Line style band. Swing dancers in vintage clothing from the 40's followed them, dancing their way down the street, ahead of a long line of vintage cars.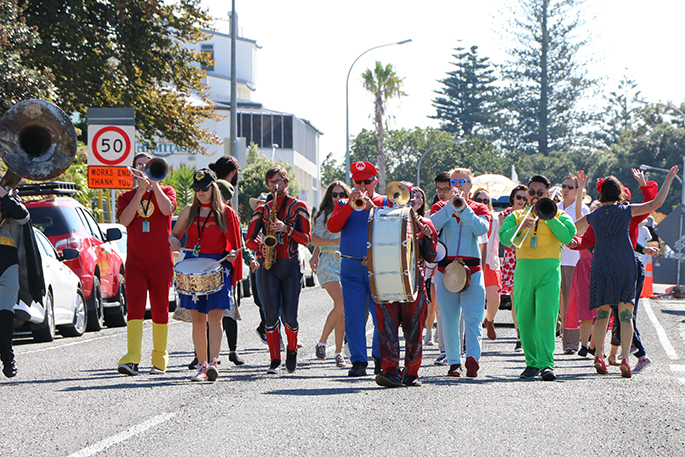 There were straw boaters, floaty florals, red dancing shoes, and a lot of smiles and waves as crowds gathered at the lower end of Willow St to watch the parade go by. A bus driver, also caught up in the parade was given some cheery waves.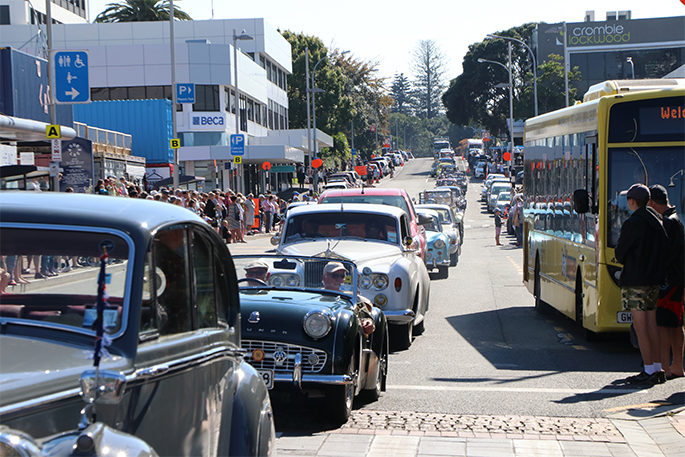 The carnival continues on Easter Sunday. The Little Big Markets will have crafts, food and gifts for sale from 10am to 2pm on the Tauranga Waterfront and, starting at 11am at Masonic Park is the Family Fun Zone.
Jazz music will be filling the air from stages and events during the day and evening, beginning around noon.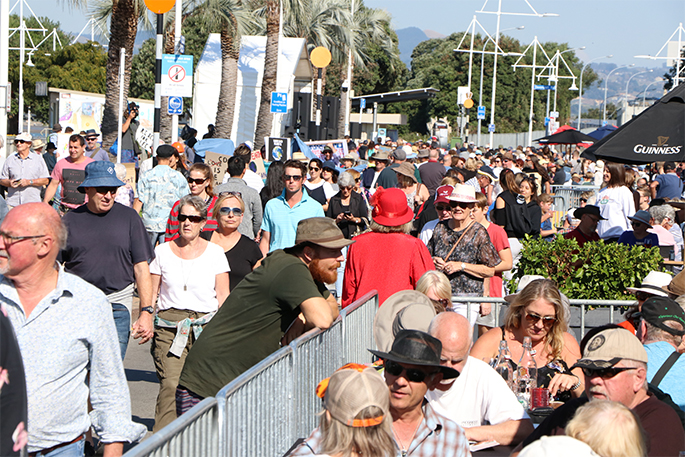 Stage 1 Carrus features Audio Farm (12-1.15pm), Que Sabrosa (1.30-2.45pm), Hipstamatics (3-4.15pm), and Brilleaux (4.30-6pm).
Stage 2 Hotel Armitage has Randy Matthews Quintet (12.15-1.30pm), JB3 (1.45-3pm), Superhero Second Line (3.15-4.30pm) and Mighty Mighty (4.45-6pm).
Stage 3 Eves Realty has Sam and Loris Duo (12.30-1.45pm), Kylie Todd & the Funkalicious Bandits (2-3.15pm), Nimbus (3.30-4.45pm) and Del Pacifico (5-6pm).
Stage 4 CARTERS has Tracey Collins (12.30-1.30pm), Lewis McCallum Trio (1.45-3pm), Chill Factor (3.15-4.30pm) and Shaken not Stirred (4.45-6pm)
A Jazz High Tea will be hosted by Hotel Armitage from 12-3pm. An elegant afternoon for participants to indulge themselves in a three tiered stand of sweet and savoury delights, enjoy a glass of bubbles or tea and coffee while enjoying an intimate performance from Carol Storey & Friends.
The Jazz Sunset Cruise on the Kewpie leaves from the Tauranga waterfront at 4.30pm.
The Kim Paterson Quintet are playing at Baycourt at 5pm.
Hollie Smith: A Special Night of Jazz is at Baycourt at 7pm, followed by Antipodes: Good Winter which is being performed at Baycourt at 9pm.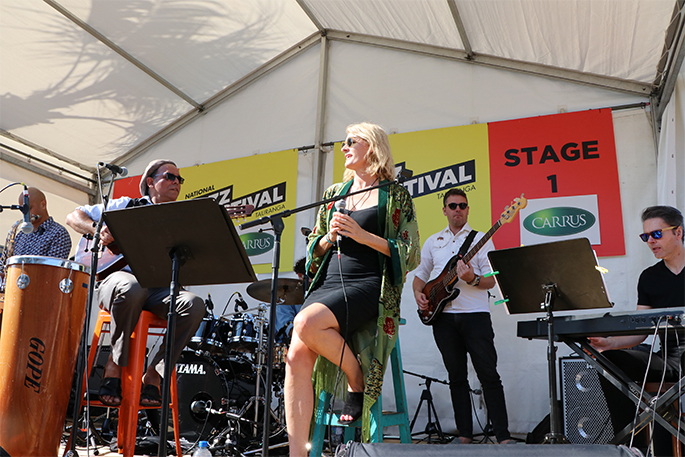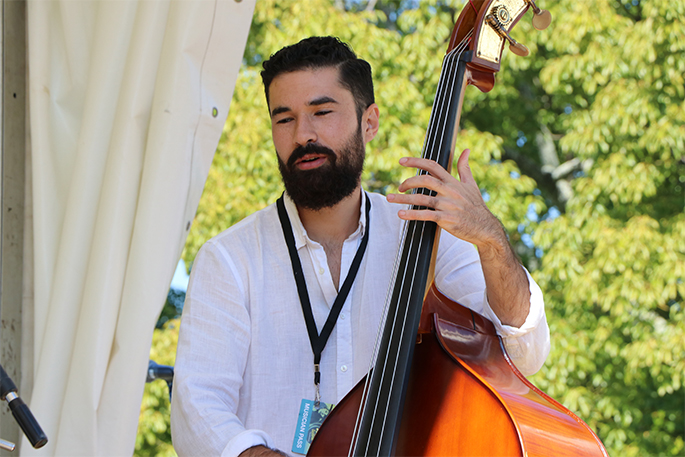 More on SunLive...