NZ sailors see the light at Genoa World Cup Series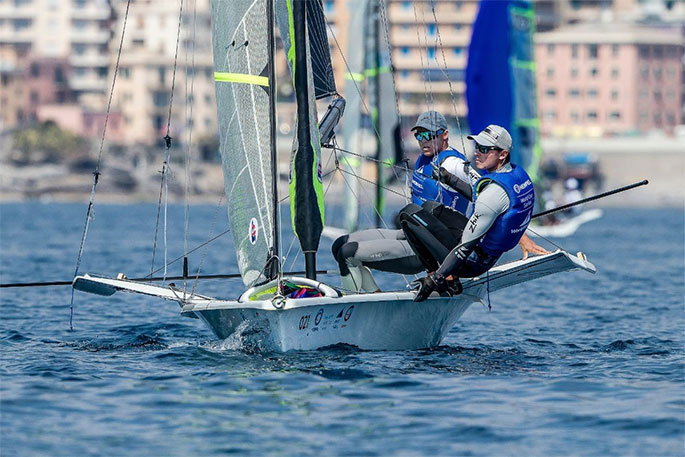 Light winds once again plagued the Hempel World Cup Series regatta in Genoa but there was just enough action for Isaac McHardie and William McKenzie to solidify their place near the top of the 49er fleet.
Only three races were possible on day three of the regatta across the entire eight classes as winds of less than five knots floated across the bay off Genoa.
The event is well behind schedule, and the men's and women's 470 and Finn classes have yet to complete a race.
There was one race in the blue fleet of the 49ers, with all four New Zealand crews in action. Logan Dunning Beck and Oscar Gunn were the highest placed Kiwis in the race, finishing sixth, but it won't count until the yellow fleet can get a third race in.
McHardie and McKenzie were eighth, Peter Burling and Blair Tuke 11th and Josh Porebski and Trent Rippey 14th.
Although the result hasn't yet taken effect, it is a tidy score for McHardie and McKenzie who still sit second overall.
Big scores are very easy to accumulate in light winds, when it sometimes comes down to who gets a bigger puff of breeze than others, and they will add that to the first and second they scored on the opening day.
"It was good to finally get out on the water after sitting around yesterday with no racing," says McKenzie.
"We had light winds with an average of four knots, which was very tricky, but we managed to get clear and score ourselves a semi-decent result.
"We are happy with how we are sitting at the moment but need to keep pushing as it is very easy to slip back with more light winds forecast."
The Laser Radial, 470 and Nacra 17 fleets hit the water overnight (NZ time) but the Laser Radials were the only other class to get some racing in, with one race across both fleets.
Olivia Christie was ninth in her race and Annabelle Rennie-Younger was 30th.
The youngsters have been working hard lately under new Laser Radial coach Rosie Chapman, who helped American Charlotte Rose achieve back-to-back titles in the Laser Radial at the youth sailing world championships and in 2017 was named US Coach of the Year.
Race management will attempt to make up ground but that looks challenging with light winds forecast for the remainder of the regatta.
Results and standings after day 3 of the Hempel World Cup Series regatta in Genoa overnight (NZ time):
Nacra 17 (45 boats)
1st=: Ben Saxton / Nicola Boniface (GBR) 1 - 1 point
1st=: Lorenzo Bressani / Cecilia Zorzi (ITA) 1 9 - 1 pt
3rd=: Rasmus Rosengren / Ida Svensson (SWE) 2 12 - 2 pts
3rd=: Ravi Parent / Caroline Atwood (USA) 2 - 2 pts
40th=: Gemma Jones / Jason Saunders (NZL) 24 UFD 1 - 24 pts
49er (65 boats)
1st: Tim Fischer / Fabian Graf (GER) 1 1 - 2 pts
2nd: Isaac McHardie / William McKenzie (NZL) 1 2 8 - 3 pts
3rd: David Gilmour / Lachy Gilmour (AUS) 2 7 2 - 9 pts
14th: Josh Porebski / Trent Rippey (NZL) 19 4 14 - 23 pts
31st: Peter Burling / Blair Tuke (NZL) 14 15 11 STP - 29 pts
59th: Logan Dunning Beck / Oscar Gunn (NZL) 34 UFD 23 6 - 57 pts
49erFX (50 boats)
1st: Julia Gross / Hanna Klinga (SWE) 3 1 - 4 pts
2nd: Martine Grael / Kahena Kunze (BRA) 2 6 5 - 8 pts
3rd: Victoria Jurczok / Anika Lorenz (GER) 4 4 12 - 8 pts
14th: Alex Maloney / Molly Meech 3 15 13 - 18 pts
Laser Radial (67 boats)
1st=: Line Flem Host (NOR) 1 - 1 pt
1st=: Maud Jayet (SUI) 1 - 1 pt
3rd=: Anne-Marie Rindom (DEN) 2 - 2 pts
3rd=: Vasileia Karachaliou (GRE) 2 -2 pts
17th=: Olivia Christie (NZL) 9 - 9 pts
59th=: Annabelle Rennie-Younger (NZL) 30 - 30 pts
More on SunLive...