$60 million Tauranga campus officially open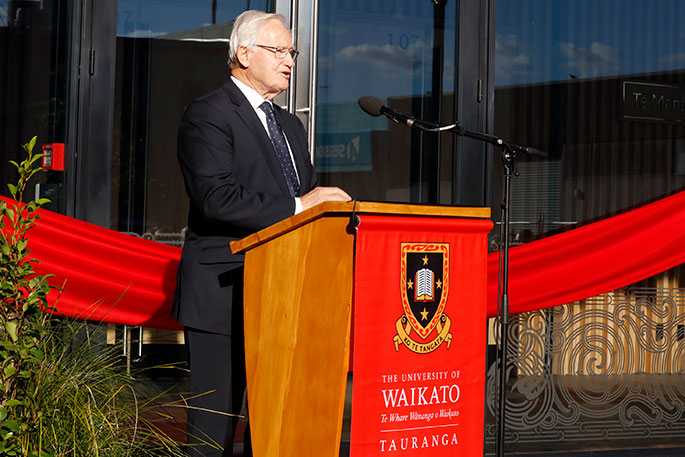 Staff, senior leaders and supporters gathered in Tauranga for a ribbon-untying ceremony to open the $60 million campus development.
The new campus, led by the University of Waikato on behalf of the Bay of Plenty Tertiary Partnership, enhances the range of qualifications and study options available to students in the Bay of Plenty.
The campus development has been made possible through the support and drive of the region, especially the key funders: Tauranga City Council, Bay of Plenty Regional Council and the Tauranga Energy Consumer Trust.
University of Waikato Chancellor the Rt Hon James Bolger thanked all involved in bringing the project to life, including key supporters at the official opening on Monday.
"On behalf of the University I thank the iwi of Tauranga Moana for working with us on the vision from the outset, and to our advisors, leaders and artists who have guided the process of bringing history and heritage to the building through amazing artworks and cultural installations. Jasmax, Greenstone, Hawkins Construction, RLB Consultants, and other consultants such as Beca were also key in this project."
Vice-Chancellor Professor Neil Quigley says it's the beginning of a new era for the University of Waikato in the Bay of Plenty, with the institution becoming deeply embedded in the Bay's social and economic systems, and transforming Tauranga into a true university city.
"To us this means enhancing social outcomes, contributing to economic growth and being a catalyst for change, regionally, nationally and internationally. We see ourselves as an enabler of education – giving people from any th the opportunity to access higher education and transform their life prospects."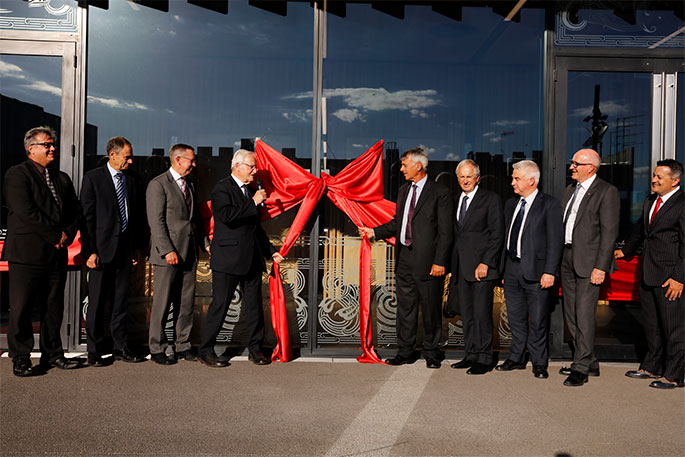 Neil Martin, Architect and Principal at Jasmax says they were delighted to deliver this aspirational project for Tauranga and Bay of Plenty communities.
"Mana whenua engagement with Ngai Tamarawaho was instrumental in informing the brief, and has been integrated into the design process from early concepts.
"The narrative that inspired the building façade is the mangopare or hammerhead shark, which is a symbol of resilience and tenacity.
"The ridgebeam kowhaiwhai pattern of Ngai Tamarawaho's Huria marae references the sweeping motion of the mangopare.
"The building's façade filters the environment, informed by the geometries of the mangopare skin. The engagement with Ngai Tamarawaho also informed the landscape design, the interior design and the development of cultural artwork with local artists."
So far in 2019, over 900 individual students are using the new campus, a 32 per cent increase on the same time last year.
There are 31 general staff in Tauranga: 50 academic staff, and 36 academics visiting regularly from the Hamilton Campus.
An open day will be held shortly to welcome the wider community onto the new campus.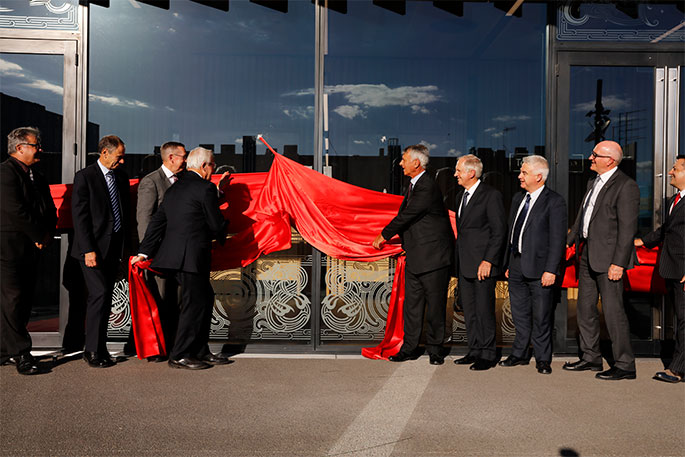 More on SunLive...