Tauranga Girls' jazz combo a well conducted train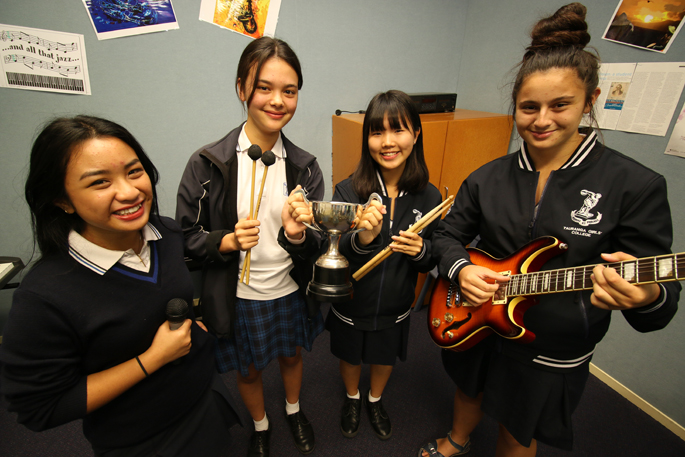 The Tauranga Girls' College jazz band combo named Thomas the Tank Engine are certainly on the right track.
The band, made up of students from Tauranga Girls' College and bass player Louie Campbell from Katikati College, won the most outstanding band at the National Youth Jazz Competition held on April 5 and 6 at the Baycourt Community & Arts Centre.
Thomas the Tank Engine's musical director Murray Mason says they started their competition preparation in November last year, and they took on some new band members.
"We lost our drummer last year, so we took on a complete novice, Saki Kawamura, who I discovered last year.
"She's an international student, and she had been taught a few beats by a friend in Japan, and that's all she knew. I remember hearing her and thinking, she's got something pretty special, and I was absolutely dead right.
"After some guidance from me and a few lessons from the drum teacher at Tauranga Girls' College, she has done unbelievably."
Murray says the inclusion of a Katikati school boy was another great asset to the combo.
"Louie Campbell is the only boy in the group, from Katikati College, who plays double bass. We really appreciated him being involved."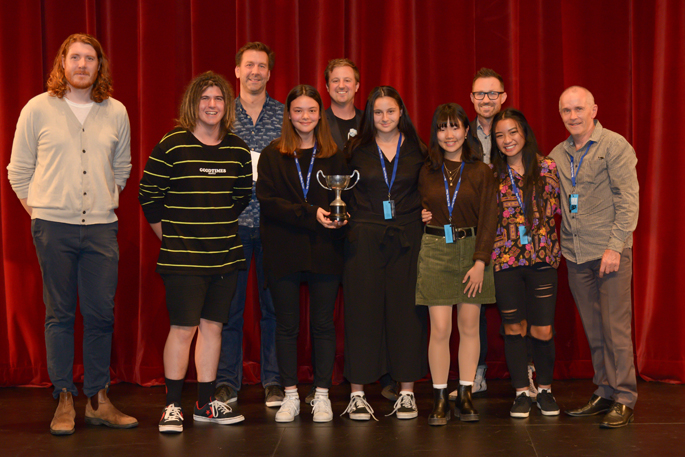 Photo: Capture-it NZ.
After finalising the band members, Murray says the group had a very intensive lead into the event.
"At the competition, the group played beautifully and the judges were really happy with them, in fact they said they were proud of them as they displayed such wonderful musical values, teamwork, empathy for each other, sensitivity and unselfish playing."
At the prize giving, the Thomas the Tank Engine combo were awarded the most outstanding band of the competition.
The National Youth Jazz Competition is held in Tauranga annually, with students gathering from all across the country to showcase their talents.
"This year there were 380 students involved, 18 combos and 16 big bands involved," says Murray.
Although Murray gives the students all of the credit for their success, he is an instrumental part to their jazz combo.
However after many years of devoting his life to music, Murray is retiring at the end of 2019 after 38 years of music education.
Murray says he enjoys directing the band as he can share his musical knowledge with the younger generation.
"I've been teaching the kids about the conventions of the style, and how to have an interactive musical conversation, which is what jazz is all about."
Murray is a selfless teacher who dedicates his days to working with students in music.
"I feel like I've been one of the luckiest guys in the world because I've been doing something I love on a daily basis with the best kids.
"I taught music at Tauranga Boys' for a very long time, but for the last 18 years I've been at Tauranga Girls'.
During the week, Murray trains a number of musical groups at Tauranga Girls', and he says he still has a connection with the boys' school as he teaches a day of singing once a week, as well as directing their jazz combo who also performed well at the national competition.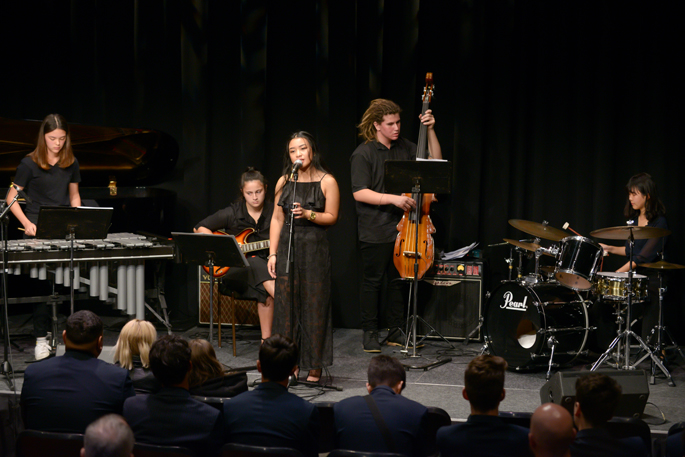 Photo: Capture-it NZ.
Although he believes he is stepping down at the right time, Murray says he is going to miss teaching music.
"I'm really looking forward to retirement, my wife and I have some great plans together and we will have lovely times, but I am going to really miss the connections with the students.
"Doing music, you spend so much time with the kids and you make lifelong friendships."
Murray says he owes a lot to his wife, as he has devoted a lot of his time to music over the past four decades.
"At one stage in my career at Tauranga Boys' College I was working at least ten hour days, and then I was out five, sometimes six nights a week either playing in or directing bands and being involved in musical direction means a lot of shows.
"It's a very busy but very rewarding job.
"The Tauranga Girls' jazz band are my little family."
More on SunLive...