Ninety jet skis circle Matakana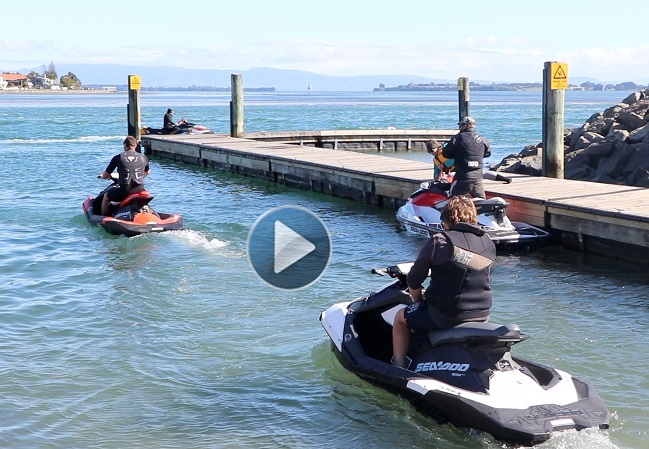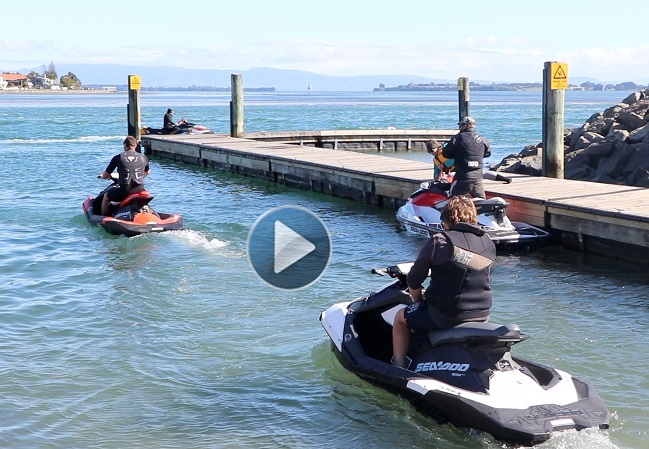 Click the image above to watch the video
Action Sports Direct hosted a social jetski lap around Matakana Island on Sunday.
Jet ski owners met on Sunday morning at the Sulphur Point boat ramp to embark on a family friendly ride, not a race, around Matakana Island.
The original plan was to leave about 11am, heading up the Tauranga Harbour on the harbour side of Matakana Island, stop briefly at Omokoroa to collect anyone wanting to launch from there, and then go on through to Anzac Bay at Bowentown for a picnic lunch. On the day, with calm seas and fine weather apparent, and no one leaving from Omokoroa, the plan was changed.
"Because the weather was so good we decided to go past Pilot Bay directly through the entrance and then outside the island down to Bowentown," says Sean Joyce, Action Sports Matakana Jet Ski Tour organiser. "We then returned and then came back through the inside of the harbour, stopped at Omokoroa, then back to Sulphur Point."
The jetski ride presented an opportunity to explore the harbour and cross the adventure off the bucket list.
"The idea came about to give the people an opportunity to get around Matakana that might not have had that experience," says Sean.
"It's a way to get a whole lot of skis together, it's the last days of summer, or what feels like summer, and it's a great opportunity to get on a ski and do something you might not have already done.
"We've made it very inclusive, so it's a family ride. We're not racing around the island.
"Really the stars have aligned. A couple of times we've organised this, and it was raining on both days so we've had to cancel it."
A four stroke ski on a full tank would easily be able to make the trip to Bowentown and around Matakana Island back to Sulphur Point.
Organising the event is also dependent on the incoming and outgoing tides. High tide was expected to be at 2.11pm, with the wind a 7 knot southwesterly, and a 0.5m sea swell.
"The island, being that it's tidal through the entrance, through the bay – we've had to wait for the right time so that we can actually get around," says Sean.
"We're hoping for 50 plus skis, that would be incredible. If we can get up to 70 that would be amazing. Hopefully, this will be the biggest jet ski event in NZ," says Sean, ahead of the event starting at 10.30am.
An astonishing 90 jet skis arrived, with 125 people participating.
Many people heard about the event through word-of-mouth and via social media.
"We've come over from Hamilton," says Clinton Potter. "We'd heard about the event on Facebook. We thought it was a good opportunity to get over and do something we don't normally do.
"The fact that it's guided, and with people who have been here before and done that is good. It will be a good experience to go out and have a play and do something that we don't normally kind of do."
"Everyone had an amazing time," says Sean. "When we got back to Sulphur Point the fishing club opened for us, and Action Sports Direct shouted everyone a beer."
More on SunLive...