Easter Egg shape weather on its way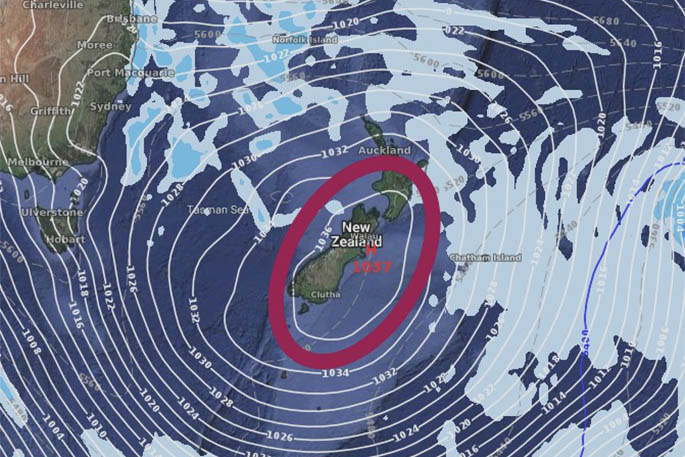 Easter Weekend is on the way and we have a big Easter Egg-shaped high on the way - but will it last through the long weekend?
The answer is probably not, and we expect a cold front over the Easter Weekend.
While this incoming anticyclone – a high - will bring mostly dry weather to New Zealand, starting as early as Monday in the south and lingering right across NZ until Good Friday, it is likely to weaken just as the long weekend kicks off.
The centre of this large "Easter egg" high will cross NZ this coming Wednesday and Thursday, then slips off our shores to some degree around Good Friday and Saturday, before high pressure returns again.
This forecast is long range and we have a typically chaotic autumn pattern, so while there seem to be a cold front moving up the country at some point later on Good Friday or Saturday, the specifics of which regions are all impacted, and at what times, still needs to be fine-tuned.
On Wednesday the 'Easter Egg' is expected to cross New Zealand. By Good Friday, high pressure will being dry weather to most of NZ with light winds and warmer afternoons. A cold front is likely to move up the South Island later in the day bringing a burst of rain or shower then cooler southwest winds behind it.
On Easter Saturday, a complicated area of rain or showers moves northwards, but may end up going up the southern and eastern sides of the North Island and reach northern later in the day, including Auckland. This system may bring wet weather to 50 per cent of the North Island on Saturday, possibly eastern regions with a southeast wind flow. High pressure grows back over the South Island with dry weather spreading everywhere and removing any showers from the upper South Island.
On Easter Sunday, expect some early rain or showers in the eastern side of the North Island from about Hawke's Bay to Gisborne, then Bay of Plenty to eastern Northland. This may impact parts of Auckland and Coromandel for a time.
On Easter Monday, high pressure should grow again across NZ with the chance of a few coastal showers in both northern and southern NZ, otherwise dry and settled.
Source: Weatherwatch.co.nz
More on SunLive...