Schools out for hockey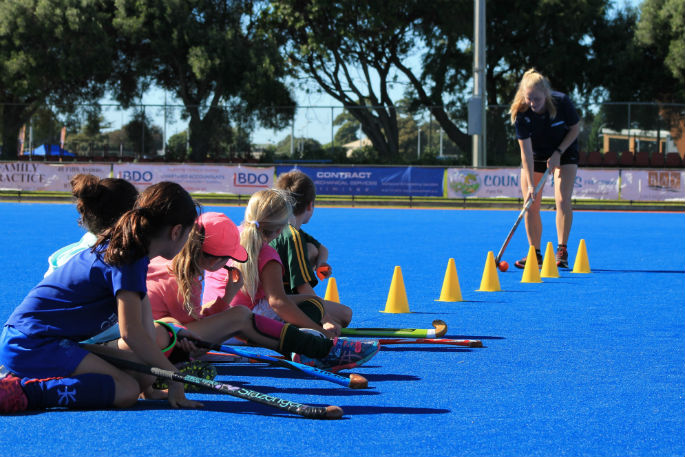 The popularity of hockey among the important younger age groups continues to grow.
Places are filling fast for the first of three Tauranga Hockey holiday programmes beginning on Monday, April 15 at Mount Maunganui's Blake Park.
Tauranga Hockey general manager Clinton Butler says it is a great opportunity for kids to get prepared for the season ahead.
"The holiday programmes for the last two years have started to take off. We put a lot of energy into them and generally with this one leading into the season we can have 150 kids across the day.
"We deliberately split it into the two age groups Year 1-4 and Year 5-8 to try and make it specific to the skill level and it is a great opportunity for kids to learn some new skills off the coaches. We try to engage our under-18 age group kids to help deliver it which is great as you have some cool role models there."
Two other holiday programmes will follow in July and October so young players can get upskilled ahead of the popular summer hockey season.
Any opportunity for our youth to experience a sport and spend school holidays with their friends doing what they love has to be a win-win situation for the kids, parents, coaches and the wider community.
The holiday programmes are run by CoachForce and Participation Officer Emma Phelps, who has made a truly positive impact on kids taking up the sport.
"Emma's fantastic. Our participation programmes are going through the roof and from strength to strength. She has put a lot of effort into the coach education area as well," says Clinton.
"Her dedication to the holiday programmes and the work she has put in have definitely resulted in the success we have had there."
There is no shortage of inspiration for the young hockey enthusiasts.
Tauranga had four home grown players in Sam Charlton, Rose Keddell, Amy Robinson and Frances Davies in the Black Sticks women's side that won gold at last year's Commonwealth Games.
Some of the players came down and talked to their young fans as soon as they got back from the Commonwealth Games.
"We are lucky because the four give back so much. Last year when our holiday programme was on, the Black Sticks had just won the gold medal and two days later Amy and Rose came down to the turfs and showed off their gold medals," says Clinton.
"Another person who is inspirational is Kelly Hudson, who is an international umpire and works here as our Officiating Development Officer. Since she has been in that role we have seen a whole lot of students take up the whistle now which is great."
Another boost to hockey will be the first ever staging of the NHL (National Hockey League) in Tauranga in September.
"So those players aspiring to be Black Sticks can come along and watch some top class hockey," says Clinton.
"It starts the day after AIMS Games so it is going to be a busy fortnight."
* Construction has begun at Blake Park of the third international standard hockey turf. Deadline for completion is mid-to-late August.
More on SunLive...