Hauraki Mayor interested in sustainable living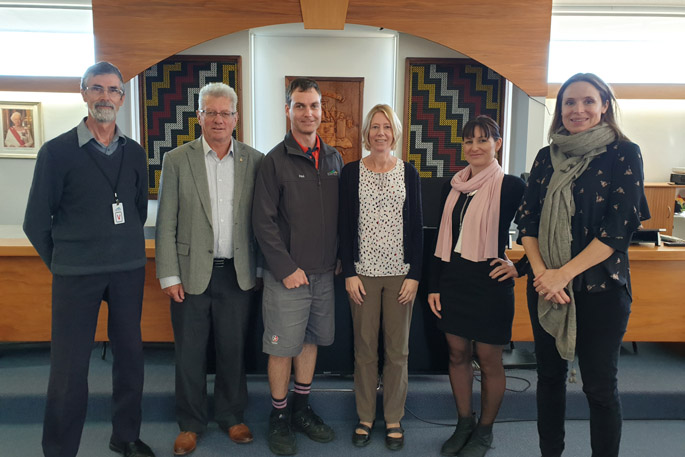 Hauraki District Mayor John Tregidga is says he is keen for council to sign up for a proposed sustainable living community education programme.
At a presentation by Sustainable Living Education Trust on April 9, Mayor John says the Local Government New Zealand sponsored initiative makes sense.
"This is an area we are seriously interested in," he says.
The educational programme will fit in well with many eco projects council is already involved in, such as the Mayor's programme to deliver worm farms to every school in Waihi and the proposed reuse centre in Paeroa, he says.
Mayor John also supports hundreds of students from all Waihi schools who marched for climate change recently.
Hauraki District Council was also one of the first to sign the Local Government New Zealand (LGNZ) climate change declaration, in which signatories acknowledge a need for climate action.
Sustainable Living Education Trust national co-ordinator Rhys Taylor says the Future Living Skills sustainable living education programme focuses on simpler living.
"It's about a set of choices that reduce your environmental impact while maintaining your quality of life," he says.
The programme includes eight topics, from energy efficiency and travel to waste minimisation, eco design, food choices, gardening, water saving and community resilience. A ninth topic, about local economies, is currently being developed.
It also offers member councils facilitator recruitment and training, and the use of promotional graphics and materials.
About 15 councils nationwide had so far signed up for the programme, which involved a series of public workshops for each topic.
Research shows the programme had a positive effect so far, he says.
"For the people that take part, it makes a significant difference, they become the role models for their friends and family. Once they understand that there are practical things they can do, they use it," he says.
"The benefits of a new approach are being able to live in a warmer, drier, house, and we talk about the financial benefits. We're looking for the positive messages which show that sustainability is a positive thing, it's becoming the new normal."
Mayor John will take a recommendation to the next council meeting that council sign up to the programme.
More on SunLive...