Tauranga doggy donor saves a life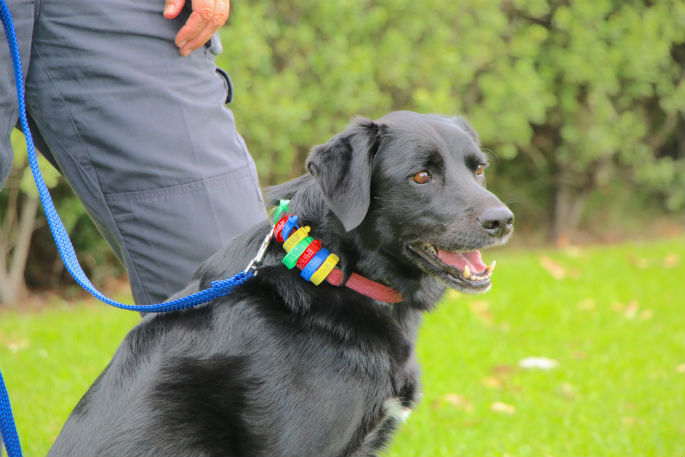 He's an affectionate fluff ball and happy to help out when he's needed.
Jake the border collie-Labrador cross is a regular blood donor at Tauranga Vets. His latest act of heroism was to help save a 10-year-old Cavalier King Charles Spaniel called Oddy.
Jake's owner and Western Bay of Plenty District Council animal control officer Betty Hall says Jake has been a donor for a while now, donating whenever there's an emergency.
"We got the call from Tauranga Vets saying that they urgently needed a dog to give blood to another small dog," says Betty.
"I dropped him off for the afternoon, he stayed there for a few hours, gave his blood and came home pretty proud, with a bag full of treats.
"Jake is just a sweetheart. I rescued him eight years ago and he lives with his two other brothers Alfie and Quinn."
Betty says her and Jake don't normally get to know the outcome of the other dog, but feel rewarded by the fact that they are giving another dog a chance.
"Sometimes animal control officers are seen as the people who kill dogs, but that's not actually true.
"I've been in the job for 30 years and there's nothing that gives me greater joy than being able to help someone or see a dog get better or go back to its owner.
"I like to give blood, so it's kind of nice that my dog does it too," says Betty.
Dogs, just like humans, need blood transfusions when they have lost a lot of blood or have an illness affecting their blood. Poisoning caused by eating rat bait is another common reason dogs need donated blood.
Tauranga Vets veterinarian Kate Heller says Jake donated 250ml to save Oddy's life after a bleed was found in his bowel.
"At this stage (April 5) the blood transfusion has saved Oddy's life. It's given us some time with him but he does have quite a serious condition which unfortunately isn't going to be curable.
"So we are managing his bowel movements and he'll hopefully have some good quality of life."
Kate says although dog donations aren't common and they do about six blood transfusions a year.
Vets can contact the New Zealand Companion Blood Bank in Palmerston North for stored blood it is usually required sooner in an emergency. Tauranga Vets has about four dogs in the Western Bay of Plenty they call on in emergencies.
"We use blood from dogs that are usually more than 25 or 30kg, in good health and relatively young," says Kate.
"Any breed of dog can give blood, but obviously the bigger the dog the more blood they have and the less tired they will be."
Kate says dogs have different blood types, but do tend to be okay with the first transfusion and then any transfusions after that have to be cross-matched.
"We are very grateful for people like Betty and Jake for coming in and helping us out."
More on SunLive...