Ancient musical artefact coming to Tauranga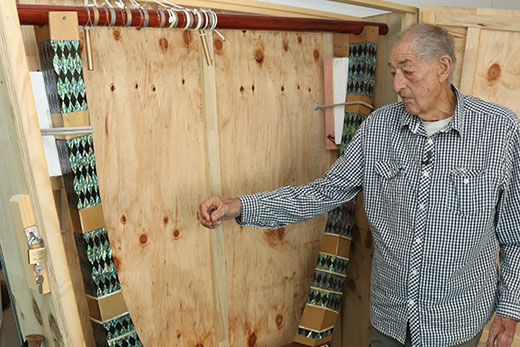 A musical performance is coming to Tauranga's Jam Factory on Tuesday, April 16 at 6.30pm.
Late Tauranga man John Knotts was inspired to create a replica of the sacred Bulls Head Lyre of Ur, an instrument which carries the message of peace.
The Lyre of Ur is the oldest found harp in the world, an ancient artefact from the Sumerian city of Ur located in present day Iraq. When exhumed, the player's hands were still on the strings where they had been for millennia.
Master harpist Natalia Mann travels back from Queensland to be reacquainted with Te Pūru, the name affectionately given to the Lyre by the performers meaning the bull.
Natalia will play her composition for the lyre in collaboration once again with taonga pūoro (traditional Māori instrument) artist, carver and educator Jo'el Komene. They will present a performance of music as a meditation on contemporary issues.

As with the first stunning performance, a poetry response will be delivered by Indian poet Dhaivat Mehta, and a short film by Tessa Blackett, filmmaker will be shown to the audience.
This emotional and captivating footage documents the completion of the Lyre during John's last days to its first 'edge of the seat' live performance.
The Incubator team are thrilled to be welcoming Natalia back to Tauranga and to unpack deliver and Te Pūru from his storage space to be brought back to life in John's memory.
Incubator Creative Hub Director Simone Anderson says she is excited for the performance.
"It's an absolute honour to be hosting Natalia again. She is a world renowned and top of her game musician and teacher."
Born and raised in NZ with Samoan and Australian heritage, Natalia has also lived in America, Australia, Turkey and Macedonia.
Her work has an open global perspective combining contemporary and traditional philosophies. Her contemporary work uses composition, free improvisation, recording, film and installation to explore the nature of communication and form in music.
While comfortable in with pop, rock and folk forms, she holds a B.Mus in classical harp performance from the Victorian College of the Arts in Melbourne. Natalia has also played principal harp for the Macedonian Philharmonic and New Zealand Symphony Orchestra as well as Turkish classical music ensembles.
As an added bonus during her stay in Tauranga, Natalia is offering a very special improvisation workshop for musicians to work with her. Scholarships are available – Please contact Natalia for details or to book here https://www.eventspronto.co.nz/lyreworkshop
More on SunLive...