Fruit picking industry scrambling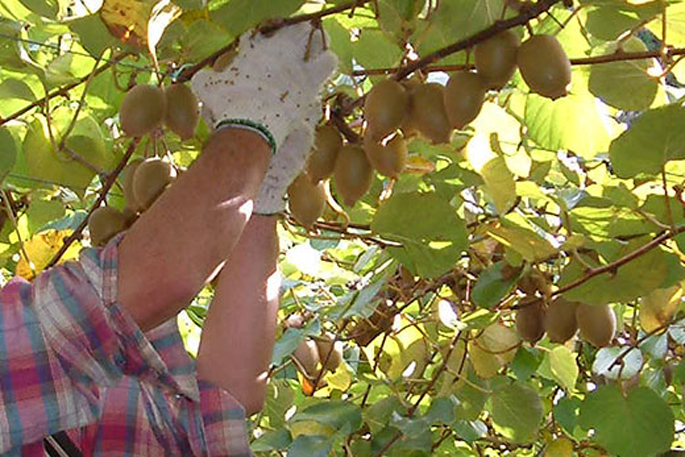 Jobless, retirees and backpackers are being encouraged to sign up to pick and pack the apple and kiwi harvests for the six to eight week season peak.
Within this role, you could be earning $23.50 an hour.
This comes as the Ministry of Social Development declares a shortage of workers for the Bay of Plenty kiwifruit harvest, which is starting its main season.
The Bay of Plenty shortage was for six weeks between April 15 and May 27, while in Hawkes' Bay an existing labour shortage for its apple harvest was being extended an additional six weeks until May 20.
Kiwifruit Growers Incorporated chief executive Nikki Johnson says opportunities existed for a long-term employment in the kiwifruit industry.
"But there will always be a requirement for short-term roles at peak harvest."
The industry sought to employ New Zealanders as a first priority, especially those who lived in regions with orchards and packhouses.
Pay rates for kiwifruit picking had increased to an average $23.50 an hour this season. Most low-skilled packhouse roles were paid minimum wage, which rose to $17.70 an hour on April 1.
A shortfall of 1400 vacancies in the Bay of Plenty's kiwifruit industry was expected to increase to 3800 at harvest's peak around mid-April.
This compares with 1200 unfilled vacancies at the peak of last year's harvest.
Between January and April, MSD placed nearly 500 jobseekers into the kiwifruit industry, but more workers were still needed.
About 90 per cent of this season's total kiwifruit crop was yet to be harvested, with a similar amount of fruit expected, compared with last year. This included a 12 per cent increase of SunGold kiwifruit which required packing in a shorter timeframe than green.
Ministry of Social Development Bay of Plenty regional commissioner Mike Bryant says seasonal work was a great way to gain new skills, earn money and for people looking for flexible hours or to get back into the workforce.
"Seasonal workers also experience a variety of jobs in a range of locations and are able to stay employed year round using their diverse skills."
Seasonal work was a step towards connecting people to sustainable employment and permanent work.
While some people feared they would lose access to the unemployment benefit by taking on short-term work, no standdown was imposed when people had been in part-time or full-time employment for fewer than 26 weeks.
"The rules are designed to make it as easy as possible for those on a benefit to take advantage of seasonal work of this nature without too much red tape," says Mike.
Declaring a labour shortage also allowed visitor visa-holders to apply to work.
More on SunLive...