Crash doesn't stop Tauranga Jetsprint duo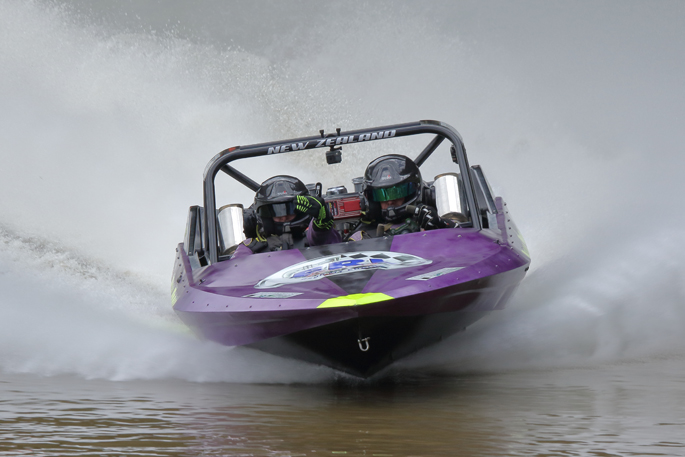 Tauranga Jetsprint team Hansen Racing have faced diversity before going into the final round of the MouthFRESH New Zealand Jetsprint Championship.
The duo of Aaron Hansen and Julie-Anne Shanks were in an accident last weekend in Whanganui, caused by severe sunstrike, Julie says.
"Aaron was driving superbly but there was nothing he could do once the sun hit us.
"Both of us suffered left hand injuries with myself having a portion of my left index finger amputated as my arm gave way and my finger got stuck in the fence around the track."
The pair are both nursing injuries, but that won't be holding them back as they prepare for round five of the series in Wanaka at Easter.
"We are going to be double driving somebody else's boat in the last round, but we've had a lot of support from the racing community," says Julie.
"All the racers from around the world are behind getting us there, obviously Rusti1 our boat is sitting in the garage is looking a bit sad at the moment, so we really want to acknowledge all of the support we've had with our recovery and in helping us get down to Wanaka for the last round.
"We've had financial support, meals, flowers, both of us haven't been able to do much with two hands, with me and my finger and Aaron's being in a splint, so we've had people doing washing and helping around the house. People have been pretty amazing."
Julie says the wider racing community has been incredibly supportive as they want to go down to Wanaka and win the three NZ.
"In terms of the Wanaka event, we won't be going down trying to get on the podium, because I'll still be sporting an injury, and also I haven't been back in the boat."
In order to remain their third place in the series, Julie says if they start and do a rotation, they should get enough points.
"We might come last on the day, however with the amount of point's difference, we can still get enough points to get the third. If we don't go, we don't have enough points to keep us in that position.
"We are just going to play it by air and see how we go, my doctor is going to give me medical clearance to sit in the boat. Aaron and I have raced together for four seasons and we want to be able to race the rest of the season together."
Julie says last weekend's accident was solely due to the sunstrike, and Aaron's driving is not to blame at all.
"It was like looking at a kaleidoscope, we couldn't see anything. Aaron had to take his foot off the throttle, and then we had no brakes. We had to hope for the best, but unfortunately we hit the bank and were well through the fence."
Despite the horrific crash, Julie says herself and Aaron are optimistic and are glad nothing worse happened.
"It could've been so much worse, so we are pretty lucky in terms of injuries. You have to keep going and we are grateful the boat is repairable, we are on the mend and we're going to be able to finish the season on a high."

More on SunLive...