Samantha Hayes leads Everest challenge day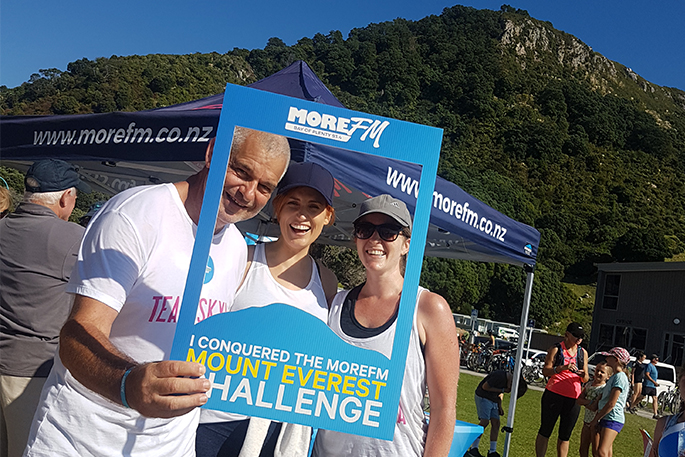 Samantha Hayes led the 'Walk for Support' group walk today to help raise funds for her favourite charity.
The event is part of the More FM Mount Everest Challenge, where people climb Mauao 38 times in 50 days to raise funds for local charities.
This year, the challenge started on Friday February 22 and finishes on April 12, with participants raising money for the Tauranga Riding for the Disabled organisation, which focuses on equestrian therapy.
So far 189 individual and teams participating have jointly raised $52,253.42.
More FM event manager Jonelle Baxter is delighted that Samantha came to lead the 'Walk for Support' walk at the start of the final week of the challenge.
"We were so grateful for the weather today," says Jonelle. "It's been a beautiful day, and we were stoked to have everyone down here and supporting the cause.
"Samantha Hayes was just lovely."
Samantha was the 2018 winner of Dancing with the Stars NZ, raising funds through the competition for her chosen charity Riding for the Disabled.
Jamie Hatwell joined his sister Stacey Carey to complete the challenge. Stacey has climbed Mauao 44 times with her son Max, age 20 months on her back.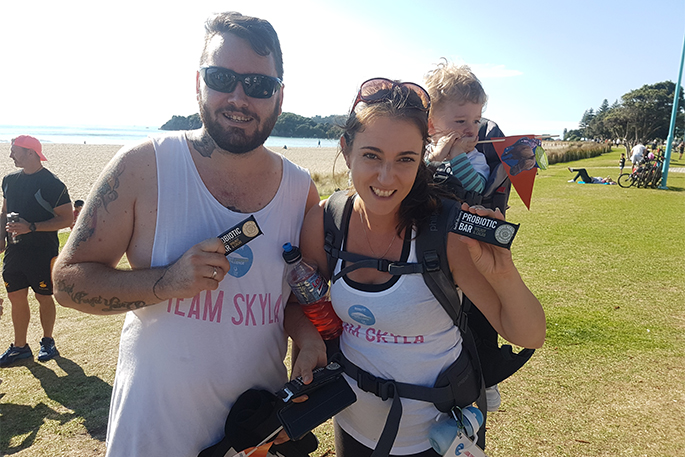 Jamie Hatwell with sister Stacey Carey who has climbed Mauao 44 times with son Max on her back.
Jamie and Stacey's father Keith Hatwell is also a member of Team Skyla. The team took on the climbing challenge in memory of Jamie's daughter and Keith's granddaughter Skyla Rose Keating, who passed away in 2017 at age seven, due to an inoperable brain tumour.
"Skyla absolutely loved horses and participated at Tauranga Riding for the Disabled through her journey with this evil cancer", states the family's Givealittle page.
"Keith is trying to climb the equivalent of Mt Everest seven times," says Stacey. "Because Skyla was seven years old when she died.
"This weekend he is doing it 38 times in 48 hours with my cousin Kelly Thomson, who lives in Ngaruawahia.
"So far Team Skyla has raised $2,525. We've got a big tent set up at the base of Mauao, near the walking track. We've been running a sausage sizzle today and trying to raise as much as we can."
"My brother Jamie has been doing the challenge in between working. He's up to 32, but trying to do another six today. They should be finished by about 4.30pm."
"Keith has been working eight hours a day, and I understand he's been going up five times in the morning, and five times at night, and sometimes he goes up in his lunch hours too," says Jonelle.
Team Skyla say they are wanting to raise as much as they can.
"So we can give a little back to such a wonderful organisation who brought Skyla so much joy and smiles whilst she put up her fight," says the family on their Givealittle page.
To support Team Skyla click here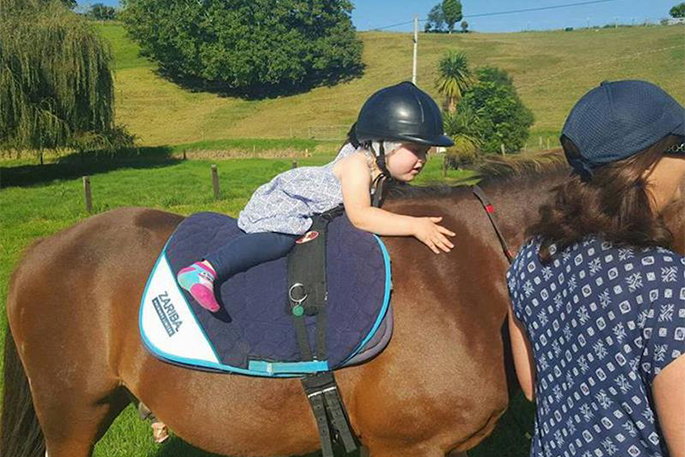 Skyla, riding a horse at Riding for the Disabled
More on SunLive...