Americans hit the ground running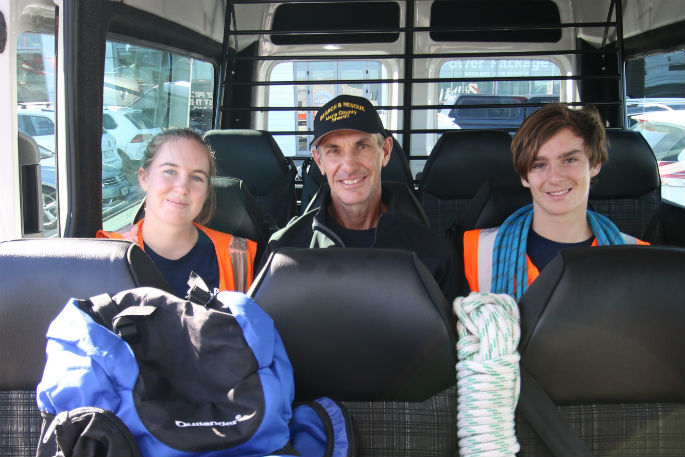 A team of highly experienced American search and rescue professionals and young volunteers has arrived in Tauranga as part of an informal exchange scheme.
Their first experience of New Zealand will be in tents on the Papamoa Hills, after they climbed off the plane and headed straight into a two-day exercise with Tauranga Youth Search and Rescue, or YSAR. YSAR is a programme aimed at helping young people learn leadership and outdoor skills, with a focus on technology, innovation and community, enabling them to become active volunteers in emergency response organisations.
The American team includes three instructors and three teenage students. One of the leaders, Bob Gehlen, is a former professional windsurfer, an ex-Wall Street finance planner and 19-time veteran of the Escape From Alcatraz Triathlon.
Another is a hugely experienced fire chief who also heads the search and rescue team for Marin County, across the Golden Gate Bridge from San Francisco. Michael St. John, a 33-year fire department veteran, has trained hundreds of firefighters and rescuers and battled dozens of California's destructive wildfires. He has also led national training in abduction searches.
One of the students was once offered a pineapple lump by a ski instructor. It immediately triggered a wish to visit New Zealand.
They're all high-achieving, high school students. Kalyn Dawes is a soccer player and former ski racer who has clocked up almost 800 hours of training and searching. She's also a qualified emergency medical responder.
The American team is keen to learn more about YSAR's comprehensive youth training programme and innovative use of technology.
In turn, YSAR is eager to explore the way youth volunteers are integrated in all aspects of search and rescue operations there. The Californians also have a lot of technical knowledge that is new to the Tauranga group.
The Americans are very well resourced. Last year, when six Tauranga YSAR members visited Marin County Search and Rescue in Yosemite National Park, they were amazed at the cache of equipment and vehicles on hand.
"We're used to borrowing or rummaging through mismatched and miscellaneous gear," said one YSAR volunteer in an online post.
However, two local businesses have stepped up to help with the eight-day exchange. Farmers Auto Village have provided a 12-seater van to get the teams around, while Tauranga Rotary has helped fund petrol, food and school camp accommodation.
The Americans will meet with Carl McOnie, head of LandSAR, before doing the Tongariro Crossing and meeting with the Ruapehu Alpine Rescue team next week.
They will also join a YSAR classroom session and head into the YSAR training ground in the Kaimai Range. The bush and terrain is utterly unlike anything the Americans will have experienced. And, of course, they will climb Mauao and dabble in the surf at its foot.
It's hoped the youth search and rescue exchanges between New Zealand and America will continue for years to come, advancing training and operations in both countries.
More on SunLive...