Breaking boundaries through art form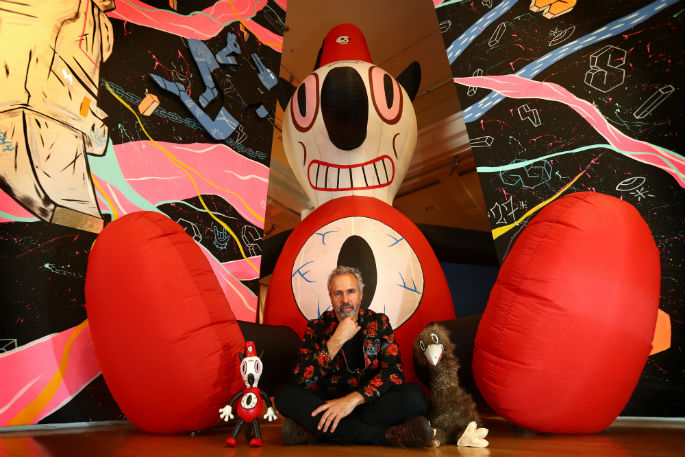 Gary Baseman had his notebook open with his coloured pencils bundled together by a rubber band.
He sketched many of his imaginary friends, such as Toby and Emmanuel Hare Ray, while we talked.
It was an organic, bizarre interview, as I sat across from internationally recognised contemporary artist Gary and curator and cartoonist Craig McClure while they devoured Bobby's fish and chips and unravelled their experiences of the art world.
Both Craig and Gary are in Tauranga on business as part of the Mega World signature show at Tauranga Art Gallery. It's humbling to know, however, that we can all stop, relax and bond over some good old fish and chips.
Mega World explores the expansive universe of illustration through five exhibitions - two of which are Craig McClure and Gary Baseman's latest projects.
Anti-heroes: Conscious Cartoonists and Comic Book Creators is Craig's biggest curated art exhibition, celebrating comic books and cartooning and the powerfully empathetic way cartoonists have of representing the world.
The exhibition features work by Ryan Heshka, Dash Shaw, Ron Regé Jr, Tommi Parrish, Tom Scott, Mardo El-Noor and Dylan Horrocks.
"Comic books are usually about billionaire playboys, Arizonian warriors and characters with very strong archetypes," says Craig, "whereas all of the artists in Anti-Hero are either satirical or the majority of them are making auto-biographical stories.
"We have a range of different mediums digital, cinema graphic, animation and feature films, so it was important to mix up those genres but also have them autonomous in what they create."
The Scot, who moved to New Zealand in 2007, says the works deliberately expose the crop marks and the notes that artists have made to publishers or printers, and the white out they've used.
"I think that's the beautiful part, because they are raw and show a process," he says. "The sketches are folded up and crumpled, have masking tape all over them and are dirty in some places."
Gary Baseman's exhibition, Imaginary Friends, is similar to Anti-Heroes - showcasing how art can transform through different mediums.
The Los Angeles-based artist works in various creative fields including illustration, fine art, toy design and animation.
Gary's multifaceted career includes illustration for clients including the New York Times, Rolling Stone and the Wall Street Journal and the bestselling board game Cranium.
He's also famed for creating animation for Emmy and BAFTA award-winning ABC/Disney series Teacher's Pet.
Featuring a collection of dynamic characters that represent aspects of the human condition, these imaginary friends manifest themselves in multiple ways, encouraging viewers to engage personally and experientially and connecting the character's stories with their own.
He describes himself as a persuasive artist.
"For me, while everyone is happy drawing or painting, I created this term called persuasive art, because I hated being put into the boxes that didn't really define my work," says Gary.
"I've worked very hard to be seen as a persuasive artist because I wanted my art to be perceived everywhere. I wanted to use different forms of media to tell a story."
While he started out as a cartoonist, Gary insists he has always loved collecting old advertising displays from the 1940s and 50s and old toys, which provided the inspiration to make his own.
"People started jumping in saying I couldn't do vinyl toys because I wouldn't be seen as a real fine artist, and I thought I'm going to do what I do best and what works for me.
"From there I did my first art installation and I saw how people engaged with the space. I started doing art performances and grew to love working with dancers and composers."
He says it's all about engagement and finding different tools and mediums to give people an experience.
"I love pushing the boundaries," says Gary. "A lot of art galleries just want to showcase my old work that is well-known, but I always push to create something engaging for the audience and me."
The Anti-Heroes: Conscious Cartoonists and Comic Book Creators exhibition will run until June 9, and Gary Baseman's exhibition, Imaginary Friends, will be on until July 7 at Tauranga Art Gallery.
More on SunLive...