Vocal Chords to blast at Our Place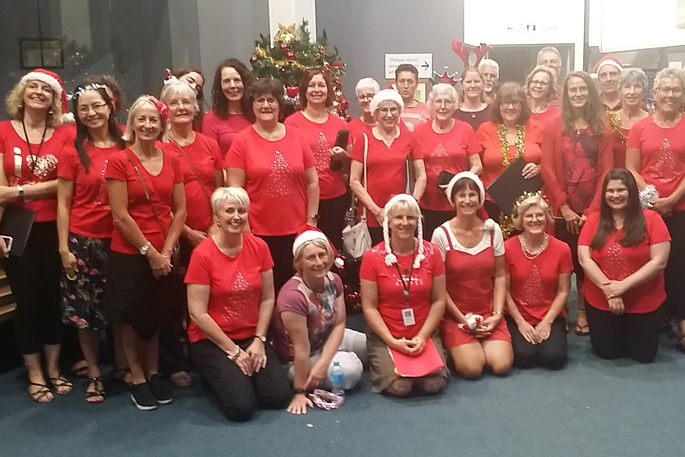 Bay of Plenty's Healthcare Workers' Choir, Vocal Chords, are performing at Tauranga's Our Place on Thursday, April 11.
The performance begins at 7.15pm, and musical director Leon Gray says many different songs and genres will be sung.
"We've got some great arrangements of dance pop, ballads, and generally fab party music on-the-go, and we just want to get as many people along as possible to come to listen to what we do.
"It's an honour and a privilege to perform music that people know in contemporary-choir style, and it's always fantastic to see people in our audiences get up and dance, or clap, along."
Amongst others, the choir will present songs by Stevie Wonder, Sam Smith, Toploader, Santana, Sting, ABBA, Ben Harper and Cherry Poppin' Daddies, and the overall vibe will be one of getting-out and having a blast.
"Tauranga has some wonderful choirs who present traditional, often religious-themed repertoire beautifully in concert form, which is brilliant. For me though, I like the idea that the music we hear on the radio or stream online can also be presented live with panache and flair by a choir; that quality arrangements don't just come out of musical theatre or classical backgrounds but can also be heard in non-formal settings by an audience.
"We've all experienced the sheer joy of being at a party, or out in town, and singing along to a song we know and love without a care in the world. I encourage my singers to do that when they perform, but in a three- or four-part arrangement, so they get the added buzz of hearing themselves in harmony." Says Leon.
The choir has grown over the last few years with regular numbers reaching around 30 each week. While still holding firmly to its healthcare worker-led roots, Vocal Chords now welcomes all people from all walks of life, and age groups who wish to experience the joy of pop-based choir music.
"We'll always have a strong link to the healthcare sector in the Bay, and we're so lucky to have practitioners joining us from diverse workplaces such as general practice, nursing, administration, specialist care and complementary medicine. However, what I also love is the fact that people from outside healthcare are actually learning little bits here and there about the sector, simply by being around those who work within it," says Leon.
"The environments we rehearse in have statements about the BOPDHB's values all around us, and participants are encouraged to chat to everybody during rehearsal. It's within these conversations that you hear about the different parts, functions and areas of interest within the DHB, simply through the vocabulary being used; that's how super-powerful social learning is."
More on SunLive...