What's On: Speedway and some rain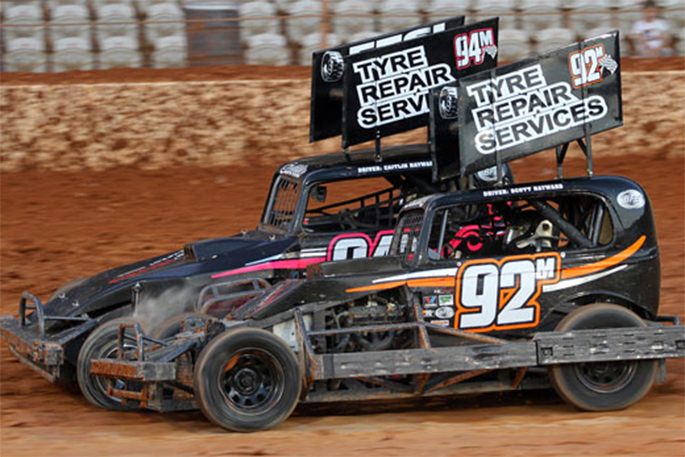 Good Morning SunLive readers and welcome back to another Saturday.
Reminder to turn your clocks back, as daylight saving ends tomorrow.
Looking at the weather for today, we are looking at a cloudy day in the Bay of Plenty. There are a few showers about, mainly from the afternoon.
Your high will be 21 degrees and an overnight low of 10 degrees.
If you are looking for something to do this Saturday, why not head along to the Trustpower Baypark Speedway and check out the North Island Midget Championship that is taking place tonight.
It is an all ages event with gates opening at 5pm and racing starting at 6.30pm.
Along with the North Islands best midget drivers coming out to race, there will also be Sprint Cars, Super Saloons, Stock Cars and Mini Stock.
If you are looking for something else to get you out and about today, check out the What's On listings below:
Saturday 6 April:
Art Exhibition 'Uncharted Territory'
Exquisite, Colourful Abstract new Art & Glass exhibition by multi-award winning artist Nemesh. The Art Lounge NZ Gallery, 117 Willow St Tue-Sat 11-4.
---
Art On The Strand
Original Art for Sale. Weather permitting. 9-4. Tauranga Society of Artists
---
Bay Network Singles Club
50plus. Make new friends. Barbeques, outings, dining out & pot-lucks. Ph Jonathan 572 2091 or Maureen 021 112 3307
---
Baypark Family Speedway
Super Stock Rumble. 6:30pm www.baypark.co.nz
---
Beth-El Messianic Family
Come celebrate Shabbat (Sabbath) as Yeshua (Jesus) & all early disciples did, both Jews & Gentiles together. All welcome. 10am Otumoetai Primary. Joel 021 768 043
---
Gratitude to Parents Meditation
Discover a love that will change your life. Powerful meditation seminar to discover gratitude & true love. Greerton Library, 1-3. Mike 027 446 5357
---
Greerton Hall Market
Last Saturday of month. 8am-12pm. Stalls inside/outside. Discounts for charity groups. Refreshments available. Phone/txt for site. Tricia 07 543 1487 or 027 908 2952, www facebook.com/greertonhallmarket
---
Guinea Pig Show
Omokoroa Hall, open to public 10-3. Gold coin entry. Enter your pet guinea pig in fun classes for $5 before 12pm. Ph 027 862 1511
---
Jam Session/Open Mic
3rd Saturday of every month at Mount RSA. All genres welcome. Backing band available. Keith Dickson 021 170 239
---
Jigsaw Puzzle Library
10am-12 noon. Choose from of 300 puzzles. Hire $1 per 1000+ puzzle, 50c under 1000. Cnr Highmore Tce & Brookfield Tce. Ph 576 0698
---
LOL Laughter Wellness
Laugh your way to wellness. To learn how, come & join us at Arataki Community Centre, Zambuk Way, Mt Maunganui. 11-11:45am. Ph Trish 022 036 6768
---
Multicultural Mandarin Classes
Monday conversational all levels Mandarin classes 6pm-7pm. Saturday academic classes 10am-12pm. Registration required to enquiries@trmc.co.nz
---
National Youth Jazz Competition
Young jazz stars of the future compete for trophies & glory! 8:30am-4pm, Baycourt. Info at www.baycourt.co.nz
---
Otumoetai Tennis Club
Adult Tennis. Start time 1:30pm Bellevue Park Windsor Road (adjacent to swimming pool complex). New players & visitors welcome. Ph Fred 544 5088
---
Petanque
1pm Tuesday & Saturday 45 Kawaka St, Club Mt Maunganui. No Equipment needed, come & try this low-impact sport. Jo Ann 578 3606
---
Pottery Gallery
Bethlehem Pottery Gallery is open 10am-2pm Tues,Thurs & Sat. Come along & purchase locally made pottery.
---
Sabbath Worship Services (Hairini)
Experience God's Love worshipping at 10:30am Saturdays at Baden Powell Centre Harrisfield Dr, Hairini. Ph David at Church of God's Love 7th day 020 4128 3124. www.churchofgodslove.com
---
Taoist Tai Chi
Beginners Tai Chi classes Mon-Sat, 15 Koromiko St, Tauranga. Also KatiKati, Mount, Papamoa & Te Puke. For times visit www.taoist.org or ph 578 9116
---
Tauranga Synchronised Swimming Club
Have a go at synchro! Beginners train Saturday mornings at Baywave. Supportive & friendly environment. First lesson free. Ph Jo 027 543 1697, www.taurangasynchro.co.nz.
---
Te Puke Toy Library
New opening hours Wed-Sat 10am-1pm Thurs 3:30-5:30pm during Terms 1 and 4. 7 Stock Road Playgroup Friday 10am-12pm. Come on down & join to hire toys & have some fun.
---
The Sociables
Females & males in the 30s/40s/50s age group that meet up to participate in local activities & events, bushwalks & dining out. Ph 022 012 0376
More on SunLive...