Kidney dialysis demand increasing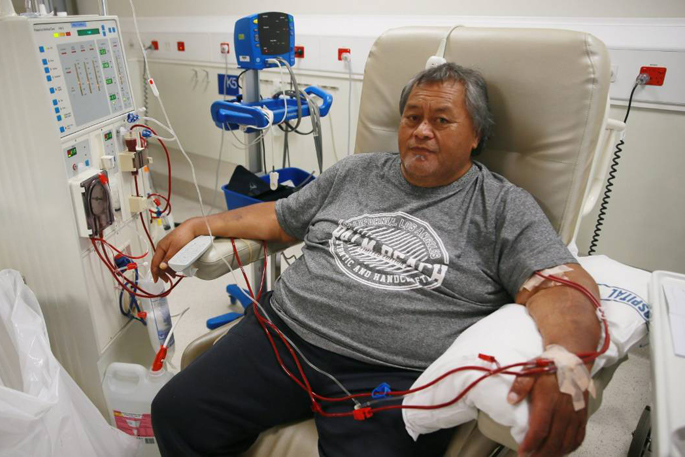 If rates of kidney failure don't slow down, dialysis centres around the Waikato zone will have to double their facilities in a decade.
That's the message from Waikato specialists, who are trying to ease the pressure by reminding potential patients how they can protect their kidneys.
Dialysis keeps people alive when their kidneys fail: cleaning and filtering blood, and removing excess fluid.
Nationally, 2750 Kiwis received dialysis in 2016, according to Australian and New Zealand Dialysis and Transplant data.
But dialysis sites around New Zealand - and the world - are filling up, and diabetes is said to be a major contributor.
It's behind slightly more than fifty per cent of kidney failure cases, the Ministry of Health say, but the growing and ageing population, and more complex health needs are also factors.
Most dialysis centres are at capacity in the Midland region where Waikato renal specialists work: across Tauranga, Whakatāne, Gisborne, and Rotorua.
"If we continue where we're going, every single DHB in the Midland region will pretty much have to double the number of dialysis stations they've got in 10 years' time," Waikato director for cancer and regional services Alex Gordon says.
Each year, dialysis demand increases between four-and-a-half and six per cent at Waikato, Capital and Coast and Canterbury DHBs.
Waikato Hospital's renal centre was re-purposed in 2012, and it's at capacity again now.
Tinirau Whitiora, 59, is one of the users - a machine has been doing the work of his kidneys for more than a decade.
When he was in his early 20s a doctor told he'd end up on dialysis if he didn't change his lifestyle, but he didn't know what that meant.
Now, three days a week, he heads to Hamilton's regional renal centre for five-and-a-half hours of dialysis.
"This is our kidney now," he says, tapping a filter on the side of the machine.
Bad living and decisions led him there, he says.
Since dialysis, he's had to change mahi (job), can't go biking with his grandchildren, and has limits on what he can eat and drink.
But it's not all doom and gloom - the "nosey fulla" says patients spend dialysis having a laugh and getting cheeky to the nurses.
He's lost about 10 kilograms on a keto diet, made other eating changes and advocates for renal patients.
"My whole whakaaro (reason) really, about dialysis, is I want to watch my grandchildren grow up as much as I can."
A kidney transplant isn't on the cards, so he plans to continue with dialysis.
Facilities around the Midland region are getting tighter as more people need in-centre dialysis, consultant renal physician Dr Drew Henderson says.
That need is growing by eight per cent a year, or about 20 extra people.
People with diabetes can make a difference to their health, he said, by taking pressure off their kidneys by keeping a lid on blood pressure and sugar levels.
High levels make the kidneys work harder and can eventually lead to failure.
"It's like driving your car at 100 miles an hour in second gear. It will go it for a while, but they won't go forever."
Many people don't get symptoms until their kidney function is very poor, he says.
Some need in-centre dialysis while others can do it at home - and some can get on the list for a kidney transplant.
But blame doesn't help, diabetes physician Dr Justina Wu says.
"It's not like they're a horrible person for having diabetes."
A Ministry of Health statement describes kidney failure as "personally devastating and resource-intensive to treat".
Costs will also rise exponentially if we can't slow the trend, says Alex.
For example, in-centre dialysis costs about $50,000 to $55,000 a year, per patient, home dialysis about $25,000 a year.
Kidney transplants are also possible for some patients.
For information on managing diabetes, visit Diabetes New Zealand.
More on SunLive...