The night the bridge dropped in in the BOP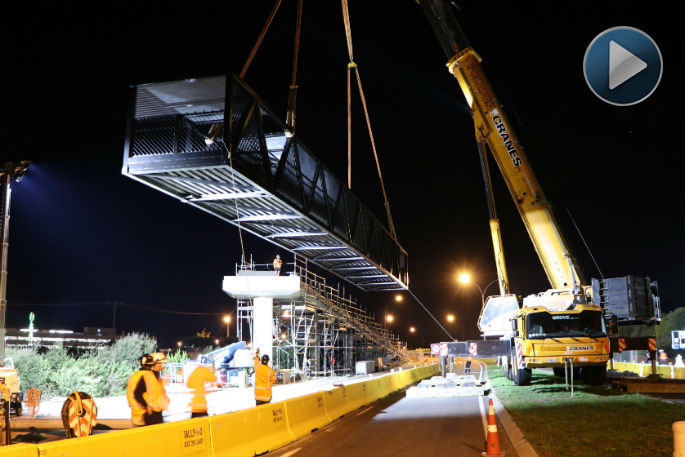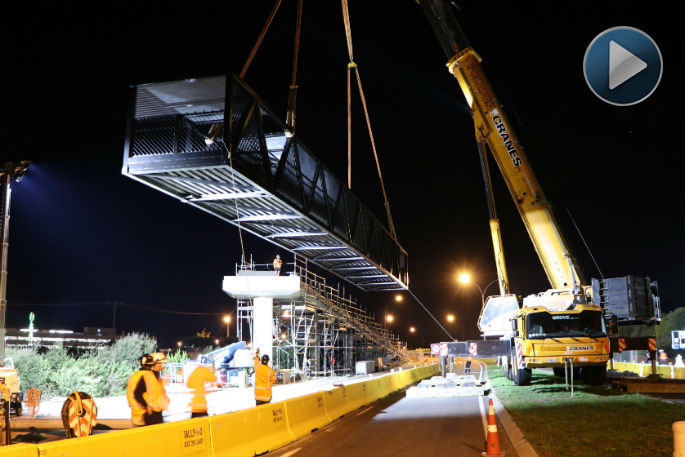 Click the image above to watch the video
It was a delicate operation, weather dependent, and done in the dead of night.
A new pedestrian bridge across State highway 36 to Tauranga Crossing was hoisted in place on Wednesday night.
It required the closing of a four-lane arterial highway, a couple of cranes, lots of lights and two things that could not be pre-ordained – little or no rain and wind.
The $4.1 million walking and cycling bridge project was jointly funded by the Tauranga City Council and the New Zealand Transport Agency.
The 38.3-metre steel zig-zag, or truss design span was eased into position about 11pm on Wednesday night, creating a vital piece of infrastructure – linking Tauranga's newest suburb, The Lakes, with the Tauriko business estate.
The 28.4 tonne steel structure of the bridge was pre-fabricated in Napier and trucked to Tauranga over two days. But the lift weight, including the concrete deck was about 80 tonnes. It was slung into place in less than hour at 11pm on Wednesday night, with a single lift using a mobile 400 tonne crane.
The bridge installation coincides with the opening of another stage of the Tauranga Crossing mega-mall - 45 new stores, 17 new eateries and an 800-seat cinema in a $150 million development. A thousand people will be employed in retail and food and beverage outlets.
The bridge will give the people of The Lakes residential area a new and safe travel alternative across SH36 between Lakes Boulevard and Kennedy Road to the Tauranga Crossing shopping complex.
Tauranga City Council's acting general manager of infrastructure likes the new span. "It is a stunning bridge in this fastest growing part of our city," says Martin Parkes.
"It creates a safe connection for walkers and people on bikes between parts of the city that were previously disconnected."
While the new overbridge is now in place, it is not yet open to people traffic. There will be another month of finishing work, including minor earthworks, landscaping, fencing and the installation of steel furniture.
Martin says the bridge is a significant addition to Tauranga's transport network. It follows the installation of the Wharepaewaka overbridge that was built last year over SH29 (Takitimu Drive) linking Bethlehem and Gate Pa.
The new overbridge on SH36 is due to officially open in the middle of next month.
More on SunLive...