Thames-Coromandel talk climate change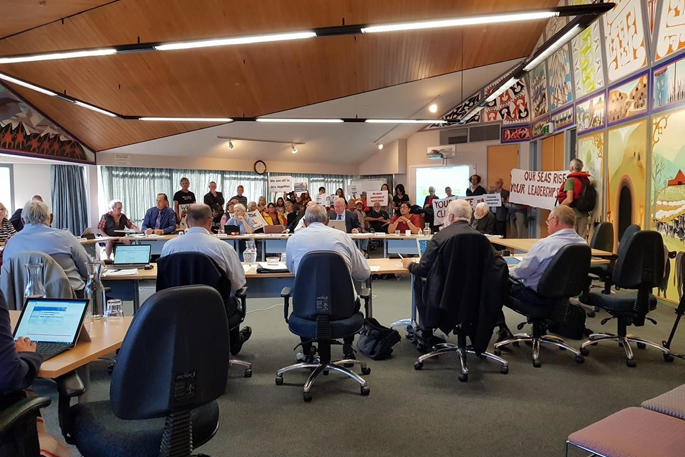 The Thames-Coromandel District Council met on Tuesday where they agreed to keep taking action in response to climate change in the community.
Matters around climate change were discussed as part of the full council meeting, where councillors agreed to take a broad view on how to help mitigate the drivers of climate change and to look at how other councils are responding to carbon management and the reduction of greenhouse gas emissions.
The council was asked to consider signing the Local Government Leaders' Climate Change Declaration, a document drafted by Local Government New Zealand (LGNZ) that commits councils to plans to reduce greenhouse gases, increase resource efficiency, promote public and low-carbon transport and support the use of renewable energy.
The majority of five councillors voted against a resolution to sign the declaration, while three were in favour.
Councillors welcomed the large public forum at this morning's meeting and the members of the community who came to present their views to Council around climate change.
Thames-Coromandel Mayor Sandra Goudie says it was encouraging that most of those presenting to council agreed that council's actions spoke louder than words when it comes to the climate change challenge.
"Both LGNZ and council will continue to look at the government to lead the way forward."
While the council has not signed the declaration, they are already committed to working on many of the initiatives within the declaration. These initiatives include:
• Supporting walking and cycling infrastructure within our communities;

• Supporting a public transport service in Thames and the uptake of electric vehicles through working to develop a network of charging stations across the district;

• Proactively engaging with our coastal communities on shoreline management plans that will identify long term management strategies for each coastal community, and will take into account projected sea level rise scenarios associated with climate change;

• Advocating to central government on leading the response for small coastal communities like ours when it comes to possible threats to infrastructure, private property, the local economy and livelihoods.
Sandra says the declaration has the potential to be a legally binding document, and council and individual elected members could be at risk if it did not uphold all the initiatives.
"This declaration doesn't indemnify us from action or inaction.
"The only way we can be protected is if government indemnifies us, so we are vulnerable either way.
"There have been statements out there that I'm a climate change denier – this is patently incorrect and misrepresents the facts.
"Our council will continue to take action, following robust decision-making processes, in response to climate change for our communities."
More on SunLive...