Rotorua mourns for loss of school girls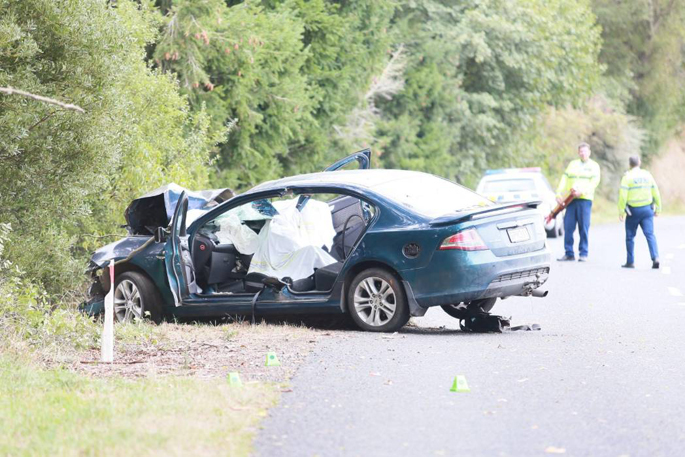 Three young sisters were among the five killed after a car crashed into a tree near Taupō on Monday morning.
Rotorua Lakes High School is mourning the death of two students, sisters Michelle and Aroha Morgan-Rangikataua, aged 15 and 14 respectively.
Their "cheerful" and "popular" sister, Rotorua Intermediate student Kahukura Morgan-Rangikataua, 12, was also killed in the crash.
Her 11-year-old brother, the sole survivor, is recovering in Waikato Hospital with serious injuries.
Police were called to the crash on Tirohanga Rd, which joins with State Highway 1 near Atiamuri, north of Taupō on Monday morning.
A west-bound Ford Falcon carrying six people had crashed into a gum tree.
At the scene, Senior Sergeant Fane Troy confirmed the five were all from the same family.
In a Facebook post, Rotorua Lakes High School said teenage girls Aroha and Michelle had their lives cut short alongside their family members.
"It is with a heavy heart, we at Rotorua Lakes High School farewell our very own kotiro, who were tragically taken from us on Monday.
"Our hearts go out to the families at this very sad time as we all come to terms with this sudden tragedy."
Meanwhile, Rotorua Intermediate School was grieving a student described as a "happy and cheerful young lady" who was very popular with her peers, Principal Garry de Thierry says.
"She had huge leadership potential and that was one of the things we were really trying to foster this year with her. We'd seen that potential.
"Because she was such a respectful young lady, the staff had that mutual respect for her. [She's] just gone too soon."
Her teacher was understandably "cut up" by the loss of a student, he says.
A reliever had been called in to teach the class.
In a Facebook post, Rotorua Intermediate School announced the "sad sad news" of the death of a student.
"It is with deep sadness that I write this letter to inform our Rotorua Intermediate School community that one of our students was tragically killed in a car accident, along with four other members of her family," the post says.
"Our thoughts are support are with the whanau, and with the many students who have fond memories of this beautiful, and very capable student, who had so much to offer the world."
Garry said the school is working to support the students in the girl's class.
"We contacted all those parents to say what had happened prior to letting the students in the class know. So parents could pick up their child and share that news themselves.
"We had an assembly in tribute to her so we knew all the students were getting the same message. It wasn't only about what had happened but about supporting one another.
"And not just today ... If they need some sort of support next week, for instance. Everybody grieves a bit differently."
Everyone was feeling for the wider whānau, he says.
The family told the school that the victim's bodies will return to their marae on Wednesday, de Thierry said.
"A lot of the parents are wanting to take their children along there and we're supportive of that."
Where to get help
Lifeline (open 24/7) - 0800 543 354
Depression Helpline (open 24/7) - 0800 111 757
Healthline (open 24/7) - 0800 611 116
Samaritans (open 24/7) - 0800 726 666
Youthline (open 24/7) - 0800 376 633. You can also text 234 for free between 8am and midnight, or email talk@youthline.co.nz
0800 WHATSUP children's helpline - phone 0800 9428 787 between 1pm and 10pm on weekdays and from 3pm to 10pm on weekends. Online chat is available from 7pm to 10pm every day at www.whatsup.co.nz.
Kidsline (open 24/7) - 0800 543 754. This service is for children aged 5 to 18. Those who ring between 4pm and 9pm on weekdays will speak to a Kidsline buddy. These are specially trained teenage telephone counsellors.
Support available from Rotorua Intermediate:
Trina Allen 02102440985
Amanda Kelly 0272794505
Matua Ben 0272348266
Garry de Thierry 021488589
More on SunLive...