Homeless moving in as businesses move out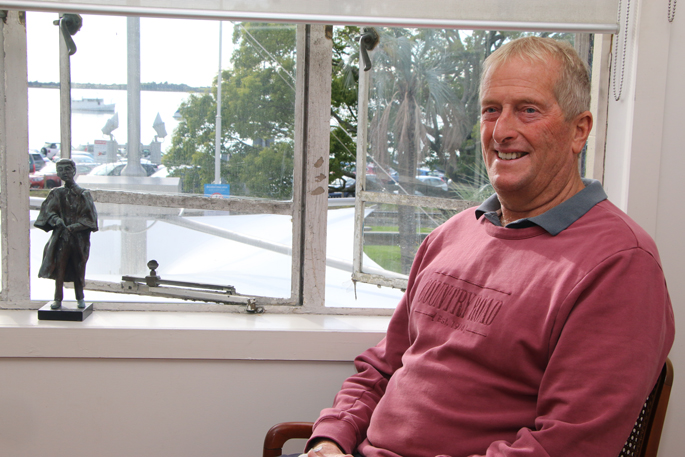 John Douglas has been working at The Strand Chambers for 14 years as a barrister, and for the past year the outside of his premise has become home to some members of the community.
As of Friday, John's family law and remaining businesses are moving out of the premises as the building is being demolished - it's deemed unsafe in an earthquake.
"When it was decided the building would be demolished, all the businesses in here (Strand Chambers) were given notice, which was a year ago.
"The first business to move out was Strand Dental in about July. The restaurant below us, Amphora, held on and on like us and left just before Christmas which was a shame, because their new premises hadn't been completed.
"When Amphora moved out, the first man moved in on to the footpath. He is still here, he is a nice guy, friendly and no trouble whatsoever."
John says every morning when they would open their doors at 8am, the man would get up, pack all his things and fold his blankets away.
"He even had a little dust pan and brush and he'd clean up around him.
"We totally tolerated him, he respected us so we respected him."
It wasn't until a month ago that John says other homeless had joined him, and the residing group became a problem.
"There has been homeless people before, and the regulars are fine, but it's the hangers on who smoke and do drugs.
"Last Tuesday there were around eight of them, there was mess everywhere, cigarette butts, and the final straw was when our two staff members said they were smoking dope, they had a bong down there and this was 2pm.
"We got loud swearing, and fighting, and it has come to be the place to hang out now.
"Myself and another worker are electric bike fans, yesterday afternoon there was a drunk woman yelling and screaming and she grabbed one of the bikes and threw it on the ground, that's batteries, and they are around $3000, it didn't damage it but I had to bring both bikes into the foyer."
John says not only is the drunken behaviour unacceptable on the street, he says it has been detrimental to the businesses.
"I had to stay down there following the bike incident because I act for children in parenting procedures in the family court, and I had some school kids coming up to see me at 4.00pm to talk about issues with their parents.
"I had to go down there and wait for the kids because it was an intimidating situation for them to come in.
"For someone who practises in family law, isn't it a shame that as a community we can't provide for these guys, I sympathise with them as they haven't got anywhere else to live, I suspect they can't stay at the shelter because they won't abide by the conditions of no alcohol and drugs.
"As I sympathise with them, I don't know the answer."
John says he sympathises with surrounding businesses as he doesn't have to deal with the issues at night.
"These businesses have invested a lot of money to smarten up this end of town, and instead it's become the new hangout.
"It's not our problem, but I do feel desperately sorry as these people have invested into hospitality businesses, some have even put little walls up."
With the businesses clearing out of the Strand Chambers in the next week, John says he wouldn't be surprised if the homeless manage to set up camp inside the building.
"The bylaw states that people can't sleep rough within five metres, but that will be interesting because when this place is empty, there will be no businesses here, they might have free run."
"When we're not here, there's no incentive for them to pack up their stuff when we open.
"It's inevitable when they see we're gone, somebody's going to find their way into the building. It's all empty, but it's all here."
John says he presumes the council will sort the issue or it will resolve itself.
"On Friday when we move out there will be no businesses from Lone Star to the new café, so they may have a problem enforcing the bylaw in our doorway."
More on SunLive...