Tauranga racer adds another win to the list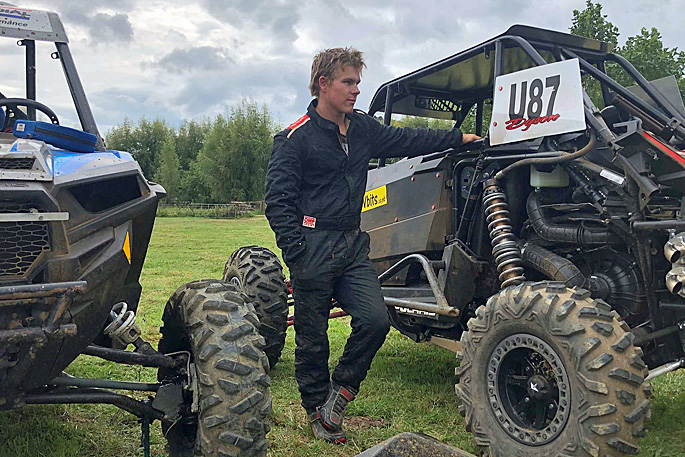 Tauranga racer Dyson Delahunty has had a strong start to the year, and the national championship hasn't even started yet.
The 19-year-old added another win to the list after competing at the Waikato Offroad Racing Club's Castle Craig 250km endurance race which was held near Awamarino, South Waikato on Saturday.
After qualifying, Dyson lined up on the grid in fourth out of 32 racers, making him the fastest qualifying driver in his class (U class).
The race went without a hitch for the 19-year-old, coming around in third place after the first lap, second place after the second lap, and taking the first place spot a few laps later.
Being in a production class UTV, for an enduro race like this, it meant that he would have to pit and refuel, leaving him at the disadvantage of the other classes who were able to run bigger fuel tanks.
Dyson had to refuel twice, and at one stage was three minutes ahead of second place, making it the perfect time to refuel, completing a pit stop in just over a minute and entering back on the race track in first place.
After more than three hours of non-stop racing, Dyson managed to cross the finish line in first place winning the race outright and also grabbing first place in his class.
"It was such an awesome track and my Polaris RS1 was on point," says Dyson.
"I was pushing hard all day to give us a gap to be able to refuel twice.
"I have now only three weeks to get the car ready for the first round of the ORANZ national series, and this year we are aiming for the NZ1 title."
Dyson will be competing at the first round of the ORANZ North Island national championship in Makarau, north of Kaukapakapa on Saturday April 20.
"I have raced many times at Makarau, but each time is different than before. The track is always different depending on the weather conditions.
"It is always interesting racing against the Yamaha's as they are fast and will make you push your car to the limit.
"But I am hoping to get some good results and start the national series off strong. The Polaris RS1 is getting faster and faster each outing and I am sure it will be good contention for the top spots this year."
To keep up to date with Dyson and his racing, check out his Facebook page: Dyson Delahunty Racing.
More on SunLive...