Toi Ohomai sponsors future environmental leaders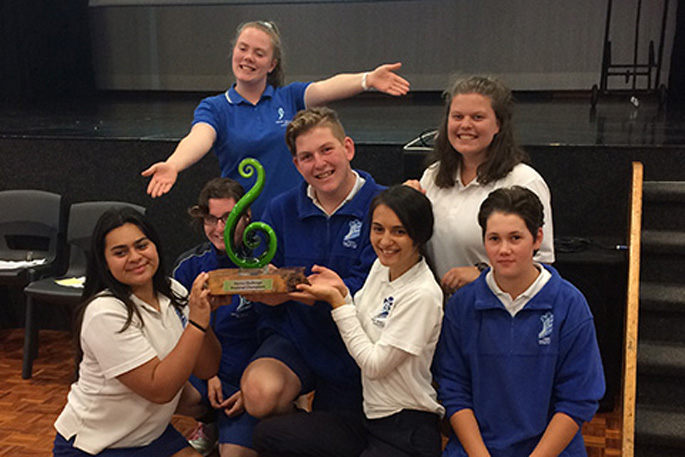 Wanting to encourage the next generation of environmental warriors, Toi Ohomai Institute of Technology is sponsoring the Top School award at the 2019 EnviroChallenge event.
Delivered by Sustainability Options, EnviroChallenge is a yearlong mentoring programme for secondary students from across the Bay of Plenty that is intended to inspire environmental leadership and action.
The challenge started in the Western Bay 11 years ago and it's the first time the institute has sponsored the Top School award.
Toi Ohomai Marine and Environmental Programme Manager Dean Tully says the institute is keen to support students who show an interest in the environment and could be environmental leaders.
"Our planet is facing a plethora of environmental challenges including but not limited to climate change, pollution, waste management, and biodiversity loss.
"Toi Ohomai is committed to minimising its environmental impact. One of the ways we do this is through a suite of education programmes integrating environmental protection and sustainability within the course content. The Certificate in Conservation Operations, Diploma in Environmental Management (Terrestrial or Marine) and Graduate Diploma in Resource Management are great examples of this.
"EnviroChallenge is designed to inspire and encourage environmental leadership and activity. This is exactly the type of graduate we aim to produce, thus sponsoring this award was a natural and responsible fit for us."
Sustainability Options Development Manager Jo Wills says EnviroChallenge provides students, who have a passion for the environment, with an opportunity to learn, share and take action in their school and wider community.
"As part of this, Challenge Day is held once a year where all students come together to compete in different environmental challenges that are high energy and designed to encourage collaboration and participation. The students drive all the activity themselves based on their passion and understanding of the issues their school and community is facing.
"Sustainability Options supports the students throughout the year by providing assistance and mentoring to help progression towards the sustainability outcomes the students set for their schools as part of the EnviroChallenge programme."
Jo says it's awesome to have support from Toi Ohomai because it gives them the financial resources they need.
"Sponsorship from Toi Ohomai for the school that wins first place is a fantastic contribution to the projects and endeavours of that school's environmental activity. Environmental initiatives often struggle for funding so the prize money gives a much needed boost to the students seeing their environmental goals come to fruition."
EnviroChallenge is also supported by the Western Bay of Plenty District Council and Bay of Plenty Regional Council.
More on SunLive...