NZ sailors make good start in Palma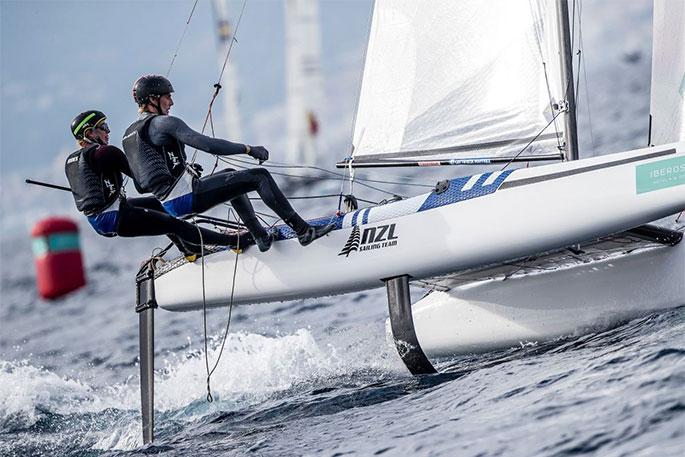 The New Zealand contingent at the Princess Sofia Regatta in Palma made a good start, with four crews inside the top four of their classes, but no racing was possible in the 49er fleet meaning Peter Burling and Blair Tuke's international comeback was delayed by at least another day.
Gemma Jones and Jason Saunders were the best placed of the Kiwis, sitting in second in the Nacra 17, but there were also good starts for Andy Maloney (third) and Josh Junior (fourth) in the Finn and Alex Maloney and Molly Meech (fourth) in the 49erFX.
There had been plenty of anticipation around the 49er fleet, especially as four-time world champions Burling and Tuke were lining up in their first international 49er regatta since winning gold at the 2016 Rio Olympics.
The 49ers were due to sail in the afternoon at Palma but the wind didn't play ball before racing was called off for the day.
The Nacra 17 fleet got the best of the conditions, sailing two of their three races in a light sea breeze, and Jones and Saunders took advantage to win two of their three races.
They're level on points with Germany's Paul Kohlhoff and Alica Stuhlemmer and two ahead of world champions Ruggero Tita and Caterina Banti of Italy, who dominated the class in 2018.
For Jones and Saunders, it made a nice change to be surrounded by plenty of other boats after a summer training with the small fleet of Nacras in New Zealand.
"For Gemma and I, it was our first day racing since [the Enoshima World Cup in] Japan in September so it has been a long break," says Saunders.
"It was good to get back racing again with more than four boats on the start line.
"We had a really good day today. We had great pace both upwind and downwind, which I think made the day a lot easier and some decisions a lot easier. We are looking forward to tomorrow and will try to keep it up as we get back into the swing of racing again."
That's the priority for most of the New Zealand sailors in Palma as they wind into an important year of competition as the Tokyo Olympics loom on the horizon.
The Princess Sofia Regatta represents the start of the European season and there are more than 1200 sailors from 67 countries competing.
Alex Maloney and Molly Meech also picked up a race win among their three races and are fourth in the 49erFX, and Andy Maloney and Josh Junior also notched wins in their respective Finn fleets to be handily placed overall.
"It was pretty solid for the first day," says Andy Maloney.
"In the first race I sort of battled in fifth to 10th all the way around but managed to pass a few on the second beat to get up to fourth. In the second race I won the pin end [at the start] and managed to get across the fleet pretty early and held on for the win.
"I think it's meant to be a bit more of an onshore breeze tomorrow so I'll just try to improve on my starts and the things that haven't been perfect. And keep building on today."
Paul Snow-Hansen and Dan Willcox are the next best of the Kiwis in 11th in the men's 470, Liv Mackay and Micah Wilkinson are 28th in the Nacra 17, Susannah Pyatt and Brianna Reynolds 32nd in the women's 470, and Olivia Christie 44th and Annabelle Rennie-Younger 58th in the Laser Radial.
Results after day 1 of the Princess Sofia Regatta in Palma overnight (NZ time):
49erFX (66 boats)
1st: Natasha Bryant / Annie Wilmot (AUS) 1 2 (3) - 3 points
2nd: Charlott Dobson / Saskia Tidey (GBR) 1 2 (4) - 3 pts
3rd: Martine Soffiatti Grael / Kahena Kunze (BRA) (7) 6 1 - 7 pts
4th: Alex Maloney / Molly Meech (NZL) 6 1 (9) - 7 pts
49er (106 boats)
No racing
Nacra 17 (59 boats)
1st: Paul Kohlhoff / Alica Stuhlemmer (GER) (3) 1 1 - 2 pts
2nd: Gemma Jones/ Jason Saunders (NZL) 1 (7) 1 - 2 pts
3rd: Ruggero Tita / Caterina Banti (ITA) (18) 2 2 - 4 pts
28th: Liv Mackay / Micah Wilkinson (NZL) 12 10 (13) - 22 pts
Finn (86 boats)
1st: Alican Kaynar (TUR) 1 3 - 4 pts
2nd: Ed Wright (GBR) 2 2 - 4 pts
3rd: Andy Maloney (NZL) 4 1 - 5 pts
4th: Josh Junior (NZL) 1 7 - 8 pts
Men's 470 (73 boats)
1st: Jordi Xammar / Nicolas Rodriguez (ESP) 1 2 - 3 pts
2nd: Keiju Okada / Jumpei Hokazono (JPN) 1 5 - 6 pts
3rd: Hippolyte Machetti / Sidoine Dantes (FRA) 4 3 - 7 pts
11th: Paul Snow-Hansen / Dan Willcox (NZL) - 8 7 - 15 pts
Women's 470 (45 boats)
1st: Hannah Mills / Edilidh McIntyre (GBR) 3 4 - 7 pts
2nd: Elena Berta / Bianca Caruso (ITA) 6 5 - 11 pts
3rd: Camille Lecointre / Aloise Retornaz (FRA) 13 1 - 14 pts
32nd: Susannah Pyatt / Brianna Reynolds-Smith (NZL) 17 43 - 64 pts
Laser Radial (118 boats)
1st: Anne-Marie Rindom (DEN) 1 1 - 2 pts
2nd: Zhang Dongshuang (CHN) - 2 6 - 8 pts
3rd: Erika Reineke (USA) 6 3 - 9 pts
44th: Olivia Christie (NZL) 35 10 - 45 pts
58th: Annabelle Rennie-Younger (NZL) 46 7 - 53 pts
More on SunLive...