Mixed reaction over Tauranga bylaw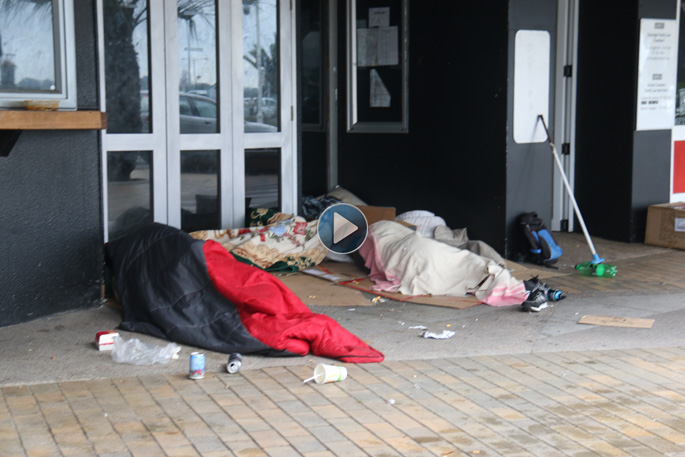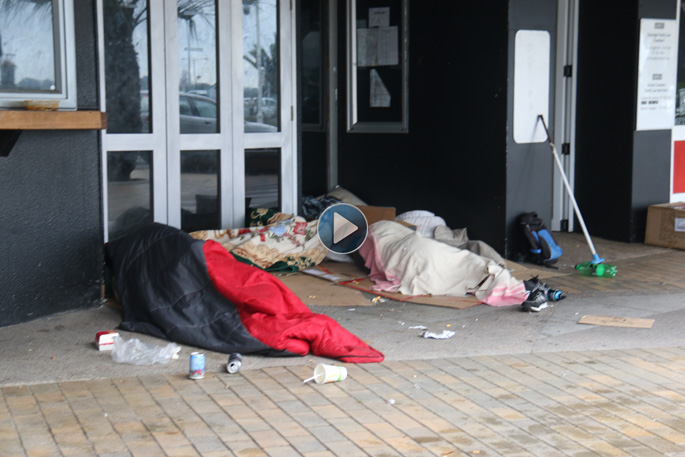 Click the image above to watch the video
Shop owners along Devonport Road are in two minds over the new bylaw that has been brought in to ban rough sleeping and begging within five metres of any retail premises in the Tauranga, Mount Maunganui and Greerton city centres.
A shop owner, who did not want to be named, told SunLive he often helps by feeding the homeless to keep a good relationship with them.
Many shop owners on Devonport Road have problems with them sneaking in and stealing food, but he hopes the council/government can fund a facility for these people.
He didn't want to appear on camera in fear of retaliation.
From April 1, the new begging and rough sleeping ban will see people who are found sleeping or begging within 5m of a shop from in the central business district moved on.
The bylaw was approved last year as part of changes to the draft Street Use and Public Place Bylaw which was proposed by councillor Terry Molloy last November.
Between May and September 2018, council received 61 telephone calls relating to begging. Of those 61 calls, 34 of them related to behaviour that caused concern.
Another shop owner says the new bylaw will be good for customers, as some are scared off due to people sleeping outside their shop.
New rules on begging and rough sleeping
There has been a lot of interest in Tauranga City Council's Street Use and Public Places Bylaw 2018 that came into effect yesterday (Monday, 1 April).

This interest has generated a number of comments in the media/social media space that are factually incorrect.
• Tauranga City Council cannot issue a fine to someone begging or rough sleeping.

• Begging and rough sleeping are only prohibited from within five metres of any retail premises in the Tauranga, Mount Maunganui and Greerton city centres.
The bylaw does not impose a blanket ban across the entire city.

Council's bylaw officers will engage with the individuals and educate them of the rules in the bylaw. They will also continue to connect individuals to the relevant support services to assist them.

Any reports of antisocial, intimidating, harassing or aggressive behaviour should be reported directly to police.
The question on everyone's mind is: where will the people sleeping rough go?
Tauranga has two homeless shelters – one for men and one for women.
The city's first women's shelter, due to open next Monday, offers hope for some of New Zealand's "hidden homeless".
Clair, 60, says the streets are her home. She eats at a bus stop, wanders the CBD blocks, and sleeps on the ground by the railway line that runs through downtown Tauranga.
She has been homeless, off and on, more than four years. She used to have a tent but it was repeatedly slashed while she was sleeping in it. Although she claims to be fearless, she says the streets are unsafe.
"You can't say anything's safe because there's all sorts of characters roaming about and you don't know what kind you'll come across.
"I have come across some ugly people, male and female. There's some nasty people out there, not very nice."
She says New Zealand's homeless women work hard to remain unseen because they feel vulnerable to being sexually assaulted, beaten, and intimidated.
Every Monday night, Clair comes to Tauranga's main downtown bus stop for a free meal supplied by concerned locals.
There's Milo with plenty of sugar, to help pep up those who choose to stay awake and alert at night, and various plates of food supplied by members of the community. The result is a smorgasbord of finger food and casseroles.
Tracey Carlton helped establish the community initiative about 18 months ago. Some Mondays there are 70 homeless people lining up for food and a chat. There are sometimes 20 women, the youngest regular is a 16-year-old girl.
Some women are too scared to come out of their hiding places and be seen, so their friends grab them a small plate of kai.
One young woman lives by a river outside town with her boyfriend. They have bikes so cycle into the city for free meals during the week.
On their first visit to the bus stop meal, they are given second-hand bedding, toiletries and some clothes arranged in tidy, folded piles.
Her boyfriend carefully packs the clothes into crisp black rubbish bags, then attaches their new belongings to their bikes.
More on SunLive...