Winning gold for 60 years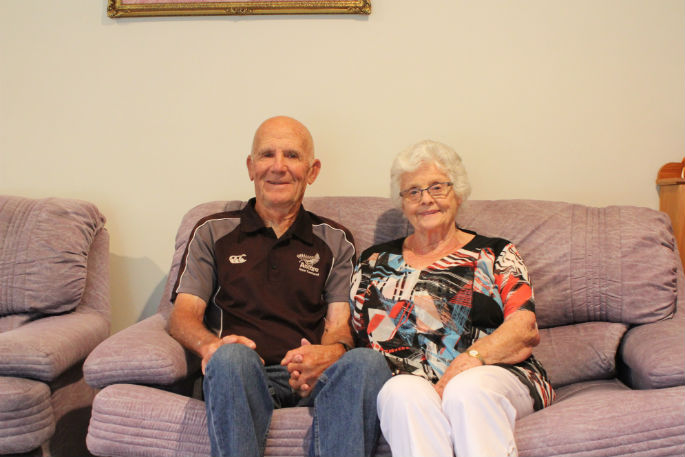 He fell in love with his best mate's sister who, 60 years on, has become his longest and most valued commitment.
Katikati residents Alan and Joy McCaughan are celebrated their 60th wedding anniversary at the weekend among family and friend in Tokoroa.
Sitting across from one another, they exchange their reasons for catching each other's eyes. Alan, 82, simply states: "She's pretty - a little stroppy, but very pretty", while Joy, 80, says: "He smiled at me and he had twinkly eyes." That's all it took.
The pair, who have three children, eight granddaughters and nine great grandchildren, have gained a lifetime of memories since they wed.
Joy and Alan went to the same school in Kerikeri, got engaged young and kept their proposal secret until Alan was given approval from Joy's father.
After getting married on March 28, 1959, they worked on several different sheep and cattle farms, before winning their own 700-acre Mangakino farm as part of a ballot.
"The Lands and Survey Department used to settle returned soldiers, and they had developed a lot of cheap land to be purchased by returned soldiers," explains Alan.
"When they had divided this to all the returned soldiers who wanted land, they started offering it to civilians.
"We saved up enough money for a deposit to be a part of the ballot and won a piece of land three years later.
"After 25 years on the farm, we sold it because Joy had a stroke. We bought 40 acres up at Oropi, where I had some horses and dogs.
"That's where I got into endurance riding and continued with my dog trials."
Alan says he has never mustered up a New Zealand championship win for dog trials, but won gold in an endurance riding championship in Dubai.
Endurance riding is an equestrian sport based on controlled long-distance races. The winning horse is the first one to cross the finish line while stopping periodically to pass a veterinary check that deems the animal in good health and fit to continue.
"It goes in 40km loops before you go on to the next loop," he says, "but when you come in your time doesn't stop until you get to the veterinary with your horse's heart rate under 64 beats per minute.
"You can come in three minutes behind someone else, but they may take 10 or 12 minutes to get their horse through the vet, so you can go 10 minutes in front of them and you slowly gain and gain and gain."
While Alan was working hard on his dogs and horses, Joy battled in several marathons to keep her fitness levels up.
"Two nieces said to me that they were going to walk the Whangamata half marathon, which is a 10km walk," says Joy, "so I thought I'd join in.
"A week before the half marathon, however, I slipped and popped my shoulder so I walked around with my arm against my chest for the whole 10kms.
"It was sore when I got back of course, but that was the start of it all."
Joy did a couple more 10km walks, then stepped it up a notch entering a 15km and a 31km marathon.
Both Alan and Joy say they're not too sure how they came to 60 years of marriage, but they know it's definitely one to celebrate.
"We only know of one person who has been married for 60 years, but it's not as common these days," says Joy.
When asked if they plan on making it to 70 years, Alan says: "We'll give it a go."
More on SunLive...