Council move to defuse Matapihi impasse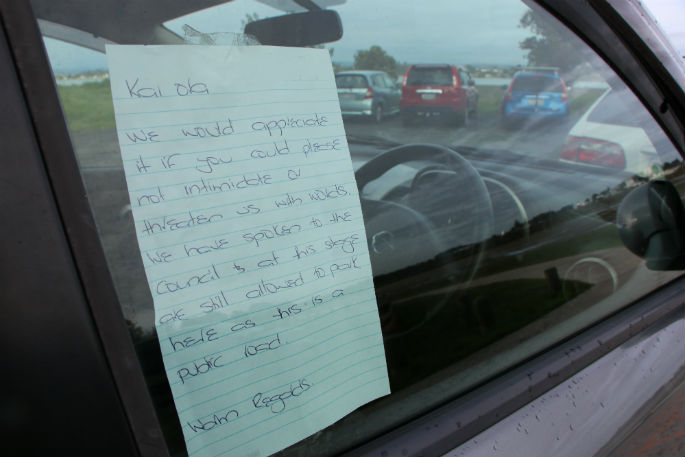 Feelings are still simmering between locals and motorists at the end of Matapihi Road on the fringes of Tauranga Harbour.
In an apparent tit-for-tat gesture, a park-and-walk commuter posted a no-nonsense note to residents in their car window on Wednesday morning. It read: "Kia Ora, we would appreciate if you could please not intimidate or threaten us with words."
The note was directed at locals who have recently remonstrated with motorists for clogging roadsides outside their homes before walking or cycling into the city centre via the railway bridge.
Commuters have been using this route as a time-saver after becoming frustrated by peak time traffic snarls on Hewletts Road.
"We have spoken to the council," continues the commuter's note. "At this stage, (we) are still allowed to park here as this is a public road."
The note signs off with a conciliatory "warm regards".
Lines were drawn earlier this year when a note was left on commuters' cars parked on grass verges outside homes at the end of Matapihi Road.
The original note, in part, suggested "roadside parking no longer exists", and effectively told commuters they were no longer welcome and no longer had parking rights. However, it did not stop the practice.
Tauranga City Council has since moved to defuse tensions.
A hui with locals "was a very positive meeting with a good exchange of ideas," according to Martin Parkes, Council's acting general manager of infrastructure. It is not known if any motorists were invited to the hui.
"Obviously increased parking in the area is of significant concern to the local community," says Martin.
"Council took away a number of matters to look into."
Some are to be implemented immediately, "in order to deal with safety issues," he says.
They include broken yellow 'no parking' lines from the harbour-end of Matapihi Road, up the hill and around the corner.
This was a unanimous decision at the hui, and was motivated by a need to eliminate unsafe parking where sight lines are limited.
There were also suggestions for resident-only parking zones, time restricted parking and a park 'n ride bus service from Bayfair. These suggestions will be considered once community feedback has been received and reviewed.
Another option suggested by council is the instillation of a turning bay, in addition to the provision of up to 12 car parking spaces.
More on SunLive...