Kids and adults reeling in winners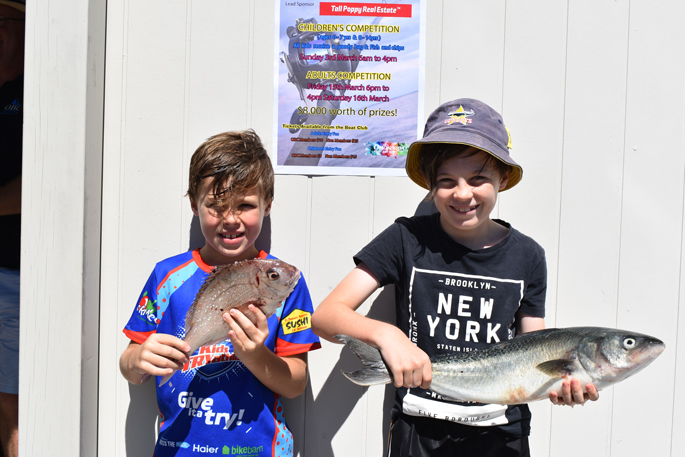 The Tall Poppy Omokoroa Boat Fishing Club Competitions were held in two weekends across March.
The kids' competition took place on Sunday, March 3 which was New Zealand Children's day, while the adults' competition was battled out on March 15 and 16.
Out of the eight to fourteen age category, Tommy Moon won and received a personal best for his 2.8kg snapper caught at 2.30pm.
Omokoroa Boat Club Commodore Tim Raeburn says the children had a great time on the water.
"Good number of trevally, kahawai and snapper were caught but no kingfish this year for the kids.
"We had 91 entries which was great to see and prize giving was a hoot, with all the kids receiving a goody bag and fish and chips from Skippers Restaurant, included in the ticket price.
"Seeing these young people having such a good time out on the water with their parents is really what makes this event worthwhile."
Friday, 16 March at 6.00pm, marked the start of the adults competition, and Tim says the setting was almost perfect.
"It was flat, calm conditions and not a breath of wind.
"With 94 entries, the harbour was lit up like a Christmas tree."
Tim says overall the adults' competition was a success, with most competitors reeling in some great catches.
"Saturday morning saw competitors strewn throughout the harbour with secret spots being not so secret with the arrival of daylight.
"Nearly everybody came home with a feed of snapper and four kingfish were also weighed.
"The number of kahawai and trevally caught were down from last year but those fish that were weighed in were all a very good size."
Steven Wallace took out first prize for the heaviest Kingfish, weighing over 10 kilograms, and Emma Sheely had a great competition, winning the heaviest women's Snapper, Kahawai and the Kahawai average weight.
Tim says the competition wouldn't be a success without the help of sponsors.
"A massive thank you to Rachel Millard at Tall Poppy Real Estate for being lead sponsor this year and to all our other wonderful sponsors.
"The spot prizes and donations from these local businesses enable this competition and are what make it really special."
OBC ADULTS FISHING COMPETITION PRIZE WINNERS 2019
Snapper Heaviest WOMENS: Emma Sheely Weight: 2.186kg
Snapper Heaviest MENS: Angus Raeburn Weight: 2.918kg
Heaviest Kingfish (OVERALL): Steven Wallace Weight: 10.586kg
Heaviest Trevally (OVERALL): Scott Kirk Weight: 2.624kg
Heaviest Kahawai WOMENS: Emma Sheely Weight: 1.786kg
Heaviest Kahawai MENS: Wade Roest Weight: 2.264kg
Snapper 2nd Prize WOMENS: Nicky Raeburn Weight: 2.044kg
Snapper 2nd Prize MENS: Allan Bond Weight: 2.596kg
Snapper AVERAGE WEIGHT: Kushla Moriarty-Rae Weight: 1.498kg
Kahawai AVERAGE WEIGHT: Emma Sheely Weight: 1.786kg
More on SunLive...