Top NZ shavers here in the Bay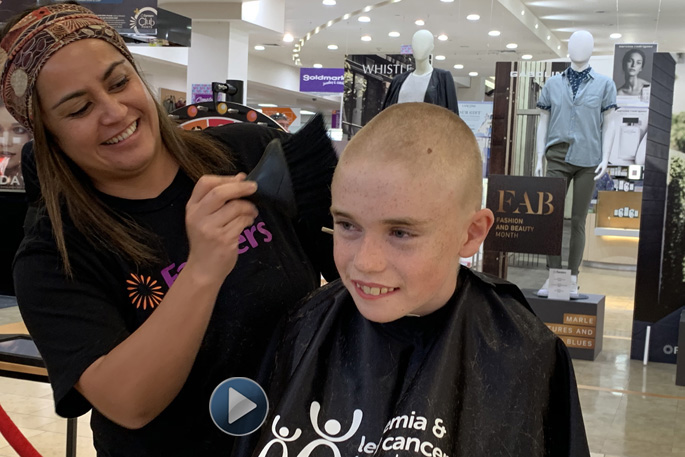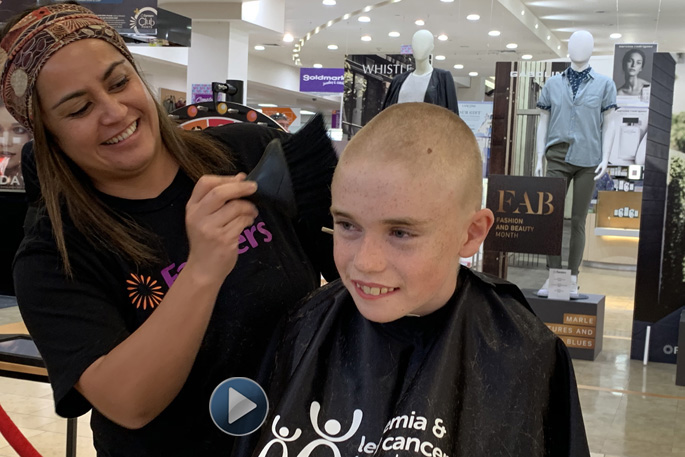 Click the image above to watch the video
An 11-year-old boy from Pyes Pa, and one of the smallest schools in the Western Bay of Plenty have topped the whole country in raising funds during the Shave for a Cure 2019 fundraiser for leukaemia and blood cancer research.
Sam Murfitt, age 11, raised $9,080 for the Leukaemia & Blood Cancer Society by having his head shaved outside Farmers in the Bayfair Shopping Centre. He leads the country, with the second highest fundraiser raising over $6,000.
Across the other side of town, Pahoia Primary School raised more than $10,000 - the most of any school in the entire country, when six hairdressers shaved 23 heads.
The annual Shave for a Cure Week is the annual fundraising activity for Leukaemia & Blood Cancer New Zealand (LBC). This organisation supports the 21,000 Kiwis living with blood cancers and receives no Government funding so every dollar raised is essential for support services, advocacy and to fund research projects. One Kiwi is diagnosed with blood cancer every four hours.
Farmers' stores around the country hosted community shaves to help fundraise for kiwis living with blood cancer. Will Johnston from The Hits compered the Farmers Mount Maunganui 'Shave for a Cure' event.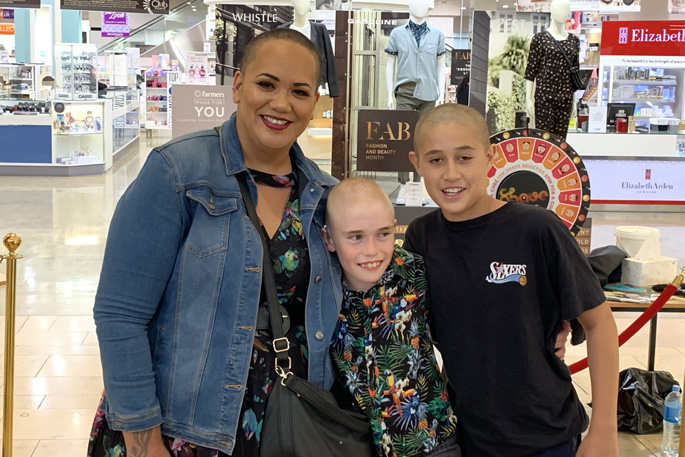 Sydrina Nicholls, Sam Murfitt, 11, and Manihera Gardiner, 12
Sam wrote on his fundraising page: "My stepdad, Chris, was diagnosed with leukaemia in February 2018. I am shaving my hair to raise funds for Chris and other families going through leukaemia.
"This time last year my mum cried non-stop for a few months. But the Leukaemia & Blood Cancer Society supported our family through plain English resources, a monthly support group and Chris and mum went to the national conference in Wellington last September."
Sam's mum Kirsten Murfitt came with Sam to Farmer, however his stepdad Chris Minty had to be in Auckland on the day of the Shave for a Cure.
"Chris is up at Northshore Hospital on a trial at the clinic," says Kirsten. "The trial costs $18,000 per month.
"The Cancer Society has given us so much support. Sam has raised over $9,000. We're hoping to get to $10,000. Our original goal was $500, so we're just blown away about the generosity."
"Sam's done fantastically with his fundraising," says Laura Hyde, who is the Donor Development Manager for Leukaemia & Blood Cancer New Zealand. "Leukaemia & Blood Cancer New Zealand receive no government funding, so everything we achieve, all the support – we give to patients and their families.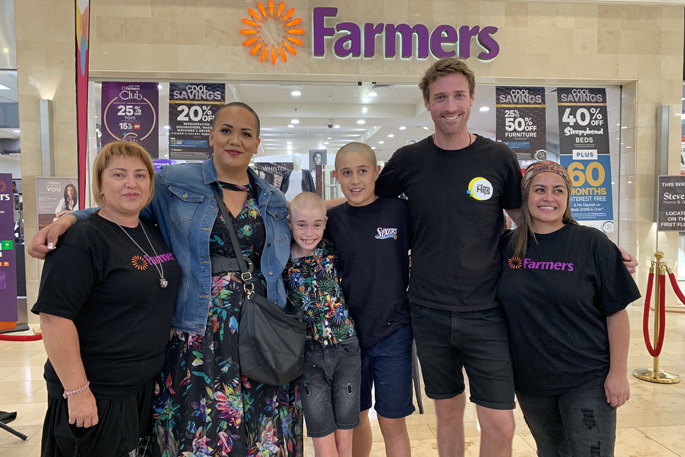 Carolyn Redshaw, Sydrina Nicholls, Sam Murfitt, 11, and Manihera Gardiner, 12, Will Johnston, and Kamira Terangi.
"All the research we fund it only possible because of the amazing fundraisers like Sam and everybody else. Our mission is to care, our vision is to cure."
"We're really pleased to be able to support this worthy cause," says Tim Willson, Store Manager at Farmers Mount Maunganui. "It's great for New Zealanders."
Manihera Gardiner, age 12, from Tauranga Intermediate, and mother-of-two Sydrina Nicholls from Matakana Island also came to Farmers Mount Maunganui to have their heads shaved by Carolyn Redshaw, a barber from Peru's Hairtek at Bayfair, and Kamira Terangi, a hairdresser from Links Hair Direction.
Pahoia Primary School
The Pahoia Primary School team managed to shave 23 heads, including two teachers and 21 students. Their goal was to raise $6,000.
By raising over $10,000, they beat their previous year's total, and have raised more than $15,000 in two years. They remain the leading school in the country.
"This included five extremely brave girl with extremely long locks!" says Sarah Oemcke, a teacher at Pahoia Primary. "We had six hairdressers from Havana barbers take the afternoon off to help us! Our school only has 200 students. We are a relatively small rural school! This is a big deal for us."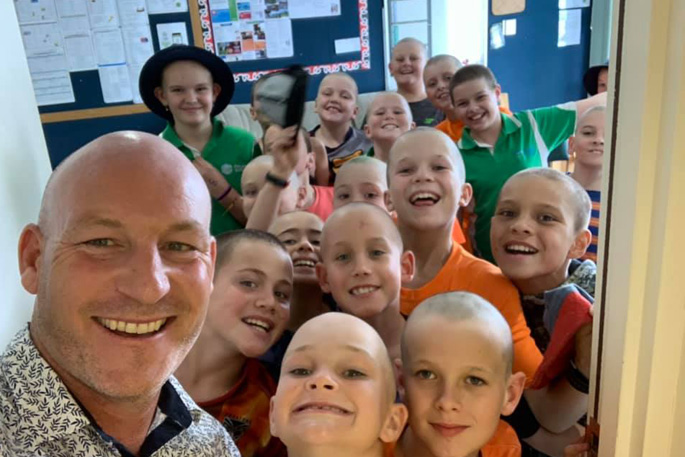 Pahoia Primary School students Shave for a Cure. Photo: Supplied
The Shave for a Cure fundraising initiative ran from March 18 – 24, with 987 people having their heads shaved, and more than $450,000 raised.
It's not too late to still be involved with supporting the New Zealanders who are living with a blood cancer or blood condition, by sponsoring the locals who have shaved their heads. It's an inspiring way to help fund research, and provide vital care and resources for the 2,500 people affected that LBC works with every year, and every dollar raised is another important step in the search for a cure. To find out more go to www.shaveforacure.co.nz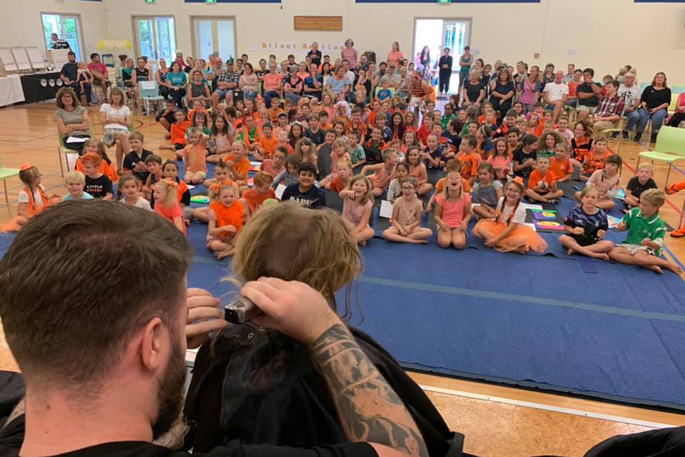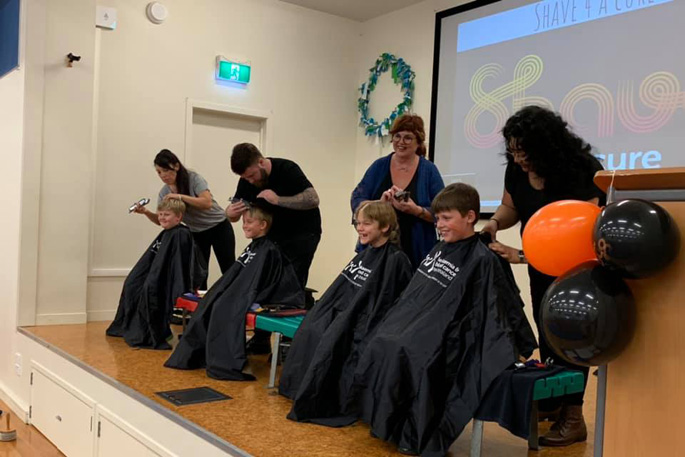 More on SunLive...